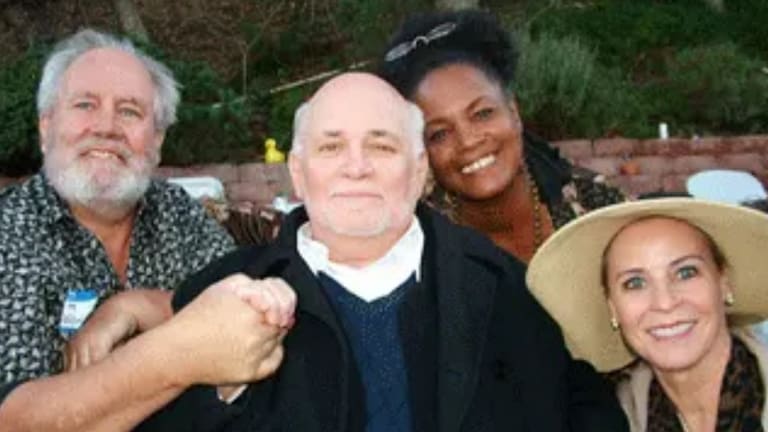 Born on the Fourth of July Once More
Listening to Ron Kovic accept the Lifetime Achievement Award from the Progressive Democrats of the Santa Monica Mountains 10 years ago was one of those moving experiences that jumps up at you unexpectedly.
If you're a contemporary of Kovic's and mine, pushing through your 60s, you know his story well. As told in his best-selling autobiography "Born on the Fourth of July" that was made into a widely praised movie starring Tom Cruise, a working class youngster from Long Island filled with visions of Medal of Honor winer Audie Murphy and draft dodger John Wayne, eager to serve his country and become a hero, joins the Marines shortly after high school, serves first one tour of combat duty in Vietnam and then a second, during which he is gravely injured, endures a grueling rehabilitation in a rat-infested veterans hospital, finds the temerity to speak out against the war, and quickly becomes a lightening rod for other veterans who have become disillusioned as well.
But it's an old story, one that you've heard before. If like me, you read his book when it first came out in 1976—a lifetime ago—back when you were still bound up in the aftermath of your own combat experiences.
Even the Oliver Stone movie drawn from the book is more than 20 years old. You saw that, too, after you'd sobered up and straightened up, talked it all through, and left Vietnam and all its memories far behind.
And you've heard Kovic speak over the years, in radio interviews, at an Arlington West Memorial Day commemoration several years ago, on Youtube.
So, knowing just what to expect, you sit back after Lila Garrett's glowing introduction, prepared to nod and clap at the appropriate moments, and then head over for cake and coffee and polite conversation afterwards on the patio with the spectacular view behind Dorothy Reik's house.
But then when Kovic begins to speak—telling how the first bullet shattered his foot, how the second entered his shoulder, collapsing his lung and severing his spine, and how he waited for the third bullet, unable to move, wondering if he'd ever go home—you're struck by how peaceful and firm his voice sounds, how strong and healthy and, dare I say, jovial he looks, sitting ramrod straight in his motorized wheelchair.
"The first Marine who came forward to help me was killed, shot through the heart," Kovic says. "The second one carried me back to safety, saving my life—twenty-two years later, I learned he was killed in battle later that same day."
You hate it when other veterans tell familiar stories like this. What's with the labored breathing, Dick—the tears, the looking away? You've talked this all through, remember? You've left this all behind.
Bobby Muller, who helped found the Vietnam Veterans of America and who was a patient with Kovic at the Bethesda Spinal Cord Trauma Center, got Kovic started as an activist.
"He kept after me to speak to the kids at the Levittown, Long Island, high school," Kovic related, his lightly bearded face framed by the majestic valley that falls below Dorothy's house. "He wanted me to tell my story to young boys who in a few years might want to follow my footsteps."
Knowing the blowback he'd get from a still-divided country, Kovic finally relented, but almost before he could get started speaking, someone called in a bomb threat at the school and they had to evacuate, reassembling at the football stadium outside.
"Here I had given three-fourths of my body to my country and somebody won't let me speak!" he says, recalling his rage. "Somebody wants to stop me from speaking!
For that moment, the jovial expression fades, the powerful voice cracks. You see the depth of Kovic's anger—or perhaps it's his love—that has propelled him through 40 long years of activism, turning him into a leading antiwar speaker, leading to Saturday's award, and making him such a valuable voice in stopping this generation's senseless wars.
At a time when progressives are under attack from all quarters—not just from troglodytes on the Right where you'd expect to find opposition, but from the party faithful who want to somehow "decertify" your existence lest you rock their boat—Kovic reminded his audience of malcontents and rabble-rousers and true patriots to stand strong, to rebuild and not to retreat. Asking the assembled progressives to remember how Vietnam ended, Kovic advised them to get out in the streets and demand an end to the current wars. "Stay strong," he admonished. "Don't retreat."
Afterwards, after I had introduced myself and related a bit of my own history with Army hospitals, Kovic "welcomed me home." Now, ordinarily I find this little latterday campaign of one veteran welcoming another home all these decades later a little corny. After all, as I have already said, I found ways to welcome myself home long ago, thank you very much.
But Saturday, Kovic and I posed for a picture with my wife and his girlfriend, his strong hand gripping mine as he said for the second time, "Welcome home, Dick." It didn't seem corny in the least.