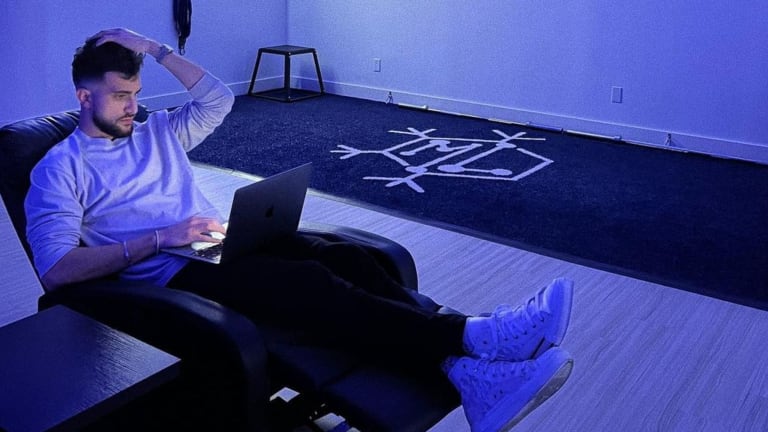 How Andy Treys Hit the Big Time
So good was Andy in high school that he even thought he might become a professional basketball player.
Software tyro Andy Treys has a huge number of followers to his latest triumph, Cereal Club, a collection of ten thousand unique cereal bowls, each with its own flavor and attributes. Launched two years ago, the collection sold out at auction within just 24 hours.
Since its launch a few months ago, on February 15th, the Cereal Club Twitter page can now boast an ever-growing 140,000 followers. To further build its burgeoning community, Andy and cofounder Sako Waves have partnered Cereal Club with other influential brands and projects, including Aaron Donald of the NFL's 2022 Super Bowl champion Los Angeles Rams and John Imah, who heads brand and game partnerships at Snapchat.
"Creating and partnering with major cereal distributors will help us to achieve maximum awareness," says Treys. Next up, the project will launch exclusive, limited-edition web3 integrated cereals in collaboration with other top-rank NFT projects and athletes involved in the NFT world.
Andy's earliest idol was Kobe Bryant, the late, great all-time all star Los Angeles Lakers basketball player.
Growing up in Pasadena, up the road from Los Angeles, Andy dreamed of following in Kobe's size 15 footsteps. To give him a leg up on that dream, Andy's dad turned the family's entire backyard into a fully outfitted basketball court, which included a profession-level shooting machine that rebounds for shooters — something college teams then were only just beginning to get. "I had everything I needed to thrive and it showed," Andy says.
So good was Andy in high school that he even thought he might become a professional basketball player. One of his full-court buzzer beater shots got featured on ESPN SportsCenter, something precious few prep school athletes can claim. Andy's big dream was not without foundation.
"My dad instilled a hard work ethic in me that carried over from basketball to other areas of my life," Andy says. "I would get trained five, six days a week in the backyard and then I would go inside, open up my computer, and start working on whatever I was building at the time, whether it was a new website or app."
A high point in Andy's admiration for the Laker great came when he got to attend the Kobe Camp, held in Santa Barbara, where he ultimately got to join in a shoot-around with other campers and Kobe himself.
"Kobe Bryant meant the world to me," says Andy. "Anyone who knows me can tell you that."
But, as much as he loved playing basketball and dreamed of being another, albeit Armenia-American, Kobe Bryant, Andy was also conflicted. As good as his fadeaway jump shot was, Andy knew he also had a special touch for creating inner circulates and expanding the influence of others as he grew niche social media networks via Ning, the world's largest community-building platform.
In high school in hometown Pasadena, Andy had been able to wear both hats, playing basketball at the highest prep levels while also being the nerdiest of nerds at his computer keyboard.
But college was a different story, and two years into being a student-athlete, Andy had to face some hard facts. He could be "pretty good" at both basketball and online business development, but he'd never be really great at either one — and to succeed big time on the court or at the keyboard you've got to be "really great."
After two years of trying to pursue both big, big dreams, Andy knew he'd have to make a choice.
"I needed to decide if I wanted to be a student athlete or get a head start at creating a social media empire," Andy says. "It was either attend meetings in New York or show up for calculus class."
As it often does, the Big Apple won.
Despite what his early detractors thought, Andy's choice paid off big time—and almost immediately.
In 2016, just after leaving school, Andy built his social media empire to an astonishing 300 million followers — 300 million or roughly the same number of people living in America! Next up, he launched a social media agency called Getmefamous, which weaves together a network of influencers, celebrities, and athletes.
Andy had even bigger ideas brewing.
Andy combined his marketing expertise with partner and friend Vache Ourishian's health community knowledge to found Muscle Lab, a recovery and wellness lounge located in hometown Pasadena. Soon a celebrity hotspot, Muscle Lab drew Hollywood darlings such as Zedd, ASAP Ferg, DJ Mustard, Carnage, Ben Simmons, Harry Jowsey, Jake Paul, and Oscar de la Hoya.
Muscle Lab offers a variety of quality services, including IV therapy, cryotherapy, infrared sauna, cupping, stretch therapy, and more. After getting started first in hometown Pasadena, Andy and his team are looking to expand to new locations in West Hollywood, Las Vegas, Miami, and New York — all the hot spots! "We've got a really cool thing right now," says Treys. "And I see Muscle Lab evolving in a very big way."
Actresses Jessica Alba and Jennifer Aniston have used cryotherapy treatment for skin-cell renewal, and athletes Steph Curry and Cristiano Ronoldo use it for whole body recovery.
"Kobe Bryant used to do cryotherapy, too," says Treys. "And it's crazy because he didn't tell anyone about it either."
Never one to sit still, Andy most recently turned his hand to Cereal Club, diving head first into the NFT arena. His entry into the field not only offers the cutest NFTs around, they are quickly becoming a leader in the space, building on their notoriety with elite partnerships and events.