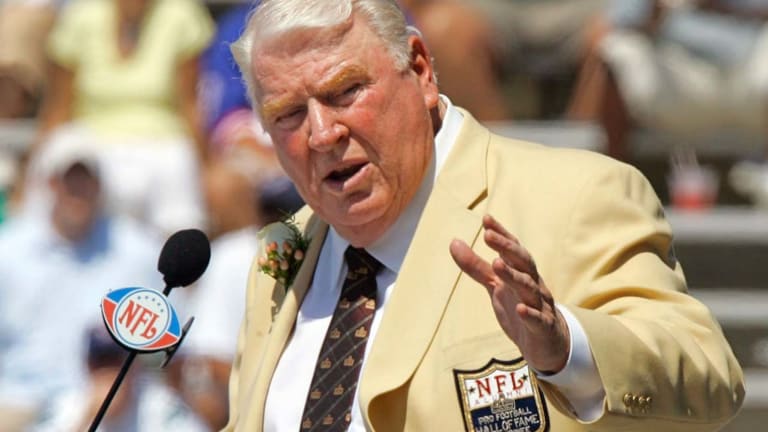 John Madden – American Cultural and Sports Icon
He made football more fun for everybody, reminding people, "You didn't have to play the game to enjoy it."
John Madden was more than a football coach, more than a broadcaster, and more than a video game entrepreneur. Adding it all up, he was an American icon – a large man with a large personality and fun character. He was a visionary football coach who dispensed with some of the silly, disciplinary non-football rules in the 1960's, and managed one of the wildest teams with the wildest guys to the Oakland Raider's first Super Bowl win in 1977. A close haircut wasn't as important as showing up to practice and meetings on time, listening and playing hard. He changed the nature and preparation protocol of sports broadcasting, DEMANDING to meet with the players and coaches he was going to discuss for three hours. That is now standard practice for all sports broadcast teams.
He made football more fun for everybody, reminding people, "You didn't have to play the game to enjoy it." He made it accessible and interesting for women and the most casual fans. Even Elton John looked forward to Madden broadcasts, and took no interest in games called by others. Madden enriched our vocabulary with "cankles" (calves and ankles as a single unit for big guys) and brought a rich onomatopoeia ("doink" – ball hitting goal post) to the broadcasts. He gave America the turducken (popularized it anyway) – An American Thanksgiving Haggis of chicken stuffed into a duck, stuffed into a turkey. Madden made friends with Peggy Fleming in the aftermath of September 11, 2000, when he gave her a lift in his Madden Cruiser from Wilkes-Barre, Pennsylvania (where she got stranded after a speaking gig) to the Bay Area. The Cruiser came about because of his fear of flying and claustrophobia. The concept happened when he was given a series of cross-country assignments in a one-week time frame, and still refused to fly. So he borrowed Dolly Parton's tour bus, which became a template for the Madden Cruiser.
I was a devoted Oakland Raider fan growing up in a town that had no NFL team. So were my parents and siblings, because I often dictated our sports TV and radio programming (music too) as the oldest of four. Fortunately, Dad has the same taste and predisposition, as I amplified what got I from him. When I was 7 or 8, I had some of AFL football cards. One of them was Ben Davidson, the great defensive end who was 6' 8" with a handsome, handlebar mustache. I was immediately infatuated with that look and the silver and black uniform, which quickly blossomed into true love. I said, "Wow Dad, he looks cool." Dad said, "Yeah, and he's a great player too . . . and you know what else? He's Jewish and so is the owner of the team" (Al Davis.) Thus my Raider fandom was cemented for about 58 years. Gathering around the TV during Sunday dinner for an Oakland Raider game was always a treat and family event. But with their latest abandonment of Oakland, I am no longer a Raider fan. Along with millions of other East Bay and Central Valley football fans, I'm DONE with this mercenary franchise. A Jerry Rice jersey hangs in my closet, a precious memento I'll cherish, but not wear again.*
John Madden molded a collection of characters into a winning franchise, and created a great culture and tradition here in Oakland. Watching Raider games during the 60's & 70's made me want to BE in Oakland and go to games at Oakland-Alameda Coliseum. When I flew into Oakland for a job interview in 1999, I lit up when I drove by the Coliseum thinking, "Wow, if I move here I can actually GO to Raider, A's and Warrior games." (I became a fan of the A's and Warriors at different times as a teenager for different reasons.) Now we're almost a sports wasteland thanks to the greed and lack of integrity of Raiders' owner Mark Davis (who lacks the "charms" of his father), the Warriors' greed for a RICHER fan base and shiny new arena (despite decades of sell-outs for frustrating teams before the current multi-championship run), and the grossly dysfunctional ownership of the A's. Oy. But we'll always cherish our memories and connection to John Madden, who was OUR ball coach long before he became an American video-game icon.
Listening to John Madden call a game was like listening to your favorite uncle talk about his playing days at Dartmouth (I had one who did). It was an amusing and comforting trip into a zone of suspended animation for three hours, and you usually came out happy unless your team got skunked. It was educational, informative and entertaining. No pretension, no hype; just a great conversation about football, food, culture, positive race relations, the famous people he'd met, and deep insight into the game we loved playing and love watching.
*In tribute, I'll put on my Jerry Rice Raiders jersey and Raider's ballcap today for the first time in years, and maybe the last time ever. It's a tribute to John Madden, the great teams he coached, the fun times he made for families like mine, the winning culture he created, and his undisputed place on the Mount Rushmore of football, along with George Halas, Vince Lombardi and . . . PICK 'EM! 
The occupant of that 4th granite facial can be debated forever, but those three are beyond qualification or reproach for that honor. The others died a long time ago, and were considered Founding Fathers of the game. But John Madden's place is no less secure in that pantheon.
H. Scott Prosterman