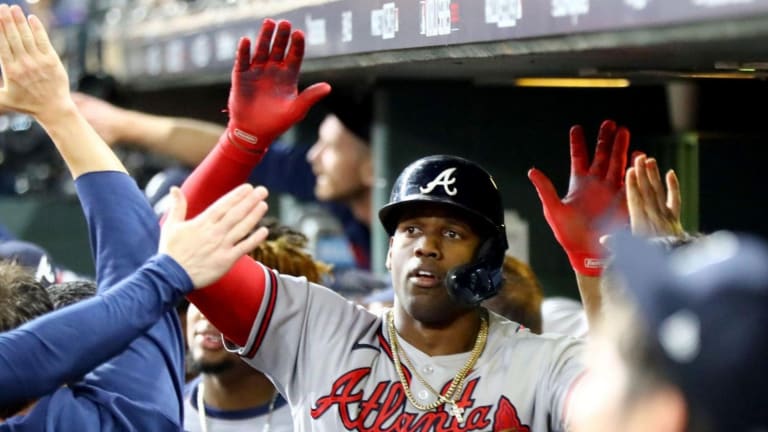 The Cuban-American Pastime
The 2021 Major League Baseball season saw Latin Americans dominate the ranks of elite players. In the World Series, Cuban players solidified their growing role in American baseball, at the expense of the island country's national team.
Atlanta Braves star Jorge Soler got his team off to a dramatic start against the Houston Astros in Game 6 of Major League Baseball's World Series this year. His mammoth home run gave the Braves an early 3-0 lead.
After the Braves won the game and the championship, Soler was named the series' Most Valuable Player, the second Cuba-born player to earn the honors in the championship. (Livan Hernández of the Florida Marlins did it in 1997.)
Soler's achievement continues a tradition of excellence among Cuban players -- and Latin American players in general -- in the major leagues. Baseball in Latin America dates back to the 19th century, and Latin American players have had a longstanding presence on rosters in the United States, including the majors, the minor leagues, and the historically significant Negro leagues.
At the end of the 2021 series, and seemingly to punctuate the Latin American presence in baseball, Soler's achievements in the World Series were discussed by postgame commentators -- two of them former standout players David Ortiz and Alex Rodríguez. It was a clear reminder that big-league baseball is where it is today because of its Latino stars.
"Really, the story of Latinos in baseball is not a recent one," said Adrian Burgos, Jr., a professor of history at the University of Illinois and an academic advisor of the ¡Viva Baseball! exhibit at the National Baseball Hall of Fame and Museum. "It's a significant presence that has been driving what's been going on in baseball for many years.
"We think of Pedro Martínez, 'Big Papi,' Manny Ramírez. The story goes on and on -- how Latino players were able to help the (Boston) Red Sox become World Series champions (in 2004), something they had not done (in 86 years), then four times in the same period over 10, 12 seasons. That is a story."
The Cuban baseball diaspora
In Cuba, the story begins with a diaspora during the struggle for independence from Spain.
Starting in the 1850s and 1860s, Cubans found new homes in the U.S., including Key West and Tampa in Florida, as well as farther north, in New York and Philadelphia.
"They were witness to great changes here in the U.S., one of which was the development of professional sports," said Louis Pérez, director of the Institute for the Study of the Americas, and a history professor at the University of North Carolina at Chapel Hill. "Cubans themselves were so smitten by baseball. They looked at it as a repudiation of Spain. People fighting for independence really took to baseball ... They took the game back with them."
In 1879 -- just three years after the founding of the National League in the U.S. -- the Cuban Winter League debuted on the island.
"Basically, except for a few interruptions -- the war for independence against Spain -- it was rather regular," Burgos said.
Baseball also has late-19th-century roots in Puerto Rico and the Dominican Republic. Burgos credits Cubans who left for places other than the U.S. with helping to popularize baseball in the Caribbean, including two brothers from the Cuban city of Cienfuegos who immigrated to San Pedro de Macorís in the Dominican Republic, known today for regularly producing top baseball players.
"One person described Cubans as the apostles of baseball, sharing the good news of baseball wherever they went," Burgos said, adding that similar interactions took place between Venezuela and the Dutch colony of Curaçao, which has also developed strong ties to baseball.
The curveball and U.S.-Cuba relations
In Cuba, teams became more like social clubs, hosting picnics in addition to playing games, and attracting passionate fan bases. Some early Cuban players joined teams in the U.S. Adolfo Luque pitched for the Cincinnati Reds, which won the controversial 1919 World Series when eight members of the Chicago White Sox conspired to fix the outcome and were subsequently banned for life. Cubans also excelled in the Negro leagues, including pitcher José Méndez, who played for the Cuban Stars.
"People in baseball were already aware that players from the island called Cuba were very talented and were also ready to play baseball there," Burgos said.
One of those players was future revolutionary Fidel Castro.
"He was quite an athlete at his university, in basketball and baseball," Pérez said, noting that there is a famous, perhaps apocryphal, story about Castro getting scouted by a Major League team.
"He had a very good fastball but no Major League curveball," Pérez said. "Just imagine, if he had a curveball, how his career would have been different."
Castro and the revolution instead swept to power in 1959, and Cuba became a communist country. The Winter League on the island was nationalized, and it transitioned to a league for Cuba's talented amateurs, not professionals. However, the new government recognized baseball's appeal.
"Cuba is invested in its baseball program," Burgos said. "It was, in fact, the national sport of Cuba, one in which they took great pride in, a sport in which they rallied around. Castro was very aware of that."
As he explained, "Castro outlawed professional baseball in Cuba. He did not get rid of baseball. He reorganized it under a different set of principles. It was amateur in name, not amateur in ability."
In international competition, such as the Pan American Games, the Cuban national team excelled against American opponents. After the U.S. surprised Cuba in the 1967 championship, Cuba went undefeated over the next two decades in Pan American competition -- a 33-game span -- before the U.S. broke the streak in 1987.
"Cuba especially enjoyed playing against American teams," Pérez said. "You could quite literally say they beat the Americans at their own game."
In more recent decades, however, Cuban players have wanted to play for teams in the U.S. Yet this always came with a catch
The Big-League Option
"Cubans still have to defect in order to have the opportunity to play in Major League Baseball," Burgos said. "It's not a recent story. It's what Luis Tiant went through many years ago, what Tony 'Doggie' Pérez went through. It's the enduring legacy of poor political relations between the U.S. and Cuba."
Louis Pérez describes the Cuban situation as unique in Latin America.
"It was very common for ballplayers like (Luis) Aparicio in Venezuela and Mexicans to play (in the U.S.) through September, March through September, and go back to their countries for winter ball," he told palabra, noting that this was the case for Cubans before the 1959 revolution. Since then, he said, "Because of travel regulations, (and) U.S. relations, the only way Cubans can play Major League ball is, they have to defect, they have to leave Cuba."
Indeed, he said, "the best players are leaving."
In the 1990s, that list included two pitchers, Livan Hernández and his half-brother Orlando "El Duque" Hernández. Today, it includes Soler, Yordan Álvarez, whose Houston Astros fell to the Braves in the World Series, and Randy Arozarena, whose Tampa Bay Rays also qualified for this year's playoffs.
Citing players such as the Hernández brothers and Soler, Burgos noted a paradox: their development in Cuba ironically helped them achieve success in the U.S.
"All these very talented Cuban players are products of a particular way of Cuban organized baseball development," he said. "When these guys are professional baseball players in the U.S., they are really a polished product."
Although the Cuban national team did not qualify for the Summer Olympics in Tokyo earlier this year, Cuban players are still excelling on Major League rosters, as are other Latin Americans.
Major League Baseball would not be where it is today without Latinos," Burgos said. "It's not going to change anytime soon."
Rich Tenario
palabra