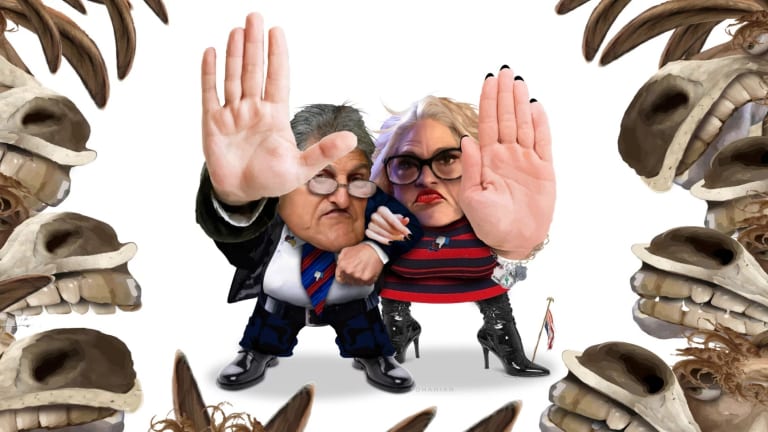 MLK, Voting Rights and Sports
Sen. Manchin is feeling the heat from some of the most legendary sports figures in West Virginia's history, to stop obstructing The Freedom to Vote Act with his nonsensical statements about "federal interference in state elections."
Republican attempts to subvert voting rights in America has brought a new nexus of politics and sports – for the good. National sports figures and broadcasters used Martin Luther King Day to call out Republican efforts to undermine a big part of what King represented – the freedom to vote for ALL Americans. West Virginia Senator Sen. Joe Manchin (D-WVA) received a strong, public letter from Alabama Football Coach Nick Saban, NBA icon Jerry West, former NFL Commissioner Paul Tagliabue and other prominent West Virginia natives, over his refusal to support The Freedom to Vote Act and John Lewis Voting Rights Act. Manchin's tortured justification for same isn't playing well to the NBA, NFL and multi-billion dollar college sports industry.
On MLK Day, TNT broadcaster Stan Van Gundy made an unqualified and forceful endorsement of the renewed Voting Rights Acts (VRA) during the broadcast of the Memphis Grizzlies-Chicago Bulls NBA game. Announcers can get fired for voicing "political opinions." But you can't fire a guy for amplifying MLK's message on MLK Day, at a game played in his honor in the city, in which he was killed. The MLK Day celebration in Memphis the perfect prompt for Van Gundy. He used his national holiday platform to argue forcefully for the renewed VRA's, and candidly condemned the politicians trying to defeat it.
Saban's involvement is ironic in Alabama, which elected his former Auburn rival Coach Tommy Tuberville to the senate last year. Senator Tommy is wedded to all the myths, fictions and mendacity that Donald Trump represents, and was elected to prosecute that agenda. Sure Saban's comments won't hurt recruiting among black players and their families, but there is a stronger thread of nobility and decency in his involvement here. Saban is the State of Alabama's highest paid employee, commanding $8M/year for coaching the ball team. They can't fire him.
Sports and politics have been entwined in America since 1968 when sprinters John Carlos and Tommie Smith performed their iconic protest on the Olympic medal stand. The Australian Silver Medalist Peter Norman also made a huge career sacrifice by supporting Carlos and Smith, and became persona non grata in his own country. The very first nexus of politics and sports occurred at the 1936 Olympics, when Jesse Owens accepted his medals in the presence of Hitler with quiet dignity, as one of Hitler's Aryan athletes gave the Nazi salute one platform below Owen's Gold Medal placement.
Sen. Manchin is feeling the heat from some of the most legendary sports figures in West Virginia's history, to stop obstructing The Freedom to Vote Act with his nonsensical statements about "federal interference in state elections." That is not playing well to the industry that depends on Black talent to be successful; namely college and pro sports.
Sports and athletics has long played a vital role in promoting integration and progressive social elements. This legacy includes:
Crimson Tide assistant Jerry Claiborne said in 1970, "Sam Cunningham did more to integrate Alabama in 60 minutes than Martin Luther King did in 20 years." Of course, that was a hyperbolic overstatement with a lot of truth. Southern California running back Sam Cunningham had a huge role in promoting integration in the South on Sept. 12, 1970, when he rushed for 135 yards and two touchdowns in a 42-21win over Alabama in Birmingham. Cunningham was part of an all-Black backfield that included quarterback Jimmy Jones and halfback Clarence Davis against the all-white Crimson Tide team. Bryant had already recruited Wilbur Jackson, who was a freshman ineligible to play varsity, and had wanted to recruit Black players before then. But Cunningham convinced the Alabama Board of Regents that the Tide could not remain competitive without more black players.
In Memphis, the white professional wrestler Sputnik Monroe did more to promote integration in that city than any politician, pastor, rabbi or community activist. His popularity in the Black community resulted in an overwhelming attendance for his matches. The operators of the old Ellis Auditorium HAD to let black folks sit on the arena floor because the "Colored" balcony section had overflowed. Monroe became a folk hero in the South for that, and formed half of the first integrated "tag-team" with Black wrestler Bearcat Brown. Of course, pro wrestling ('rasslin' in local parlance) is a staged show with pre-determined scripts aScott Prosterman: Sen. Manchin is feeling the heat from some of the most legendary sports figures in West Virginia's history, to stop obstructing The Freedom to Vote Act with his nonsensical statements about "federal interference in state elections."nd results. But Monroe's socializing with Black folks on Beale Street made him a popular folk-hero. He was defended by noted Civil Rights attorney Russell Sugermon when he was arrested on Beale Street in 1960 for "consorting with Negros."
Republicans, with the support of Manchin and Sen. Kirsten Simena (D-AZ) have characterized (slandered) the national effort to secure elections as "federal interference in state run elections." That "states' rights" thing is a slippery slope. States that used to argue for preservation of slavery, then Jim Crow and other oppressive legislation, now argue it is a state's right to decide which sectors of a city or county may vote freely. The Justice Department got involved in local elections under Attorney General Robert Kennedy in the early 1960's. The original Voting Rights Act of 1965 mandated Justice Department "pre-clearance" (approval) of any changes to everything from the number of polling places, hours of operation and other metrics.
The current Supreme Court has been a willing accomplice to voter suppression efforts in recent years, most notably with the 2013 decision on Shelby County vs. Holder in North Carolina, and Brnovich vs. the Democratic National Committee. The crux of the Shelby County vs. Holder decision was that Section 4(b) of the 1965 VRA was unconstitutional because the formula was based on 40 year-old data. Sadly, the prompt for challenging the 1965 VRA never abated, and has escalated with the Stop the Steal fictions.
The VRA of 1965 came about during a violent and dramatic time in American History. President Lyndon Baines Johnson signed it into law that August, to expand, protect and enforce the protections established by the14th and 15th Amendments. That legislation was a direct response to the violence of that summer, which saw four black girls murdered in the bombing of a Black Birmingham church. Prior to that, Freedom Riders were bludgeoned and murdered by Southern forces anxious about protecting their "way of life."
The Freedom to Vote Act would expand voter registration efforts and better ensure voting access, while making it harder to remove voters from the eligibility list. It would also make Election Day a federal holiday. According to the Brennan Center for Justice, 20 states have enacted 34 laws intended to make it harder for minorities to vote.
In July 2021, the Supreme Court made it even more difficult to challenge laws that suppress voting rights under Section 2 of the VRA, with their Brnovich v. Democratic National Committee decision. In that ruling, the Court literally moved the goalposts back, creating new guidelines for determining Section 2 claims. The new SCOTUS standard used data from 1982, when Section 2 was last amended, to argue that Arizona offered more voting opportunities in recent years than 1982. This ruling ignored more current and cogent data, such as the number of polling places recently closed in minority areas and other brazen discrimination.
The John Lewis Voting Rights Act would renew and strengthen the VRA with stronger legal protections against discriminatory voting policies and partisan redistricting. It would restore what the Supreme Court struck down in the 2013 Shelby County decision, by creating a new formula to determine which jurisdictions with a history of voting discrimination are subject to preclearance by the Justice Department. It would also add a practical coverage element, giving the Justice Department expanded jurisdiction in areas with a history of voting discrimination. It would also restore the original Section 2 provision of the 1965 VRA, in response to Brnovich, namely the right to issue legal challenges to visibly discriminatory voting practices in states with a history of same.
This is what Senators Manchin and Simena are resisting with greater force than the vortex of Republican hysteria. In doing so, they are now running against Nick Saban, Jerry West, along with most Black and Brown American athletes, who comprise the pluralities of rosters in college and pro sports. Van Gundy, Saban, Tagliabue and West are to be commended for lending their standing and popularity to the preservation of Democracy, and calling out forces of racism. With their notoriety and financial security, they aren't risking as much as Carlos, Smith and Norman did, but their outspoken courage is welcome and hopefully effective.