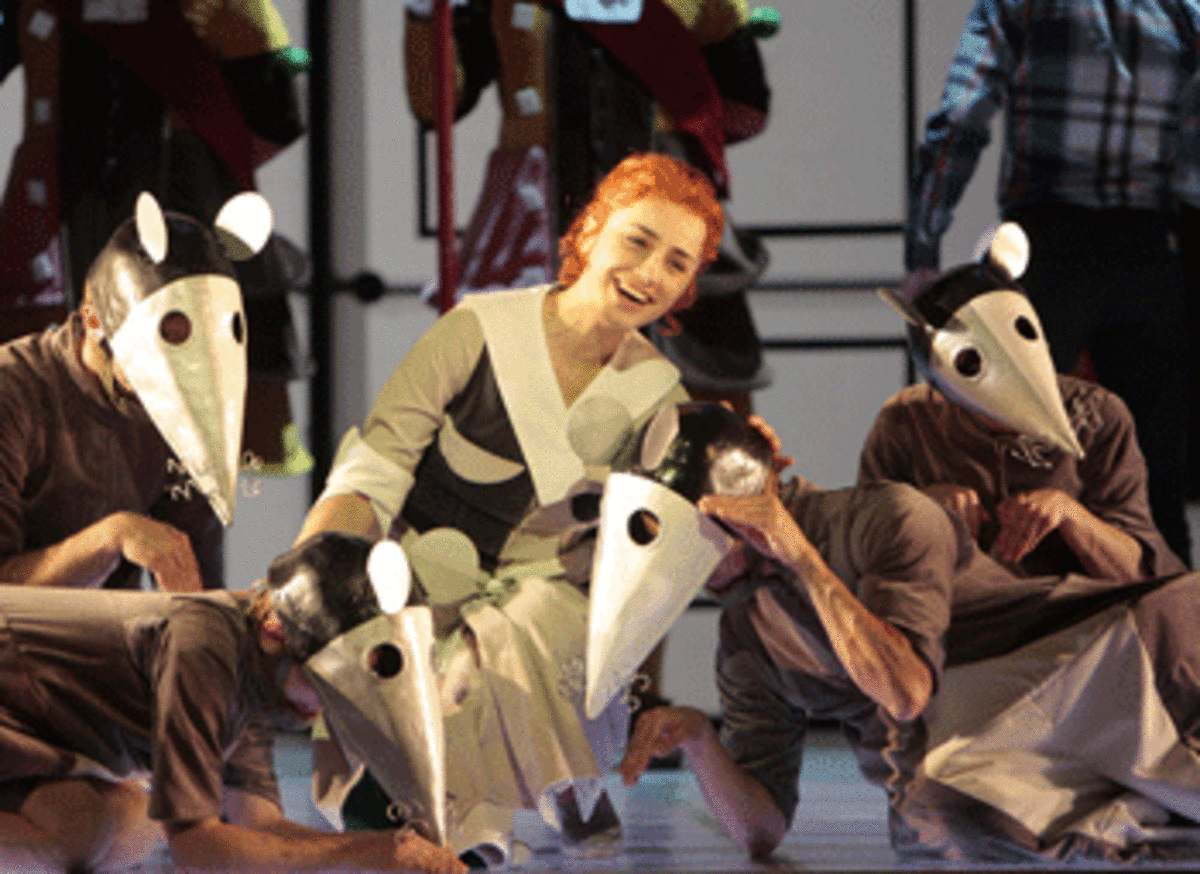 This L.A. Opera production of Gioachino Rossini's Cinderella (La Cenerentola) is nothing short of a sheer delight. It ranks amongst the most enchanting of all of the operas I've ever seen. The music, conducted by James Conlon, is frothy, as lighthearted as the Wagnerian Flying Dutchman's score and story are full of sturm und drang. Joan Guillen's sets are inventive, while his costuming, along with the stellar cast — including a charming quintet of mice — are exceedingly magical. Mezzo-soprano Kate Lindsey fits the bill perfectly in the title role (Georgian mezzo-soprano Ketevan Kemoklidze plays Cinderella during the April performances) and Italian bass-baritone Vito Priante as Dandini steals scenes with a kleptomaniac's gay abandon.    
More on the stellar cast below, but what of the story? Rossini's cheery concoction, with its libretto by Jacopo Ferretti, is of course a retelling of the vintage fairy tale first published in 1697 and subsequently re-published by the Grimm Brothers circa 1812. Fans beware: Rossini's version is different from others with some dissimilar elements, which this plot spoiler adverse reviewer won't disclose. But the essential storyline remains the same.
In essence, poor little Cinderella is mercilessly exploited by her step-sisters Clorinda (soprano Stacey Tappan) and Tisbe (played, in a bit of unconventional if welcome casting — despite a libretto line referring to her ivory white skin — by the Black mezzo-soprano Ronnita Nicole Miller), and step-father, the wittily named Don Magnifico (Italian baritone Alessandro Corbelli). These three rascals dream of grandeur, but apparently live in a home that has seen better days, hence the cutest mice this side of the Mickey Mouse Club and the Mouseketeers in the household that is slavishly looked after by the downtrodden Cinderella. She is reduced in status and role to a mere scullery maid, a servant — if not an outright slave — by her step-siblings and step-father, who are genuinely cruel to this impoverished but pretty young lady who sweeps the cinders and cooks their meals. (Unlike in other operas featuring oversized divas as characters intended to be great beauties that your insult adverse reviewer won't mention, Lindsey actually lives up to the physical requirements of the role.)
In the guise of a fairy tale Rossini and his librettist are clearly making reference to the exploitation of labor. Other scenes and characters reinforce this social critique composed a year before the birth of Karl Marx: In an expression of class solidarity as well as in a simple humane act of compassion, Cinderella surreptitiously gives a character she believes to be a beggar — whom her haughty step-sisters with their pretentions towards superiority scorn — food.
But this aspect of class conflict is further expressed by another character, and ladies and gentlemen, please allow me the pleasure of introducing you to the great Dandini. In Cinderella there's a lot of mistaken and/or hidden identity — an operatic convention — and Dandini is actually the (not-so-)humble servant of dashing Don Ramiro (tenor Rene Barbera), although through a series of plot contrivances they trade places and switch roles. Dandini relishes playing the powerful prince and assumes this part, full of social status and stature, with gusto. He enjoys dressing for the part and is quite a dandy — hence his rather hilariously apropos nomenclature. Priante plays the character with great panache, full of sparkling wit, in portraying the subservient flunky who yearns to be the top banana, but for the unfair societal pecking order he is, unfortunately, born into.
Rossini's titular character in The Barber of Seville similarly chafes under these unfair class distinctions imposed upon Figaro, who is also the lead character in Mozart's 18th century The Marriage of Figaro. Through these class conscious characters in class conflict with their "betters" Mozart expressed nascent Enlightenment ideals while Rossini evoked the French Revolution's principles of "Liberte, eqalite, fraternite." One can easily imagine both Figaro and Dandini singing Tevye's lament in Fiddler on the Roof: "Lord… Would it spoil some vast eternal plan, If I were a wealthy man?"
Although Rossini explores themes of class struggle in Cinderella the war between the classes is resolved magically — with a dose of Christian morality — through the genre conventions of the fairy tale, wherein all the characters live happily ever after (with the possible exception of that rapscallion Dandini, who is, alas, once again reduced to servitude). However, the Italian composer was also capable of positing a political solution to social injustice. Rossini's final opera, William Tell, is an explicitly political tale about revolution, which celebrates Swiss resistance to the tyrannical Hapsburg dynasty.
Interestingly, like Cinderella, this 1829 opera is also suggested by legend (if not fairy tales per se). In it, Rossini renders rousing music of a revolutionary nature, of justice triumphing over oppression. As all good Lone Ranger fans know its brassy musical fanfare and theme literally trumpeting the arrival of righteousness is derived from the incomparable, galloping William Tell Overture.
But in Cinderella we have a more playful Rossini, his bel canto opera full of great comic performances by droll, grandiose step-sisters and a step-father who never miss the opportunity to overstep their boundaries; those whimsical, cavorting acrobatic rodents; and the one, the only great Dandini. Cinderella touchingly sings, "Virtue is my splendor, love my wealth" and later, when the wrongs are righted and the last has become first, she warbles: "My revenge is forgiveness."
What a great fable full of Utopian sentiment, of commoners and royals united in a moral certitude and rectitude. This opera, like the circus, is ideal for children of all ages. Warning: Experiencing Cinderella may simply make you feel glad to be alive.
Cinderella is being performed on March 28, April 3 and April 13 at 7:30 p.m.; Sunday March 31 at 4:00 p.m.; Sunday April 7 at 2:00 p.m. by L.A. Opera at the Dorothy Chandler Pavilion, 135 N. Grand Ave. For more info: (213)972-8001; www.laopera.com.
Ed Rampell
Thursday, 28 March 2013