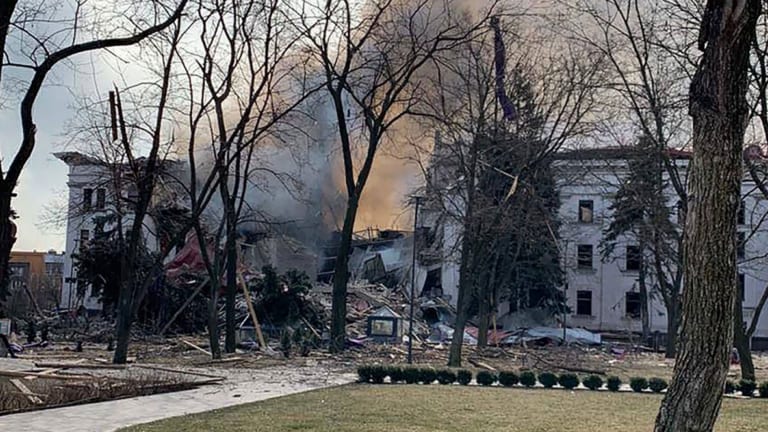 LA Theater Community Mobilizing for Ukraine
This can be a way to evade Russian state control of the media and social media.
As a concerned Ukrainian-American and theater reviewer I am asking all members of LA's theater community to please consider mobilizing playwrights, directors, actors, publicists, stagehands, makeup artists, dramaturges, critics, etc., in LA and beyond to oppose the bombing of Ukraine's Mariupol Drama Theatre by signing the below statement (or a similar one) and also by posting it to your social media and media sites:
We, the undersigned members of the Los Angeles theater community (and New York theater community) condemn the inhumane bombardment of the Mariupol Drama Theatre, where hundreds of Ukrainian civilians, including children, were seeking sanctuary from the Russian invasion and air strikes. In addition to being a non-military facility, the word "children" was clearly painted in large Russian letters outside the theater.

Furthermore, we announce that Russian diplomats, government officials and employees who do not publicly denounce the Russian invasion are being SANCTIONED. This means that Russian consular and embassy staffers from the Consulate General of Russia in San Francisco to the Permanent Mission of Russia to the United Nations, NY to the Russian embassy in Washington, etc., from the West Coast to Broadway, will not be allowed to purchase tickets to attend live theater in LA and NYC until individuals working for the Russian government publicly oppose the war and/or until peace is restored to Ukraine. (NOTE: This does not apply to people of Russian ethnicity living in the USA who are not employed by the Russian Federation.)

We don't believe that Stanislavsky and Chekhov intended for theaters to be bombarded.

In solidarity,

24th Street Theatre


The Fountain Theater
Friends – The importance of this letter condemning the Russian attack on the theater and sanctioning Russian consular/embassy officials and government employees is more than merely symbolic. By using the stage's star power and having famous actors such as Bryan Cranston and Tim Robbins sign on, this can be a way to evade Russian state control of the media and social media. Signatories are asked to please post signed letters on their social media accounts which can enable readers to receive information from sources Russian censors haven't banned yet. Arnold Schwarzenegger's recent heartfelt message posted on Twitter is a stellar example.
Please reach out to our LA live stage community to sign it and also to our counterparts at New York to get the word out, and then alert the media. I believe this action will reflect well upon us, for as someone once remarked, "all the world's a stage."
Ed Rampell, Descendent of Kiev and Odessa people and LA theater reviewer