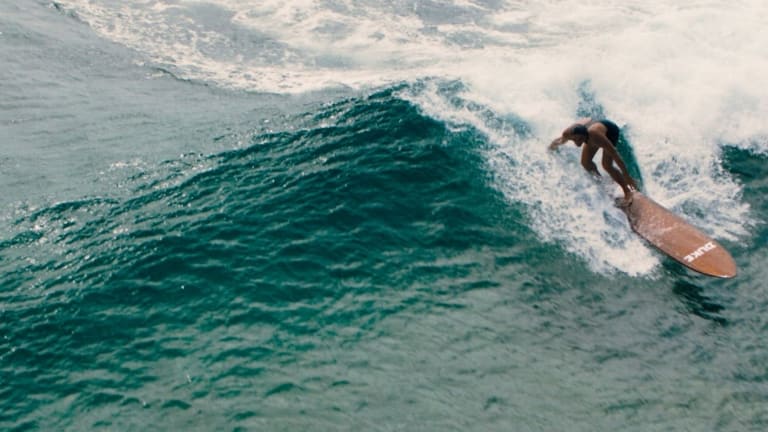 Aquaman Narrates Waterman
Spotlighting the Indigenous Athlete Who Broke the Color Barrier 35 Years Before Jackie Robinson
The documentary Waterman reveals that more than a third of a century before baseball player Jackie Robinson joined the Brooklyn Dodgers, the Indigenous athlete Duke Kahanamoku helped desegregate sports, winning the first of his three gold medals at the 1912 Olympics in Stockholm, Sweden. The Native Hawaiian swimmer then struck gold for the 100-meter free style and relay at 1920's Olympics in Antwerp, Belgium, and also earned two silver medals, including at the 1924 games in Paris. The pure Polynesian accomplished this on the world stage at a time when white countries and competitors dominated the Olympic games. As Washington annexed Hawaii in 1898 following a U.S.-backed coup against the independent Kingdom of Hawaii, the Oceanic Olympiad represented America.
The award-winning Waterman is narrated by Aquaman – that is, by the actor who played that superhero, Jason Momoa, who, like Kahanamoku, is Hawaiian, defined as a descendent of the Polynesian inhabitants of Hawaii before the arrival of Captain Cook in 1778. Director Isaac Halasima is also Polynesian, as he's part-Tongan, bestowing a sense of cultural authenticity and historical accuracy on this 88-minute film. Waterman combines mostly black and white archival footage and clips from Duke's movie and TV appearances, with commentary by surfers such as Laird Hamilton and Fred Hemmings, and by historians such as the Bishop Museum's DeSoto Brown, a Hawaiian with expertise in the archipelago's pop culture. The real-life Gidget (Kathy Zuckerman) is interviewed on the seaside patio at Duke's of Malibu, the Kahanamoku-themed restaurant named for the surfing/swimming legend. Contemporary longboard champ Duane Desoto depicts Duke in extensive reenactments filmed in color.
Also renowned as a surfer, Waterman chronicles how the dark-skinned Hawaiian broke the color barrier at what is referred to as "the whitest country in the world," Australia, where the Native Aboriginal people were colonized by primarily British settlers. Introducing surfing near Sydney to throngs of beachgoers, Kahanamoku became a smash sensation, overcoming prejudice. As part of his 1914 exhibition, Kahanamoku took Isabel Letham out to ride the waves with him in tandem on the pine board he'd built, with the white Australian woman first standing in front of Duke, who then lifts Letham, placing her on his shoulders as they cruise to shore.
During the same tour, Kahanamoku also surfed at New Zealand, where the Indigenous Islanders had been subjected to British colonialism. According to Momoa's narration, "for the Maoris Duke represented hope," as a fellow Polynesian who was treated with respect by the pakeha (white) establishment in the settler state.
As one of Waterman's many interviewees asserts, "Duke didn't tolerate racism," and in 1908 he and other Waikiki beach boys co-founded Hui Nalu, or "Club of the Waves," as a counterpoint to the exclusive Outrigger Canoe Club, which catered to Hawaii's haole (white) elite. In contrast, Hui Nalu was fully integrated, open to Hawaiians, haoles and other ethnicities, as well as to both genders.
Ironically, Kahanamoku's mastery of water sports prevented him from fully earning a living as a waterman in those days when athletes had to retain their amateur status in order to remain eligible for Olympic competition, which Duke continued to participate in as an alternate on the U.S. water polo team in 1932 at the Los Angeles games, when he was 42 years old.
This need to earn money is a major reason why the renowned, handsome surfer parlayed his fame into an acting career and went Hollywood. But as Waterman shows, Kahanamoku was only offered bit parts, such as the "Indian chief" in 1925's The Pony Express, by La-La-Land – never lead roles. Unlike the swimmer who beat Duke in the 100-meter race at the Paris Olympics, when Johnny Weissmuller snagged the gold medal – and then stardom, playing the title role in the 1932 hit movie Tarzan the Ape Man. Unlike Duke, Weissmuller – who was born in the Austro-Hungarian empire – was, of course, white and thus more welcomed by racist Tinseltown.
Kahanamoku's colorful life story is framed by the handmade shaping of a traditional wooden surfboard and extensive clips from a 1957 episode of the popular biographical television show This is Your Life, wherein host Ralph Edwards lured an unsuspecting Duke to a TV studio where he was surprised, on live TV before a theater audience, by a cavalcade of guests linked to the celebrity suffer's past. These friends and acquaintances included survivors of a 1925 tragedy at Newport Beach, when Kahanamoku used his abilities to rescue eight passengers who'd been aboard a boat that capsized in extraordinarily stormy seas. One of them gushed, "I've waited 32 years to thank you." Another of the surprises is the appearance of Weissmuller, who seems genuinely moved as he pays tribute to and embraces his longtime friend and onetime competitor.
Tellingly, when Ralph Edwards asked Duke, who was born in 1890 when Hawaii was still an independent kingdom, if he prefers contemporary Hawaii or the isles of yore, Kahanamoku said: "I don't love Hawaii so much today," he replied, grousing about the big buildings in 1957, before Honolulu became the high-rise hell it is today. "I prefer to live in the old days," the Polynesian confessed on live television.
Duke died in 1968 at age 77, and still photos show up to 10,000 people packing Waikiki's sands to bid "aloha oe" – "farewell to thee" – at a customary beach boy funeral. Popular TV/radio host Arthur Godfrey, known for his ukulele strumming, eulogized Kahanamoku as the embodiment of the loving, welcoming "aloha spirit" of Hawaii. Halasima's highly enjoyable, well-made documentary ends by summing up Duke Kahanamoku's legacy, which includes the official acceptance in 2020 of surfing as a sport during the summer Olympics. Honolulu-born Carissa Kainani Moore became the first woman ever to win an Olympic gold medal for surfing – and the first Hawaiian to compete in the Olympics since Duke.
Waterman had its L.A. premiere on May 8, with the filmmakers in attendance, at the Los Angeles Asian Pacific Film Festival, which focuses on productions by and about Pacific Islanders and Asian Americans.
In Celebration of Asian American and Pacific Islander Month, the world broadcast premiere of Waterman is May 10 on PBS' American Masters series and can also be streamed then on  and on the PBS VIDEO APP.