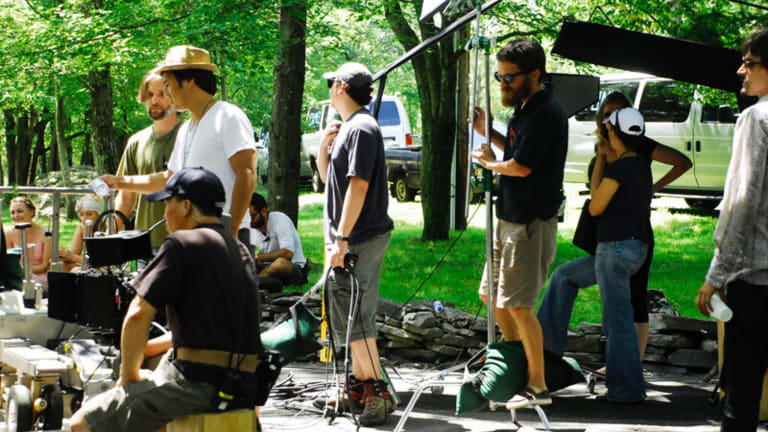 Could Production Tax Incentives Speed Up Diversity in Hollywood? Stay Tuned.
Lights, Camera, Tax Breaks!
Once upon a time in Hollywood, the quest for greater diversity and the inclusion of more Latinos in the entertainment industry was largely championed by stars like Rita Moreno, Edward James Olmos and the late Ricardo Montalban.
Times have changed.
Latino A-listers still use their platforms, but they've been joined by an unexpected ally: Latino politicians.
"Part of why this involves Congress and why it involves the state legislatures is because the media, just like other industries, benefit from American tax breaks," said Rep. Joaquin Castro, D-Texas, the former chair of the Congressional Hispanic Caucus, in an interview with palabra. "In other words, American taxpayers subsidize through tax credits the things that the media industry does."
Led by lawmakers like Castro in Washington, D.C., and supported by a number of state lawmakers around the country, this new generation of Latino politicians isn't hiding its impatience with Hollywood. The newest diversity strategy focuses on reexamining production tax credits and incentive programs that production companies have come to rely on. Some states give millions in tax credits to companies filming in their respective states, so why not enact laws that leverage tax incentives for diversity? Why not require specific workforce diversity goals to be met in exchange for additional credits?
Study after study has shown a disturbing absence of Latinos in many media job categories. "More and more state legislatures are waking up to that reality and putting pressure on the industry to do what it says it does, which is to be inclusive of all Americans," said Castro.
"In the case of Hollywood, where Latinos and Latinas get 3 and 4 percent of the roles in front of and behind the camera, I pose the question: I'm a state legislator and I represent a district that is heavily Latino and you're asking me to give a tax break to an industry that has excluded Latinos? That tax break just doesn't make sense for me to vote, 'yes,' " Castro said.
Castro has been on a mission, meeting with state legislators and media outlets around the country.
States like Illinois and New Jersey already tie tax incentives to workplace diversity.
"Diversity is an essential component of our efforts to attract motion picture and television production to New Jersey," said Steven Gorelick, executive director of the New Jersey Motion Picture and Television Commission.
New Jersey has long been a location of choice for TV shows such as "The Equalizer," and movies like "The Trial of the Chicago 7." Film and television production is big business in the state, pouring an estimated $500 million into the economy and creating thousands of jobs. In addition to tax credits of up to 35% for qualifying expenses, New Jersey offers a 2% diversity bonus to productions meeting workforce goals.
Illinois is another popular film location, and production tax credit applicants can receive a similar credit on qualifying productions plus an added 15% bonus for hiring workers from disadvantaged neighborhoods. All applicants for the credits must agree to track progress in reaching employee diversity goals.
Room for More
Rafael Agustín is a television writer and producer and serves as chief executive officer for the Latino Film Institute. He firmly supports increased government scrutiny of production tax credits.
"The entertainment industry is using taxpayer money to create these great works," said Agustín. "The majority of the taxpayers, being that (California) is a majority minority state, are being excluded. That means that the California taxpayer is literally paying for their own exclusion in Hollywood."
But that could be changing very soon.
The call for greater diversity in all entertainment job categories began a few years ago with a push from California's Asian and Pacific Islander community. This summer, California legislators passed a law which requires greater accountability from studios seeking tax credits. The bill, co-authored by Assemblymember Wendy Carrillo (D), Sen. Anthony Portantino (D) and Assemblymember Autumn Burke (D), contains a $330 million extension of the state's existing film and television tax credit program that's designed to keep productions in California.
What's different now is that the law also includes a special incentive connected to the building of new sound stages. Production companies could get up to 4% in additional tax incentives if, at the end of the project, they can show that they have made an effort to meet their diversity workforce hiring goals. The bill would continue an existing training program aimed at supporting employees from under-represented groups. But the major change would require that studios submit information on the gender and race of workers hired for film and television projects.
"This is only the first step that can legitimately create a pathway," Carrillo said. "But most importantly, it gives authority to the (California) Film Commission to collect data. We know that the film tax credit is successful. What we don't know is what the workforce looks like. Now we need concrete data, because numbers don't lie."
And there are more signs of promise. California lawmakers also allocated $250,000 to the University of California, Los Angeles, for increased research on diversity in entertainment. For the past several years, UCLA has published the highly regarded Hollywood Diversity Reports, which have consistently reported low numbers of Latinos working as lead actors, writers, producers and directors in film and television.
A Win-Win
With this growing demand for transparency, Hollywood may be about to change its story line. Representatives of the Motion Picture Association, whose membership includes studio giants such as Warner Brothers, Disney and Paramount Pictures, actually worked alongside the Entertainment Union Coalition, Carrillo and the other legislators as they developed the California tax credit extension legislation.
The studios have applauded the program's positive impact on the state's economy, and its emphasis on inclusion. "It also establishes, for the first time, important new benchmarks and commitment of diversity, which will help the industry further reflect the state's diverse population," said Melissa Patack, the MPA's vice president of state government affairs.
Alex Aguilar Jr. is the business manager for Local 724 of the Laborers' International Union of North America, whose members work on various aspects of studio construction. He is part of the Entertainment Union Coalition, which includes SAG-AFTRA and the Directors Guild, that supported the diversity provisions in the California Film and Television Tax Credit Program.
"It's definitely going to advance the Latino community," said Aguilar, who has worked on productions like "The Hulk," "Spiderman," and "Pirates of the Caribbean." "Honestly, I'm very happy about what happened. It's definitely a win for all of us — not just for the Latinos, but for all people of color."
With stronger diversity incentives and greater access to research and data, tax incentives are rewriting the story about inclusion and equity in Hollywood. The story has a good beginning and a promising middle, but as the plot thickens, the big question for Latino advocates is whether this story will someday have a happy ending.
Saida Rodríguez Pagán
palabra