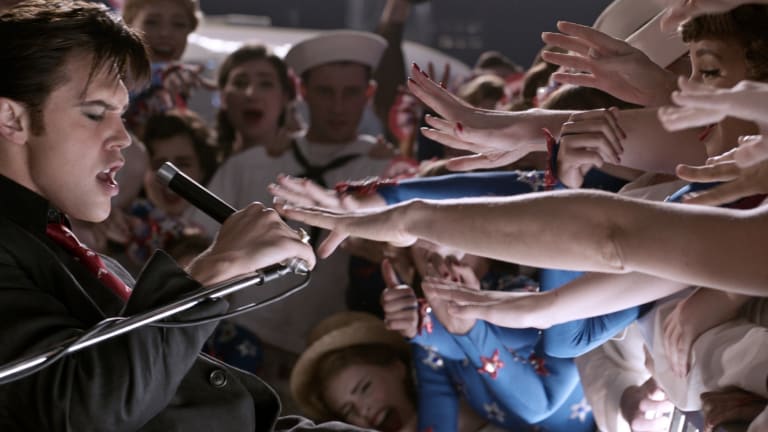 Elvis in Revue
His impact on music, fashion and the zeitgeist of American and global culture was matched only by Louis Armstrong, Duke Ellington and Frank Sinatra before him; and the Beatles after him.
Baz Luhrmann's Elvis movie may be somewhat fictionalized, but does a masterful job of capturing the energy, charismatic essence and (yes) beauty of Elvis Presley. While Austin Butler isn't a dead ringer for the King, he's handsome enough to pull it off, and NAILS the vocal range, dance moves and energy. If you're looking for a factual documentary, this has its disappointments. But as one of the great Stax musicians and producers said, "The movie . . . was to give an aura of his life and to entertain, not a documentary. I think it did that quite successfully."
Why Elvis? The magnitude of Elvis impact on American culture cannot be overstated. His impact on music, fashion and the zeitgeist of American and global culture was matched only by Louis Armstrong, Duke Ellington and Frank Sinatra before him; and the Beatles after him.
Tom Hanks has proven to be one of the great actors of our generation with his vast range of character development and screen presence. His role as Col. Tom Parker, Elvis' manipulative and devious manager, dominates the film as the narrator, and frames the story in the context of carnival and circus. Of course he was not a real colonel and his name was not Tom Parker. His entire life was built around the "con" and fashioned himself as the ultimate "Snowman," leaving people smiling and mystified, while separating them from their money. The fat suit and whiz-bang make-up job make the lovable Hanks unrecognizable.
Parker's cynicism conflicts with Elvis' genuine humility and love for the music, and is the narrative of the film. Parker was born Andreas Cornelis (Dries) van Kuijk in the Netherlands, and emigrated to the U.S. without a passport. That pesky inconvenience prompted him to keep Elvis stateside throughout his career, mostly cocooned in Las Vegas hotels for much of his career. While he presents a subtle Dutch accent in the film, the real Col. Parker adopted a slight southern accent, as some non-native speakers naturally do, to slow down the rhythm of their speech and be better understood.
Olivia DeJong plays Priscilla from a 14 year-old army brat through one of the most important rock 'n' roll wives in our cultural history. Only Jackie O had more covers on the National Enquirer and Star dirt-rags than did Priscilla after Elvis died. Apparently, playing Mrs. Presley got to her. When Hanks promoted the film with an appearance on Stephen Colbert, he told a hilarious story about how Olivia was an emotional wreck in the hair and make-up trailer one morning. The state dragged on as the cast and crew tried to calm her. Finally she blurted out, "I just want to have sex with him, is that so bad?"
All three leads should get Oscar nominations for their work. And I expect this to WIN for art direction, costumes, set direction and maybe film editing. Baz is hard to top in those categories.
Elvis historians might have preferred less Carny and Circus, and more storytelling of events that would have made for great film copy. If you grew up in Memphis and had Sun Producer Sam Phillips among family friends, you may have wanted the scene with the coincidental, impromptu creation of the Million Dollar Quartet. Carl Perkins, Johnny Cash, Jerry Lee Lewis and Elvis just happened to show up all at the same time, and gathered around the piano. And it would have been great to have a scene with Elvis recording at Stax in 1973.
With so much of the film set and focused on Las Vegas, it would have been nice to see and hear Cissy Houston (Whitney's mom, auntie of Dionne Warwick, and cousin to Leontyne Price), maintain her perfect pitch throughout Elvis totally losing it and cracking up on the soliloquy of "Are You Lonesome tonight." And with so much on Vegas, how can you omit a love scene with Ann Margaret in their Sands penthouse?
I might have preferred to see Col. Parker sharing the narration duties with Sam Phillips, to better depict the struggles and humility of the early years, and to mitigate Parker's evil cynicism, which governs the film. I had expected scenes with legendary Memphis DJ's Dewey Phillips and George Klein. Phillips was the first to play Elvis records on WHBQ radio, while Klein was a lifelong friend going back to Humes High School, and his forever champion. Phillips had a screen credit, but the role was so small I missed it the first time around.
Some fictionalized elements enhanced the drama, while others were distractions. Marian Keisker was the Sun Records secretary who called Phillips attention to "this boy's demo you gotta' hear." But she didn't tour with him or get apoplexic during the shows. Nor did she ever slam down a cup of coffee in front of Sam. Later she was a popular actor in local Memphis theatre.
Riots did occur at some of Elvis' early concerts, most notoriously in Jacksonville, FL. But not in Memphis and certainly not the night of the Russwood Park concert, to benefit the local Cynthia Milk Fund. I've seen pictures and heard several accountings of the event from people who attended. The consensus is that it was a mob scene, but no violence or heavy-handed police presence. After all, "it was 85% girls," I'm told. But it IS true that Mississippi Senator James Eastland led a segregationist rally at the Overton Park Shell the same day.
Parker was an avaricious con-man who took every advantage of Elvis, and often missed the point of the music. I mean, walking the aisles to sell Elvis ad specialties during the shows is the act of a man out to squeeze every dollar. That would have added color and realism. But he never tried to get Elvis to tone down his sexuality on stage or lay any guilt trip.
Elvis and BB King had a great friendship, but they never made a day of clothes shopping together at Lansky Brothers, though it's possible they happened to meet there a time or two. It would have been nice to see the film depict more about Elvis' generosity, particularly toward the Black and Jewish communities in Memphis. Elvis made generous annual gifts to organizations of both throughout his life.
And it's true that "Elvis played racquetball at the Memphis Jewish Community Center." That quote is from a silly book I came across that makes far-fetched comparisons to Elvis and Jesus, titled, The King and the King of Kings. I shared that with my friend Joe Exilbierd, who was the comptroller of the Memphis JCC when they built a new facility in East Memphis with the only racquetball courts NOT at the Downtown YMCA. Joe said, "Let me tell you about that. Elvis called me up one day and asked if we could let him and his friends come after hours to play racquetball, swim, shoot hoops and use the health club. In return he gave us $10,000 a year. They only came a few times before he built the court at Graceland, but he continued with the same gift every year until he died. Then when he died, Vernon cut out all the Jewish and Black charities Elvis used to give to." The Star of David that he often wore, and the presence of same on the graves at Graceland are a tribute to Gladys' Jewish roots, which rural Southern families often kept secret.
 Some wrongfully dismiss the importance of Elvis contribution to American music. You can't tell that to Robbie Robertson, the Beatles, Stones or Bob Dylan who kept silence for three days after Elvis died. Graceland is a time capsule, preserved just as it was the day Elvis died. Regardless of what one thinks about his lifestyle excesses, taste in furniture or devolving fashion; when you walk into the hallway with all those Gold and Platinum records double-hung from end to end, if you don't get misty-eyed, you either have no heart or never paid attention to the music.