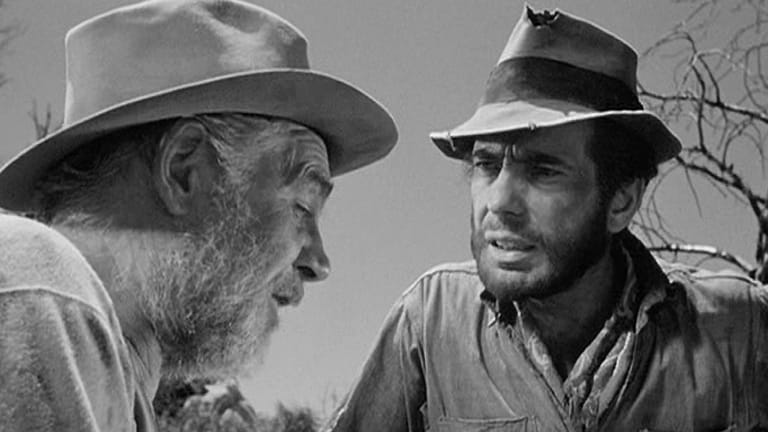 Humphrey and Huston: A Cinematic Friendship
Two mavericks chasing their dreams and pushing boundaries while having the time of their lives.
The Hollywood Golden Age would have a gaping hole without the works and mere presence of two legendary friends. Two mavericks chasing their dreams and pushing boundaries while having the time of their lives.
Humphrey Bogart was born on Christmas Day in 1899 and floundered for much of the early 1930s, struggling to transition from the stage and get himself cast in quality motion pictures. John Huston, who was about seven years younger, had struggled to make ends meet and worked as a screenwriter for hire around that same time. While in his early 30s, Huston began nabbing work as a contributing writer on screenplays like the Oscar-winning Jezebel, Wuthering Heights, and Juarez. Bogart, meanwhile, came into prominence in 1936 thanks to a career-making gangster role in The Petrified Forest.
It would be The Amazing Dr. Clitterhouse in 1938 that would make the duo friendly with each other and turn them into drinking buddies. The relatively forgotten drama is about a doctor who becomes a criminal in order to do research on the criminal mind starred Edward G. Robinson; Huston contributed to the ill-received adaptation of the play while Bogart played a supporting role – one which he would later call the least favorite performance of his career. Without it, Huston and Bogart's lives may never have intersected.
It's hard to pin down exactly what made the duo such a magical combination of actor/director. Bogie is still cited as one of, if not the greatest motion picture star of all time. But it was the driving force of Huston's writing and direction that made him shine. The two were manly men; gruff adventurers who swigged back booze together like it was going out of fashion. True, Bogie had a more privileged, upper-crust adolescence than the freewheeling, womanizing Huston, his intensity and frequency in which he played a gun-toting gangster proved he was able to tap into some kind of a gritty mindset. Above all, they loved their craft and worked tirelessly when it came to the art of telling a good story.
The story that really shook things up, like one of their many whiskey-based cocktails, came in the form of a gangster melodrama called High Sierra in 1941. Director Raoul Walsh would helm the production, but it marked the first true collaboration between Bogart and Huston, both looking to solidify themselves in the industry. It proved to be a major hit, and Huston was quickly allowed step up to the plate and try his hand at directing. He had only one name in mind to play the leading role of duplicitous detective Sam Spade in the noir classic The Maltese Falcon.
No, it wasn't Bogie. It was George Raft, who turned down the role because he didn't believe in the inexperienced Huston's capabilities. Forced into a tight spot, he called Bogart for a favor, and the actor accepted the role with little time to prepare. Both more than proved their talents, crafting a low-budget hit that quickly became the talk of the town and arguably launched an entire genre. The detective adaptation has since become a career highlight for the pair and cemented a partnership since both Huston and Bogart felt they worked well together.
It wasn't immediate smooth sailing, however. Across the Pacific reused most of The Maltese Falcon's cast and crew, but production was halted in 1941 when the plot too closely resembled that of the real-life Japanese airstrike on Pearl Harbor. Huston left the project to film war documentaries, which led to director Vincent Sherman reshooting much of the picture. Huston would refrain from doing any narrative projects while the war raged on while Bogart continued to make classic after classic from Casablanca to The Big Sleep – he was too old to enlist in the army at this point in time. Huston actually didn't make a motion picture for more than five years until reuniting with Bogie in 1948 for a delectable double feature. By this time, Bogart was married to his To Have and Have Not co-star, Lauren Bacall.
Huston paired the couple in his Florida thriller in Key Largo, also bringing back Edward G. Robinson for the ride. The stormy crime drama faired well but was incomparable to their gold dust masterpiece, The Treasure of the Sierra Madre. In it, Bogart gives the performance of his career and Fred Dobbs, a greedy and corrupted bum hanging around northern Mexico. When he teams up to go pan for gold, suspicions run high while the audience's blood runs cold at the sight of such a spellbinding showdown. Huston earned two Oscars for his writing and direction, while his own father, Walter Huston, took home an award for Best Supporting Actor.
The film broke ground, not only because of its violence and portrayal of antiheroes, but actual literal ground given its location. This was the first major production to shoot in another country, something the studio fought Huston tooth and nail on, though ultimately, the scenery shot was very much worth it.
If the state of Durango proved to be a source of contention, the setting of Bogart and Huston's next collaboration would have financial backers in a complete tizzy. The African Queen paired Bogart with Katherine Hepburn on a small steamship traversing a German-occupied river in the Congo amid the First World War. The 1951 adventure film earned Bogart his one and only Oscar for his charming portrayal of drunken captain Charlie Allnut. As the legendary on-set story goes, all of the cast and crew came down with a violent case of dysentery except for Bogie and Huston, who only drank whiskey instead of water and ate nothing but canned beans.
The final collaboration between the two legends would be Beat the Devil in 1953, a peculiar parody about a ragtag team of criminals headed to Africa to pull off a job. This movie was their least applauded outing, though it did pick up better reviews as the years have gone by. Some have theorized that it ended Bogart and Huston's relationship, given Bogart lost money financing the project through his own Santana Productions and even a few of his teeth during an onset accident.
Another source of contention at that time was the Committee for the First Amendment, a group Huston was instrumental in starting to support the "Hollywood Ten," who came under trial by the House Un-American Activities Committee due to communist suspicions. While Bogart backed his pal's initiative, he later wrote an article entitled "I'm No Communist" in order to distance himself from it, which many mocked as an attempt to save his career and avoid scrutiny that blacklisted actors faced.
Both continued to work on highly successful projects, and contrary to popular belief, visited in their spare time in the mid-1950s; particularly when Bogart began to fall ill. He was diagnosed with throat cancer and was weak and bed-ridden throughout the final months of his life. An avid smoker and drinker, it seemed clear what caused his early demise. He would die on January 14, 1957, at the age of 57. Huston would be the one to deliver the acting legend's eulogy.
Huston went on smoking, drinking, adventuring across the globe, and making movies without his most prolific collaborator for thirty more years. Huston would craft many-well received and boundary-pushing works, including The Misfits, Night of the Iguana, Fat City, Prizzi's Honor, Under the Volcano, and The Dead to name a few, but nothing would reach the same heights of success as the movies he made with Bogart. He even turned to acting in his later life, earning an Academy Award nomination for Chinatown and lending his distinct voice to animated and narration roles. He, too, was eventually diagnosed with emphysema and required oxygen to breathe. Huston died on August 28, 1987, at the age of 81.
It is so difficult to put the connection that these two men had down into words. It was an honest kinship that led to one of the best-known and most successful director/actor partnerships of the Hollywood Golden Age – perhaps even of all time. Three of their collaborations are listed on the American Film Institute's list of 100 greatest motion pictures ever made – The Maltese Falcon, Treasure of the Sierra Madre, and The African Queen.
Bogie apparently admired Huston's skills as a writer, something he always wanted to be. Huston was envious of Bogart's acting skills and his intense concentration while working on set. They would play juvenile pranks on each other during shoots and drink together for long hours into the night. They rejected the notion of fame and stardom, instead, keeping the work as the ultimate goal and continuously pushing each other to hone their crafts.
We will likely never see a partnership again that was this intense or fruitful in its creative output. Gone also are the days of the celebration of two overtly strong men who, in retrospect, likely suffered from alcoholism. Perhaps their pairing stemmed from something deeper – emotional support, or at the very least a mutual understanding. Whatever the case, Huston and Bogart found each other in the late-1930s, and the world became a richer place for it. While they likely would have gladly taken more time with each other, thankfully, their friendship was materialized into classic cinema for all to see, enjoy, and remember.