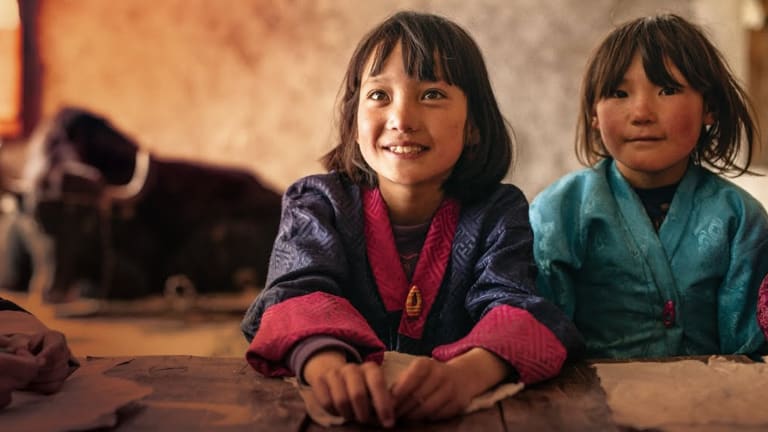 Reflections on Lunana: A Yak in the Classroom
One common trait of many great works of literature or film is that they deal with particular, concrete, realistic situations in a localized setting, but they have universal significance. Available on Netflix.
After the Bhutanese film Lunana: A Yak in the Classroom (2019) appeared, it won various awards and later was nominated for an Oscar as best International Film at the 2022 Academy Awards ceremony. Various reviews such as the one in The Hollywood Reporter described and praised the film, but here I will stress some different aspects of it that I found especially appealing.
Early in the film an educational administrator, after telling the main character, Ugyen, that she has never seen a teacher "less motivated" than he is, informs him that he is being assigned to a school in Lunana (population less than 100). It is, she says, "the most remote school in Bhutan" and "probably in the world." Further, she explains, "Our government's pursuit of Gross National Happiness demands for us to provide education for every single child be it in the city or the most remote villages." (All quotes are taken from the filmscript, which may vary slightly from the subtitles appearing in the film).
Gross National Happiness (GNH) instead of Gross National Product (GNP)? From where did that come? In 1972, the fourth king of Bhutan (a small Himalayan nation of less than one million people between China and India) declared, "Gross National Happiness is more important than Gross National Product." That belief fits in well with Buddhism, which is the nation's main religion and cultural influence.
Six years earlier the German-born English economist E. F. Schumacher wrote an essay on "Buddhist Economics." In it and other writings, the economist indicated that with its emphasis on rapid change, economic growth, and increasing Gross National Product (GNP), Western economics failed to adequately consider "the availability of basic resources and, alternatively or additionally, the capacity of the environment to cope with the degree of interference implied." By advertising and marketing, such economies also encouraged a "frenzy of greed and . . . an orgy of envy."
In a LA Progressive essay written a decade ago, I summarized his overall economic thinking: "He called for a wisdom-centered economics that would emphasize well-being rather than consumption, and meaningful and rewarding employment rather than productivity. Too many economists, he thought, stressed profits and consumption without taking into consideration more ultimate human ends."
Since the 1970s the influence of Bhutan's example and Schumacher's ideas have increased, and for a decade now there has been a World Happiness Report, which "uses global survey data to report how people evaluate their own lives in more than 150 countries worldwide." (An earlier article on "Gross National Happiness" in the 2013 Berkshire Encyclopedia of Sustainability provides more information on Bhutan's happiness initiative.)
In addition to prioritizing happiness over so-called economic growth, two other interrelated topics the film demonstrates are the significance of music and the conflict between traditional cultures and the newer types that challenge them.
At the beginning of the film Ugyen's dream is to quit teaching and to emigrate to Australia and become a singer, one who sings modern songs accompanying himself on his guitar. But as the educational official reminds him, he has a year of "mandatory service" remaining in his commitment. So off he goes to Lunana, which will take him more than a week by bus and arduous uphill hiking from where he lives (when not off teaching) with his grandmother in the capital city of Thimphu.
Before he leaves the capital he's out drinking with his friends (including his girlfriend) and is asked to come up on stage and sing, which, after grabbing a guitar and sitting on a stool, he does (in English), while other young people in the bar clap and sway.
Once he arrives in the much more old-fashioned Lunana village—none of his small number of students, mainly little girls, know what a car is—he at first shuns any traditional songs, as he does the idea of staying in the place any longer than necessary. But after hearing a young woman named Saldon sing just such a song, "Yak Lebi Lhadar," he eventually asks her to teach it to him, and she writes out the lyrics, and he practices it with her.
It tells the sad story of a yak herder forced to sacrifice his beloved yak (Lebi Lhadar) for meat for the villagers. At the end of the song, Saldon tells him that the yak sings back to the herder, saying, "Our bond will never be broken. . . . Be it this life or the next, I will return home just as I do every evening." (The economy of Lunana is very much dependent on yaks and their herders, and the title of the film reflects the fact that Saldon gives Ugyen a yak named Norbu that he must keep indoors, out of the cold, in his classroom.) One of the most attractive characters in the film is the village leader, Asha, and he used to sing the song when he was younger but stopped doing so after his wife died when pregnant with their second child, who also did not survive.
Along with the music of the village, Ugyen also gradually warms to his young students; and one in particular, "class captain" Pem Zam, is as cute and charming as any young girl I've seen in films for a long time. We see Ugyen playing his guitar and singing along with his students a version of "Old MacDonald Had a Farm"—"Farmer Dorji had a house, E-I-E-I-O / In his house, he had a yak, E-I-E-I-O." A little later on, he plays the guitar and some of the kids do a circle dance while they all sing.
In the movie's final scene Ugyen also plays his guitar—but where and what he is singing I'll not reveal so as not to spoil the ending for those who will watch this charming and insightful film.
Thus, whether we're looking at traditional or more modern cultures, music is important. Whether we look to ancient Africa or Greece or to more recent times, we see this. And we see it from lullabies sung to babies to funeral dirges. In my own case as a young child, I remember enjoying hearing my mother play songs on the piano like "Danny Boy" while others sang along; my singing songs to our baby daughter, Jenny; the appeal of folk singers like Pete Seeger and Joan Baez in the 1960s; all the Russian folk dances and singing I witnessed on many trips to the USSR/Russia in the 1980s and 1990s; and in my wife Nancy's final Alzheimer's months enjoying with her songs by the likes of Willie Nelson and John Denver, plus one that we considered "our song," "A Love until the End of Time," sung by Maureen McGovern and Plácido Domingo.
One of my modern heroes is the poet and Lincoln biographer Carl Sandburg, but he was also a gatherer of American folksongs—see, e.g., his The American Songbag (1927), a collection of 280 such songs in almost 500 pages, complete with words, music, and introductions. But towards the end of the old poet's life a younger singer came to his North Carolina home, introduced himself, and presented him with his recently released album The Times They Are A-Changin'. He was, of course, Bob Dylan; and in a song with the same name as the album, he sang,
Come gather 'round, people
Wherever you roam
And admit that the waters
Around you have grown . . . .

Come senators, congressmen
Please heed the call
Don't stand in the doorway
Don't block up the hall.
Dylan's music and festivals such as the famed Woodstock one in 1969 were central to the youthful countercultural rebellion of the late 1969s, and they demonstrate the clashes that often occur between traditional cultures and the newer types that challenge them.
Another example was that of Dylan's contemporaries the Beatles, who also reflect the almost universal appeal, especially to youth, of some Western music, as well as other forms of entertainment. A man who later became Soviet leader Mikhail Gorbachev's
English interpreter recalled the Beatles' influence on him and his friends in the 1960s: "We knew their songs by heart. . . . To the Beatles . . . I owe my accent. . . . The Beatles were our quiet way of rejecting 'the system' while conforming to most of its demands." A more recent example of the universality of music is that of the Silkroad Ensemble, a cross-cultural group that aims "to make a positive impact across borders through music."
In the film Lunana, I don't recall hearing the names of any foreign singers or songs, but when playing his guitar Ugyen does sing some such songs. And other characters sometimes mention other Western influences like the actors Brad Pitt and Leonardo (DiCaprio) and the TV series Baywatch.
One common trait of many great works of literature or film is that they deal with particular, concrete, realistic situations in a localized setting, but they have universal significance. Carl Sandburg once wrote, "Alike and ever alike we are on all continents in the need of love, food, clothing, work, speech, worship, sleep, games, dancing, fun. From the tropics to arctics humanity lives with these needs so alike, so inexorably alike."
In addition to the universal appeal of a young person agonizing over what career to pursue—certainly one of life's most important decisions—there are many other aspects of Lunana that can delight viewers, for example, the beautiful mountainous settings, good acting, and the dramatic tensions that continue until the end. Will Ugyen remain in or return to Lunana? Will he pursue teaching or singing as a career? Will he form a romantic relationship with the folk-singing Saldon?