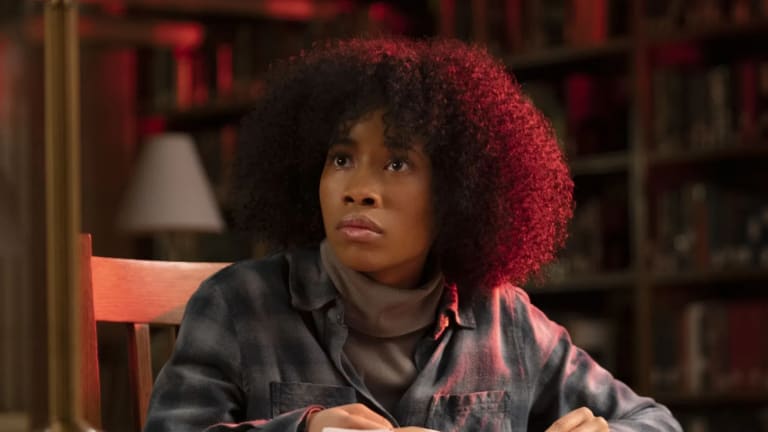 "Psychological Thriller" Master Offers Much More
Master puts a mirror up to a society that struggles with diversity, inclusion, and equality, generally, and at "the best" schools and in "the best" communities, too.
One aspect (among many) of the way we live in America—strive to live, at least—has a serious downside. Too many Americans strive to put socioeconomic distance between themselves and others. Call it what you will … insularity, exclusivity, snobbery, etc. But at day's end, it does not matter what you call it; all references occupy a common domain—elitism. As MC Hammer put it, "U Can't Touch This."
But what about those who seek to enter the elite? It works for some but not for others. Living the reality can teach a harsh lesson: Watch what you wish for. And that outcome is portrayed dramatically and well in the recently released Master. The film was written and directed by Mariama Diallo, produced by Animal Kingdom/Big Indie Pictures, and distributed by Amazon Studios.
Master was shot at Vassar College—identified as Ancaster College in the film—where you can count the number of African American faculty members and students on both hands. Diallo drew on personal experience to write a script that features three African American women—a faculty member/administrator, a faculty member, and a student.
Gail Bishop (played by Regina Hall) is an upward-striving faculty member/administrator who aptly holds the title "master" (the head of a college), the first African American in the history of Ancaster to occupy that position. Jasmine Moore (played by Zoe Renee) is an incoming high school valedictorian who migrates from the West Coast to enroll at the school.
Upon arriving for her first year, Jasmine is assigned a dorm room with "a history," and a dark one: the school's first African American student hanged herself there. It does not take long for issues to emerge in Jasmin's life at Ancaster, and Gail, as Master, investigates.
Gail's life is not without challenges, either. Her campus room is maggot-infested, and she is troubled by the prospect that an African American faculty colleague, Liv Beckman (played by Amber Gray), might be denied tenure. The stakes are high institutionally; Beckman would be Ancaster's first African American faculty member to earn job security.
Standing in her way is (you guessed it) Jasmine, a student in one of Liv's classes, who accuses her instructor of racist grading practices. Jasmine files a grievance, and the timing for Liv could not be worse. She needs a strong teaching record to counterbalance a weak publication portfolio, and Jasmine's grievance raises significant questions among faculty referees about Liv's classroom performance.
The backdrop sets the stage for a stunning set of culminating events. Suffice it to say that neither Gail nor Jasmine remains at Ancaster, and Liv is not all she claims to be. Those unexpected circumstances represent a diversity crisis for Ancaster, and the college president responds by cutting a video. He praises the school's commitment to diversity and announces that a college-wide committee will recommend campus improvements.
Gail is of a different mind, concluding that Ancaster's problems are persistent and profound, cultural and historic. "It's never gonna change," she says.
Soon after leaving a faculty party one night, a security guard approaches Gail on her walk home. "Faculty?" he inquires. "No. I don't work here" (emphasis added) is her extraordinary response. Trusting that she is a campus visitor, the guard directs her out: "The exit is that way," he points out. With student voices beckoning her in the background—"Master Bishop! Master Bishop!—Gail follows the guard's directive and walks away.
"Watch what you wish for," which I wrote earlier, is only one of multiple takeaways from viewing Master. Here is another. While some elites are dedicated to keeping distance between themselves and the masses, they also need a few atypical affiliates to maintain the perception of openness. That maneuver comes at a price—not for the elites but for the newcomers. They must accept and adapt. That approach works for some aspirants (Liv is an example, at least for a time) but not for others, like Gail, Jasmine, and screenwriter Diallo. Confronted with a culture that presses on them from multiple angles, their real-life existence becomes increasingly difficult, if not intolerable. Their answer to "Who am I?" is at stake.
How so? It is a tricky proposition to be "in" but not "of" an oppressive culture—to derive benefits without also absorbing toxicity, interpreting everyday life as "normal," and (perhaps) becoming a cheerleader or (worse yet) an active agent. But being banished to the margins can be bad, too, and it is often the fate of those who do not "go along to get along."
If there is a silver lining in what I have just described, it is that those affected are expressing their feelings openly and vigorously (see, for example, Jay Caspian Kang's recent The Pity of the Elites). Diallo is equally forceful in analyzing what she sees as racism in academe. "Black unity and amelioration cannot thrive in spaces where Black success is consistently interrogated and ill-fated," Diallo told Candice Frederic recently in HuffPost. "At an institution like that, there are these 'not accidental' barriers to Black women coming together." (It creates) "a chessboard of white supremacy." (Such that) "the way these institutions commodify identity and race also make (particularly) Black people, people of color, and Black women respond in a way that is not natural. It is just what you must do."
Even though the struggle of which Diallo speaks is intensely personal and widespread, it is often unrecognized, defined away, or misconstrued by those who have not gone through it. And even when those people are confronted with reality, many "don't get it." At the film's end—when it has become impossible to deny that something is really wrong—faculty members attribute Ancaster's malaise to their heavy academic workloads and the anxiety and burnout it produces. It is misplaced concreteness, of course.
It would be easier for me to digest the storyline of Master if it applied to higher education only. After all, higher ed is only one sector among many in society, and it is a primarily encapsulated industry at that. But Master's terrain stretches well beyond campus boundaries—not just to circumstances you might expect (e.g., in the corporate world), but also in places you might not. That includes my experience observing a specific category of socioeconomic elites as they engage in community affairs.
The socioeconomic privilege that enables their elite lifestyle influences how they approach that work, primarily when they work together in homogenously populated locales. It is not surprising to see a good share of "good work serving the community" conducted through fundraising—big-money fundraising, to be specific—where wealthy donors participate.
Lurking in the background—ever-present but never acknowledged—are political preferences that do nothing to resolve (and often exacerbate) the social problems their philanthropy seeks to alleviate. Addressing symptoms of social distress but never attacking the cause is a cruel and trenchant way of maintaining distance from others. Tomorrow, next year, and beyond, the status quo will persist, and so will the social problems and their privilege. It is what Anand Giridharidas calls "the elite charade."
It would be easy to view Master as entertainment only. A "psychological thriller" is one description I have read. But the film is much more. Master puts a mirror up to a society that struggles with diversity, inclusion, and equality, generally, and at "the best" schools and in "the best" communities, too.
And why not? Best in what? Best for whom? To change the nomenclature (of what best means), a progressive interpretation is required.