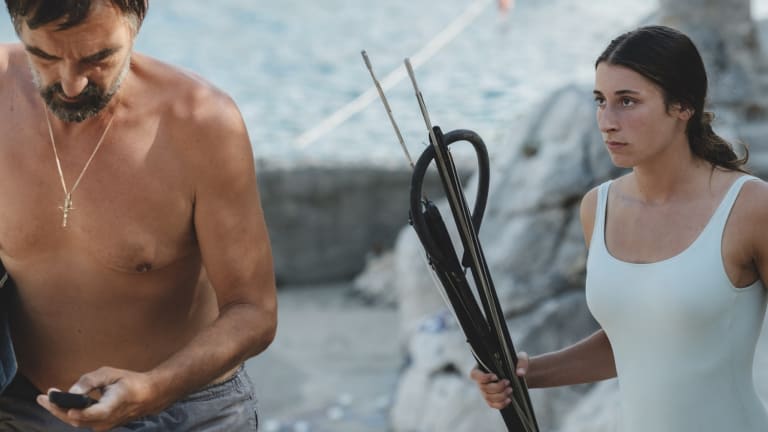 SEEfest Returns: Antoneta Meets Antonioni in Promising Premiere Picture
Croatian co-writer/director Antoneta Alamat Kusijanovic's film Murina, which reminded me of Michelangelo Antonioni's 1960 L'Avventura.
The 17th annual South East European Film Festival kicked off with Croatian co-writer/director Antoneta Alamat Kusijanovic's film Murina, which reminded me of Michelangelo Antonioni's 1960 L'Avventura. While Antonioni's classic won Cannes' Jury Prize, Murina scored the renowned French film fete's Caméra d'Or (Golden Camera) accolade for best first feature film. If Antonioni's masterpiece about alienation is largely set in the Mediterranean off of the Italian coast and was shot in black and white, Kusijanovic's directorial debut of a full-length production was lensed in stunning color in the Adriatic Sea and at remote Croatian isles, located in what had been part of former Yugoslavia.
Like L'Avventura, Murina also deals with estrangement – although primarily in the family sphere, rather than in terms of sexual relationships between men and women (although to be sure, there's some of that in Kusijanovic's film, too), as was at the core of Antonioni's movie. In Murina, Julija (Croatian actress Gracija Filipovic, one of the 10 Berlinale Shooting Stars 2022) is a statuesque 17-ish-year old island girl who lives at a distant Croatian islet, a "paradise" which encapsulates most of the world she knows. As such, the naïve child of nature is an expert swimmer and snorkeler who, speargun in hand, dives hunting for murina (Croatian for moray eels) and other sea life.
As with many adolescents, Julija's life is complicated by her parents' interactions with her and one another. When I first saw Nela, I assumed she was Julija's sister, not her mother, and indeed, the Serbian-Danish thesp Danica Ćurčić is only 36. Husband/father Ante is portrayed by veteran actor Leon Lucev, who was born in Croatia in 1970. Ante is domineering to the point of abusiveness, as he seeks to control his wife and daughter – in particular, Julija.
The family dynamic is rocked when Ante's old friend and employer, Javier (the great Maori actor Cliff Curtis), visits for the first time in years. Ante, who rolls out the red carpet, has a lot more at stake than merely catching up with a longtime acquaintance. Although the screenplay by Kusijanovic and Frank Graziano is at times vague about details, Javier seems to be a wealthy businessman from an unspecified English-speaking country, whose visage adorns those magazines that pay homage to moneybags. At stake is a deal Ante craves to consummate: Selling the land he owns on the islet to Javier so the family can move to an apartment in Croatia's capital, Zagreb (that is, among other things, renowned for its legacy of Oscar-winning animation).
Complications ensue, and although some plot points aren't spelled out, Javier and Nela may be having an affair behind Ante's back. Javier discloses to Julija that he once asked her mother to marry him. Meanwhile, Julija struggles to break free of the bossy, bullying demanding Ante and his iron grip. Clad in tightfitting one-piece bathing suits, Julija confesses to Javier she has never been in love, and living mainly at a secluded isle, the teenager may also be a virgin who is struggling with her emerging sexuality. At times, she seems to compete with her mother for Javier's romantic attention, and yearns for the well-to-do businessman to take her away so she can attend Harvard – and get away from her control freak father.
Murina includes several underwater sequences that make the Adriatic-shot film cinematically sparkle. At the start of this review, I noted parallels between an Italian cinematic classic and I'll conclude it by citing the denouement of a French New Wave masterpiece that Murina also put me in mind of. In François Truffaut's 1959 The 400 Blows – arguably the best Western movie ever made about unhappy childhood – Parisian juvenile delinquent Antoine Doinel (Jean-Pierre Léaud) feels unloved and is sent away, locked up in a reform school near the sea. Having never seen the Atlantic, he escapes the prison. Encountering the beach for the first time ever, the elated boy runs on the sand (ending with that heartbreaking, haunting freeze frame). Julija's swimming and swimming away in the Adriatic Sea, yearning to break free and grow up on her own terms, reminded me of the ending of Truffaut's Palme d'Or-nominated Les Quatre Cents Coups. Where are Antoine Doinel and Julija going?
The angsty Filipovic smolders with discontent, while her father, played by Lucev, seethes with barely contained range. Having co-written three books on the screen image of Pacific Islanders, I was delighted to see Cliff Curtis, far from his home of Rotorua at a European isle. The indigenous actor hails from Aotearoa/New Zealand and co-starred in the 1990s movies The Piano, Rapa Nui, Once Were Warriors, Six Days Seven Nights, 2002's Whale Rider, and many others, as well as TV series such as FX's Fear the Walking Dead. It's great to see Cliff on the big screen all the way in the Adriatic, Polynesian tattoos and all, holding his own in this emotionally taut drama.
The ensemble cast deliver searing performances and are well-directed by the gifted Kusijanovic. This Dubrovnik-born helmer's impressive inaugural feature marks an august start for a promising motion picture career. Perhaps her second feature could be a sequel, revealing exactly where the troubled Julija is swimming to…
Prior to the screening Romanian-born philanthropist Stefania Magidson, president of the Blue Heron Foundation, was awarded the 2022 SEEfest Legacy Humanitarian Award for helping Ukrainian refugees. Before the projector rolled, Magidson was honored on the stage of the Fine Arts Theatre in Beverly Hills by SEEfest board members, including Vera Mijojlic, founder of this Festival that is an annual highlight on Los Angeles' cultural scene.
​The 2022 South East European Film Festival is taking place April 27-May 4 and co-presented by ELMA, the foundation for European Languages and Movies in America. This year the Festival is including films from Ukraine, presenting the 2022 Sundance directing award winner Klondike by Maryna Er Gorbach and the U.S. premiere of Blindfold by Taras Dron. Both films focus on ordinary people trying to live their lives under the constant threat of new conflict and war traumas that just won't go away. ​For schedule and more information see: https://seefilmla.org/.
Murina is 96-minutes, in English and Croatian, with English subtitles and richly deserves to be released in the U.S., especially on the arthouse/foreign film circuit.