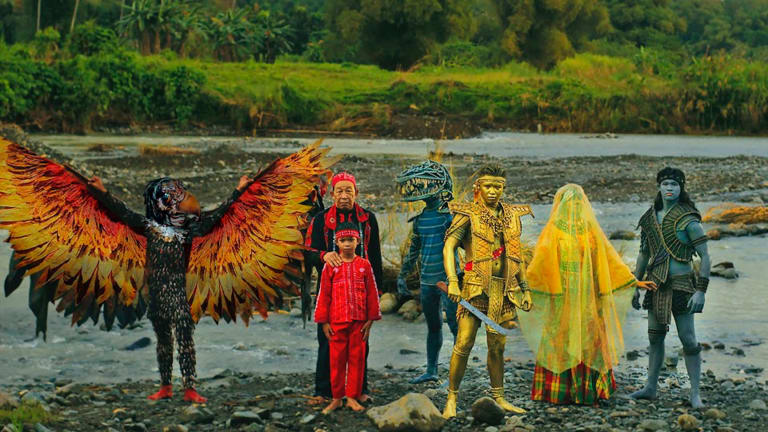 Making Waves with Pacific Cinewaves: South Seas Cinema Surges at LAAPFF
Indigenouos Now/Pacific Cinewaves: Los Angeles Asian Pacific Film Festival Capsule Reviews
Since 1898, when a Thomas Edison camera crew on location in Honolulu shot the first footage ever filmed in the Pacific Islands, the South Seas Cinema movie genre has been dominated by Haole (Caucasians) male filmmakers lensing productions primarily for the consumption of Haole audiences in order to make money. These motion pictures include Mutiny on the Bounty and The Hurricane, written and directed by, and usually starring, Haoles. This phenomenon – call it "Haole-wood" – is examined in books such as Hawaiian film historian Matt Locey's White Lens on Brown Skin, dropping this summer.
But since the 1970s, an Indigenous Tidal Wave of filmmaking has arisen with Natives, writing, directing, producing and starring in more authentic, accurate works for the big and little screens. Presented by Visual Communications, the 38th annual Los Angeles Asian Pacific Film Festival is arguably the main point of entry for Indigenous Pacific Islander productions in Hollywood and the U.S. Interestingly, before screenings there are spots highlighting Young Rock, the NBC-TV sitcom based on the life of and co-starring Samoan superstar Dwayne Johnson, one of the world's biggest box office sensations. Shorts, documentaries, animation and features by and about the Native peoples of Polynesia, Melanesia and Micronesia, as well as by Asian and Asian-American filmmakers, are being screened May 5-13 at various venues in the world's movie capital by LAAPFF, a rare filmfest that spotlights South Seas Cinema. Here are capsule reviews of some of these productions that are enhancing the genre of Pacific pictures, making waves at LAAPFF's Pacific Cinewaves:
INDIGENOUS NOW, PACIFIC CINEWAVES
On May 5 I attended LAAPFF the Indigenous Now program of shorts from Hawaii, Fiji, Samoa, Aotearoa/New Zealand, the Philippines and beyond at the prestigious Directors Guild of America on Sunset Strip. Indigenous Now is a program of Native-themed/made shorts that is part of LAAPFF's Pacific Cinewaves, the name of the Festival's programming section highlighting Native Hawaiian and Pacific Islanders. Befittingly, the shorts were introduced with an acknowledgement of the tribal people who'd inhabited the land where the DGA theaters now are and beyond. The best of these shorts is by far Kamakanioka ʻĀina Paikai's beautiful Hawaiian Soul, the 20-minute biopic about the Hawaiian activist and musician George Helm (see review and for more info). In no particular order here are reviews of other Pacific Cinewaves productions:
Rooting for the Rootin'-Tootin' ROOTED
This is an uplifting music video featuring dancers and musicians from Fiji, Tonga, Banaba, Rotuma, Marshall Islands and the Solomon Islands who are celebrating their ethnic identities and ancestral homelands through song, choreography and cinematography. Written, directed and composed by Mia Kami, who is of Tongan descent and lives in Fiji, Rooted is a joyous affirmation of life and Indigeneity ingeniously cut by editor Nick Stone into a cohesive whole with flow as the performers were shot on location in their different islands. Rooted reminded this film historian of Maya Deren's filmically fluid montage.
"We are rooted to the ground, can't tear us down, we're here to stay" the Melanesians, Micronesians and Polynesians sing in unison, edited together across their archipelagoes with a message of oneness and solidarity, presumably in the face of colonialism, white supremacy, Western militarism, etc.
I assume the last shot of a solo singer strumming her guitar is the brilliant Mia Kami, who has made an important contribution with her short to the South Seas Cinema genre. I simply can't wait to see (and hear!) Ms. Kami's next work – she makes me feel like shouting: "I want my MTV!" Bravo! Maitai! Malo! (See the Rooted music video  and for more info go here.)
THE SACRIFICE: Dreadful Drua
Writer/director Tumeli Tuqota Jr.'s animated The Sacrifice (aka Soli Bula) is impressively illustrated, and animation is one imaginative way to visualize a past long gone in the cinematic medium. In Tuqota Jr.'s eight-minute short presumably ancient Fijians construct a drua, which is a traditional double-hulled canoe. The crowdfunded short is beautiful to behold and the talented Tuqota Jr., who lives in Fiji, clearly has lots of promise as an animator and filmmaker.
However, as the title The Sacrifice indicates, the launching of the Melanesian seagoing vessel also involves the bloody loss of life. If traditional customs unnecessarily cause human suffering, this is not an argument in favor of perpetuating these shackles inherited from the past. It's an argument in favor of immediately ending traditions that oppress people. Liberation means freeing people, not continuing their misery ad infinitum. In terms of form, Tumeli Tuqota Jr., who may become Fiji's Disney, is an artist worth keeping one's eyes on. (See Tuqota's showreel.)
NIGHT RIDE: Catwoman
Maori director Todd Karehana joins his aging mom (Alma Te Ua) as she feeds cats who still reside at the family's former home in Aotearoa/New Zealand. But this "catwoman" is no superhero. Shot in dreary black and white, this somewhat creepy 10-minute short is about as interesting (to a general audience) as it sounds, although those studying mental illness, trauma, et al, might find it worthwhile. In addition to directing shorts, Karehana has written episodes for Aotearoa/NZ TV programs, such as the animated The Exceptional Squad, with Whale Rider star Keisha Castle-Hughes providing the voice of one of the animated characters. 
Filmic Flights of Fancy: THE FLIGHT OF THE BANOG
Although the Philippines, located in Southeast Asia, is not geographically and ethnically part of Oceania, The Flight of the Banog (aka Sa Paglupad Ka Banog) is presumably included in LAAPFF's Pacific Cinewaves because it is an evocation of the Indigenous Panay Bukidnon people of the Visayas, an archipelago in the southern Philippines. Director/cinematographer Elvert Bañares has lensed a slice of the traditional Suguidanon Epic of mythic proportions, with absolutely stunning cinematography that captures the legendary vibe of the saga being related. It reminded me of shadow puppet and other productions based on ancient Hindu epics.
Only nine minutes long, The Flight of the Banog is hopefully just the "appetizer" for a filmic feast to come from the accomplished, innovative Bañares, who is Manila and Iloilo-based and has a long list of screen credits. I was glad to be able to see this highly cinematic, optically opulent luau for the eyes adapted for the screen by Bañares and co-writer Jesus Insilada. I think its point is that today's downtrodden Native peoples can, in part, regain ethnic pride by turning to the culture of their ancestors.
Uprooted: OMAI FA'ATASI: SAMOA MO SAMOA
Omai Fa'atasi: Samoa Mo Samoa documents what happens when Pacific Islanders are uprooted. Indigenous Oceanic sailors were arguably the boldest and best navigators of the ancient world, and today's Islanders still travel to "new lands." There are more Samoans living in the USA than in American Samoa and a vast percentage, arguably a majority, of Western Samoans live abroad, at Aotearoa/NZ, Australia, Hawaii, etc. What happens when Polynesians leave their ancestral homelands? Are they still Indigenous people per se if they are not living in their ancestors' places of origin?
Takashi Fujii's 1978 Omai Fa'atasi: Samoa Mo Samoa takes a look at these issues and the problems faced by Polynesians as they relocate to and transition at Carson, L.A. County. Omai Fa'atasi is loosely translated as "togetherness" and the filmdocuments a sort of self-help organization that aims to serve the displaced Samoan community in California. This is interesting, but what I was most compelled by in this 30-minute chronicle is its retelling of Samoan history, using illustrations and voiceover. "Samoa Mo Samoa" – "Samoa for the Samoans" – was the slogan of the nationalistic Mau, the Samoan independence movement that by the 1920s' resisted New Zealand colonialism until Western Samoa became the first Pacific Island nation to regain its independence in 1962. When I lived in Tafitoala, Upolu Island in the 1970s, High Chief Ale Sola used to tell us about his days as freedom fighter for the Mau. This is a fascinating part of Samoan history that is rarely dramatized, although it deserves to be, and I was glad to see a version of it in this documentary.
Omai Fa'atasi: Samoa Mo Samoa also details part of the history of the eastern islands of what is now American Samoa, which remains a U.S. colony and is where Pago Pago Harbor is located. Although part of the Pacific Cinewaves program of shorts, Omai Fa'atasi: Samoa Mo Samoa was screened separately from Indigenous Now at the DGA and was produced by Visual Communications in 1978. I saw it on a double bill with Arthur Dong's 1990 Claiming A Voice: The Visual Communications Story, an excellent one-hour documentary chronicling the first media organization devoted to productions by and about Asian Americans and Pacific Islanders and which presents LAAPFF.
Rock Fever: EVERY DAY IN KAIMUKI
If Hawaiian Soul and Rooted celebrate Indigeneity, Alika Tengan's Every Day in Kaimuki dramatizes alienated islanders in contemporary Hawaii. Co-writer and co-producer Naz Kawakami plays a character named Naz, a DJ at KTUH (an actual radio station) who is completely estranged from his own culture, a stranger in his own homeland. Although he describes himself as being of Hawaiian ethnicity (that is, descended from the original Polynesians who lived in Hawaii before Captain Cook showed up in 1778), Naz calls himself "the whitest Polynesian."
He lives a completely urbanized lifestyle in Kaimuki, a neighborhood in Honolulu's high-rise hell. When one watches Magnum on TV, there are always eye candy shots of Hawaii's extravagant beauty, but in the low budge Kaimuki, what scenery there is is usually out of focus, cinematically expressing how disconnected Naz is from the āina (land). He never plays Hawaiian music on his nighttime radio show and instead of surfing, he skateboards at a space beside the H-1 Freeway.
Naz's cynical on-the-air patter is tedious and he has more chemistry with his cat than he does with the wahine (Rina White) he lives with in his mediocre cinderblock apartment. Naz's solution for trying to make something of himself is to leave his people's homeland and move to New York City, exchanging his ancestral island for another isle, across the Pacific and the continent.
As someone who did the exact opposite – moving from gloomy Gotham to sunny Tahiti, Samoa, Micronesia and then Hawaii – I was amused by this plot. I understand that people get "rock fever" and want to expand their horizons; to each their own. But unlike George Helm in Paikai's stirring Hawaiian Soul, who finds transcendent meaning in connecting with his Hawaiian roots and fighting for the rights of his colonized people and to protect the land, Naz seems to reject his own essence, people and culture. No wonder he's lost and his girlfriend dumps this loser.
If the 20-minute Hawaiian Soul begged to be turned into a feature-length movie, the dull and repetitive 81-minute Every Day in Kaimuki could have been cutdown into about eight minutes. This tale of estrangement is Albert Camus' Kaimuki (minus the artistry), at a time when oppressed islanders need instead to be inspired, not depressed, by artists.
Tongan director Isaac Halasima's documentary Waterman, the biopic of surfer and Olympic champion Duke Kahanamoku, is having its L.A. premiere on Sunday, May 8, with the filmmakers in attendance at the DGA. For more info about the Los Angeles Asian Pacific Film Festival, go here.
Since 1983 Visual Communications, a nonprofit organization, has presented LAAPFF, dedicated "to develop and support the voices of Asian American and Pacific Islander filmmakers and media artists who empower communities and challenge perspectives." When translated into the cinematic realm, the concept of self-determination means that the self – the Indigenous people – instead of outsiders determine how they are expressed onscreen. LAAPFF goes a long way to helping this become an increasing trend, striving for a more authentic, truthful image of Pacific Islanders, Asians and Asian Americans.