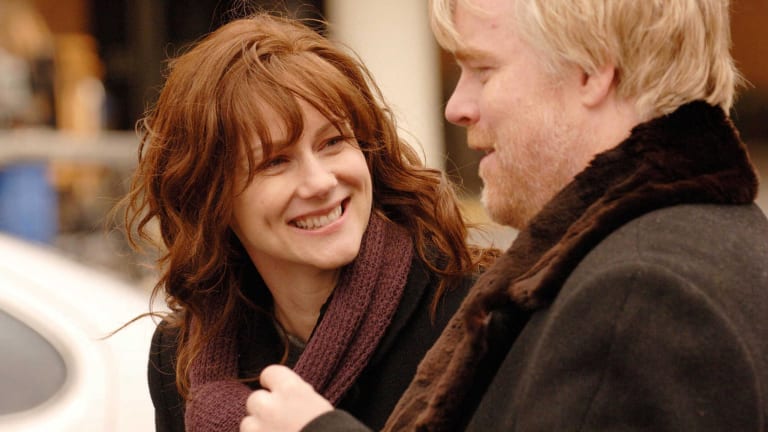 "The Savages" Like Life Itself Is Both Tragic and Comic
The great merit of The Savages is that it encourages us to see not just the tragic in life, but also the comic.
On Cinemax I happened to see the older (2007) film The Savages, which can also be borrowed or rented from other sources like libraries or Amazon. It is good enough to do so. It features Philip Seymour Hoffman and Laura Linney as older brother Jon and sister Wendy, and Philip Bosco as their father, 80-year-old Lenny Savage, who has health problems, including dementia, and needs care. All three actors are excellent, as is Peter Friedman who plays the 52-year-old lover of the unmarried 39-year-old Wendy.
Besides the first-rate acting, another quality distinguishes the film—its truthfulness. As was once true for the writer and director of the movie, Tamara Jenkins (who also fulfilled both roles in making Slums of Beverly Hills), many adult children have parents dealing with dementia or some other medical problem. Often the afflicted one no longer has a spouse and is unable to live alone. For a wide variety of reasons, many adults do not want to take mom or dad into their homes. They do not want to be, or feel they simply cannot be, major caregivers. From the other side, many older people fear they will end up spouseless in some soulless institution.
At one point, in an argument between Jon and Wendy, Jon rants: "People are DYING, Wendy! Right inside that beautiful building—right now! It's a fucking HORROR show! And all this wellness propaganda and landscaping is just trying to obscure the miserable fact that people die and death is gaseous and gruesome and filled with piss and shit and rot and stink!" (All film quotes are from the filmscript.) Although Jon may be exaggerating, his outburst contains some truth. The reality is that few older people want to end their days in a nursing home.
And neither dad Lenny nor his two children seem to have the money to afford first-class accommodations. Jon picks out a nursing home called Valley View Rehabilitation Center. It takes Medicaid, but that only entitles him to a semi-private room, divided by a curtain from fellow-occupant Mr. Sperry, with whom Lenny will share a bathroom and closet. To its credit, the film does not depict Valley View as a complete "HORROR show." For example, the aide Jimmy, Nigerian-born and with dreadlocks, is kind and considerate. (In my own limited experience with such centers foreign-born aides, especially in border states, are not unusual and can be quite compassionate.)
Although Lenny had beaten Jon when he was young and was not a very good father to either of his kids, Wendy feels bad that her dad cannot be placed in a higher class facility. And for a while she plans to move him to a better one—at least one that looks better and whose ads make it seem more enticing. But Jon resists, and in the end dad remains at Valley View.
If my summation so far makes the film sound tragic, it is. Additional scenes add to the distress felt by one or more of the main characters. Early in the film, Lenny is in an Arizona hospital bed. His arms and legs are tied down and an inane commercial for Oxy Clean (not indicated in the filmscript) is blaring on the room's TV. His first words to his kids are, "Where the hell have you been? . . . They've had me hog-tied for two days."
Later, Wendy takes him back on a plane to Buffalo, where Jon resides, and we realize how tough it is for her. Lenny is wheeled onto the plane in a wheelchair, while she struggles with all their bags. En route, although she is sitting next to him, he loudly tells her that he has to go the bathroom. Before they can get there the filmscript indicates what happens in the aisle as they advance: "Lenny's pants have collapsed around his ankles—he's standing in the middle of the airplane in his diapers. As word spreads, passengers throughout the cabin crane their necks to get a look."
Another embarrassing scene, this time for both Jon and Wendy, occurs later in a diner. The two children are instructed from a nursing-home administrator to consult with their dad about his emergency medical wishes. So while at the diner they broach the subject. Jon asks him if he fell into a coma whether he would want a breathing machine to keep him alive. After some confusion, Lenny states loudly enough for other customers to stare at them, "Pull the plug." After Jon, asks what then. Lenny yells out, "You bury me. What're you a bunch of idiots? You bury me."
Although most viewers will probably identify with the discomfort felt by Wendy and Jon, some older viewers—old like Lenny himself—might empathize, or at least try to, with the confused Lenny. When Jon explains to him in the diner that he is asking questions that Valley View wants "for their records," Lenny replies, "What the hell kind of hotel is it?"After Jon tells him it's not a hotel, but a nursing home, Lenny just stares at the ground, and viewers can only try to imagine how he must have felt at hearing these words. Because throughout the film Lenny does not articulate much about the feelings that besiege him, ditto with many other scenes, for example, his reaction to having to move into a single-room shared with an unknown person. Only strong empathy can help enlighten us about Lenny's inner churnings on such occasions. And if I had one criticism of the film, it would be that the middle-aged writer/director Jenkins doesn't help us enough imagine the agonies the 80-year-old Lenny must be undergoing.
Yet, despite, all this tragedy—and the additional knowledge that the gifted actor Hoffman died when only 46, apparently from drug abuse—The Savages is sometimes labeled a comedy. (At the 65th Golden Globe Awards, Hoffman was nominated for Best Actor in a Musical or Comedy, and the film was certainly not a musical.) And comic elements surely are interspersed throughout the film.
The key here is contained in Wendy's coming across one of the books Jon is using for his research for a book on the German dramatist Bertolt Brecht—Jon is a professor of drama, and one of the film's comic moments is when the hospitalized Lenny asks Wendy if Jon isn't a doctor and Wendy has to explain that he's not a medical doctor, but a Doctor of Philosophy (PhD). The book Wendy finds is entitled The Theatre of the Absurd, and it is by drama critic Martin Esslin, who also wrote Brecht: The Man and His Work. In the former work, he stated, "The Theatre of the Absurd transcends the categories of comedy and tragedy and combines laughter with horror."
That combination reminds us of some of Chekhov's plays, for example The Cherry Orchard. Chekhov considered it a comedy, but the famous director Konstantin Stanislavsky, who directed it at the Moscow Art Theater, wrote to Chekhov, It "is not a comedy, nor a farce as you have written, this is a tragedy." (Later commentators, such as Cornell West, often write of Chekhov's "tragicomic dramas.")
And indeed life is a tragicomic affair. Tragic because we must deal with suffering, pain (both physical and psychological), and death; and in the end there's no getting around them. But also comic, at least if we look at life wisely. The famous American theologian Reinhold Niebuhr once wrote, "To meet the disappointments and frustrations of life, the irrationalities and contingencies with laughter, is a high form of wisdom. Such laughter does not obscure or defy the dark irrationality. . . . If men do not take themselves too seriously, if they have some sense of the precarious nature of the human enterprise, they prove that they are looking at the whole drama of life not merely from the circumscribed point of their own interests but from some further and higher vantage point." (On such a "higher vantage point," see here.)
"Do not take themselves too seriously." Do not be egotistical. The opposite might be like Robert Peck wrote, "To live so generously and unselfishly that the prospect of personal death—the night of the ego, it might be called—looks and feels less important than the secure knowledge that one has built for a broader, longer future than any one ego ever could encompass. Through children, through contributions to the culture, through friendships— these are ways in which human beings can achieve enduring significance for their actions which goes beyond the limit of their own skins and their own lives."
The great merit of The Savages is that it encourages us to see not just the tragic in life, but also the comic. To do as Niebuhr suggested, look "at the whole drama of life not merely from the circumscribed point of their own interests but from some further and higher vantage point."