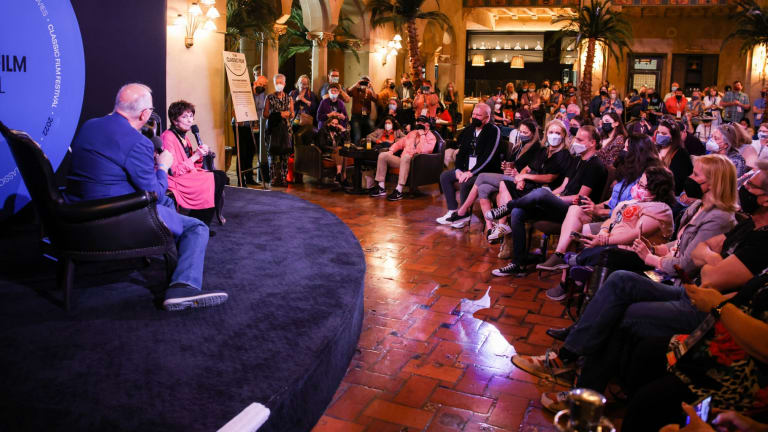 Turner Classic Film Festival Draws Thousands
The Vintage Film Fest Returns Live and In-Person at Hollywood with Jane Fonda, Steven Spielberg, Pam Grier, Top Movie Historians and More
​TCM CLASSIC FILM FESTIVAL 2022: Film Review
Thousands of out-of-towners and Angelenos flocked to attend the 13th annual Turner Classic Movies Classic Film Festival, which featured a panoply of motion pictures from across the decades, talents, parties and panels celebrating – and analyzing – the cinema as an art form and "that screwy ballyhooey Hollywood," where the fete took place on location April 21-24.
The cornucopia of screenings included 1982's E.T. The Extraterrestrial at TCL Chinese Theatre IMAX, with the Turner Classic Movies channel's host Ben Mankiewicz interviewing director Steven Spielberg onstage at the fabled movie palace, renowned for its courtyard with stars' footprints/handprints in cement, where Lily Tomlin was thus immortalized at a Festival ceremony attended by her co-star Jane Fonda. Other extravaganzas shown on the big screen at this venerable venue formerly known as Grauman's Chinese Theatre included: 1956's Giant, starring James Dean, Elizabeth Taylor and Rock Hudson; 1939's The Wizard of Oz with Judy Garland; 1952's Singin' in the Rain starring Gene Kelly and Debbie Reynolds; and 1973's The Sting, featuring Paul Newman and Robert Redford.
A common comment – if not lament – heard throughout the four-day picture-palooza was that there were so many movies and events that passholders couldn't possibly see everything they desired. But to me, this is actually the sign of a great filmfest, and helps explain why these festivals also becoming major tourist attractions. Given the plethora of pictures and haps, in this overview I'll focus on what I, an L.A.-based film historian/critic, personally covered.
The first movie I saw at the Chinese Multiplex (beside the TCL Chinese Theatre) was 1965's The Slender Thread, the first feature ever directed by Sydney Pollack, starring Sidney Poitier, Anne Bancroft (who'd presented Poitier with his Oscar for Lillies in the Field at the 1964 Academy Award ceremony, where Poitier was as gracious as Will Smith was later disgraceful) and my friend Ed Asner. Scott McGee, author of the TCM book Danger on the Silver Screen, introduced Chicago-based critic Sergio Mims, who offered insights into Slender, wherein Poitier stars as a staffer at a Seattle crisis center, fielding deadly suicide lifeline calls.
Mims noted that, in addition to turning in a great performance as he tries to save the suicidal Bancroft's life, Poitier had to play a colorblind role that was not ethnic-specific, proving that – as the Civil Rights movement fought for equality – Blacks were just as capable as whites. Most of us may take that for granted now, but in 1965 that was still a contentious point.
Slender also depicts a surveillance system involving the crisis center, phone company and police department for tracking callers down before they can take their own lives. A bonus in watching this film is that a young Asner portrays a police detective who, when he goes off-duty, searches for Bancroft on his own dime and time, [PLOT SPOILER ALERT!] finally playing a major role in finding and saving her. In real life, that's exactly how Ed, a real mensch, was, and having dined with him a week before he died at age 91, it was gratifying to see him looking so youthful and vigorous – ahh, the wonders of movie magic!
That night the Festival hosted a poolside party with a Fast Times at Ridgemont High theme at the Roosevelt Hotel, where the film fete was headquartered. Alas, my dream of watching Phoebe Cates dive into the hotel pool went unfulfilled – but again, that's what film fantasies are for.
The next screening I attended was 1966's A Man Called Adam, starring Sammy Davis Jr. as a troubled jazz musician, opposite Cicely Tyson, Louis Armstrong, Ossie Davis, Frank Sinatra Jr., Johnny Brown, Ja'net DuBois, Lola Falana and Mel Torme (the "Velvet Foghorn's" son was in the Chinese Multiplex's audience). TCM's Senior Vice President of Programming Charles Tabesh ferreted this gem out, which was introduced by Donald Bogle, the preeminent film historian of African Americans in Hollywood movies. The in-the-know author/academic pointed out that in all likelihood, "Miles Davis was the inspiration" for Sammy's character and noted that Tyson's insistence on wearing an Afro was an important fashion statement then as the Black-is-beautiful movement gained steam.
In Adam Davis arguably delivers his best acting per se performance. The film has a strong political undercurrent, including anti-racism and police brutality commentary. Offscreen, Tyson's character has been part of the Civil Rights crusade in the South, and at a NYC jazz club, DuBois caustically criticizes the movement's nonviolent tactics. Later, when Davis refuses to use force to defend the band from a racist attack, Tyson is disappointed in him. This mirrors the clash then occurring among activists, between those espousing nonviolence and more assertive Black Power advocates.
Bogle observed that Leo Penn directed Adam, but didn't add that Sean's father had been blacklisted. This may not only explain Sean's political activism, but also Adam's pro-Black stance. Not citing the role of the Hollywood Left in the screen depiction of Blacks may be an oversight in Bogle's otherwise insightful analyses. For instance, Adam's screenwriters, Lester and Tina Pine, also wrote 1974's Harlem-themed Claudine, starring James Earl Jones and Diahann Carroll – and helmed by blacklisted director John Berry. Another example of the role La-La-Land leftists played in the screen's struggle for Black rights and dignity is the abbreviated oeuvre of Abe Polonsky, a Communist Party member who wrote 1947's boxing drama Body and Soul, co-starring African-American actor Canada Lee, who – like Polonsky – would be blacklisted. Polonsky's 1948 Force of Evil, a parable about capitalism under the genre guise of film noir, was screened at this year's Festival.
The erudite Bogle also introduced 1940's The French Way, starring the iconic Josephine Baker, who Picasso called "the Nefertiti of now," according to the film historian. This romantic musical comedy is oddly set during the early days of the Nazis' invasion of France, with a substantial portion of the movie taking place in air raid shelters. For those seeking escapism in the movies, the German bombs falling on Parisian civilians was, alas, all too reminiscent of today's Ukraine war. Nevertheless, the effervescent Baker as Zazu, a coquettish Cupid and nightclub owner who, fortunately for us, also sensuously dances at her cabaret, is a sort of "life must go on" force in the face of fascism.
That night, poolside at the Roosevelt I watched Elvis in 1961's Blue Hawaii, which was produced by Hal Wallis, directed by Norman Taurog and introduced outdoors at the Roosevelt by John Malahy, author of the TCM book Summer Movies. As Malahy stated, Blue Hawaii is chock full of songs performed by the King of Rock 'n' Roll, although I believe the title song itself is, strangely, never sung by Presley on the soundtrack. Blue Hawaii also features exquisite scenery of Oahu before it was overdeveloped and Kauai, before Hurricane Iniki (which I personally survived) struck, obliterating the Coco Palms resort, where [PLOT SPOILER ALERT!] Elvis marries a part-Polynesian wahine, Maile (Joan Blackman), onscreen.
Interestingly, like 1962's classic To Kill a Mockingbird (likewise screened at the filmfest), Blue Hawaii has a Civil Rights context. Although as Malahy pointed out she was only nine years older than Presley, Angela Lansbury plays Elvis' mother as a racist Southern belle transplanted to Hawaii, where she objects to Elvis' befriending local beach boys of Polynesian and Asian ethnicity and romancing mixed race Maile. The impending sixties' sexual revolution and youth culture are also part of Blue Hawaii's subtext, which was good fun to watch under the Hollywood sky.
On the Festival's final day, I attended Popi, a 1969 Puerto Rican-themed movie directed by Arthur Hiller and starring Alan Arkin and Rita Moreno. If Donald Bogle is the world's greatest film historian of African Americans, Luis Reyes is arguably America's top film historian of Tinseltown's Latino screen image. Reyes co-wrote the definitive history Hispanics in Hollywood (as well as three books co-authored with myself about Hawaiians and Pacific Islanders onscreen). Prior to Popi, Sex in the City co-star Mario Cantone interviewed the in-the-know Reyes, who provided heaps of insider info about Popi, such as the fact that it was shot on location in the garbage-strewn, crime-infested mean streets of Spanish Harlem, where Reyes himself had actually grown up.
The astute Puerto Rican movie historian also made sure the audience knew that the same co-writers of A Man Called Adam, the Pines, also collaborated on Popi's screenplay. I actually enjoyed the interview between Cantone and Reyes much more than Popi itself, which centers on a reactionary ruse: In order to have his young sons escape the crushing poverty of Spanish Harlem, Arkin's character, Abraham, takes his Puerto Rican boys down to Florida where he tries to fob them off as Cuban refugees. In addition to its anti-Castro propaganda, I also found Abraham's subsequent behavior after the lads pull their stunt to be completely implausible and unbelievable. Plus, if you blink, you'll miss Rita Moreno's appearance, which Reyes said was her first movie role after winning the Best Supporting Actress Oscar for 1961's West Side Story.
At 2:30 p.m. I attended "Club TCM" inside of a Roosevelt Hotel ballroom for "Reframed: Exploring the Complex Topic of Art Vs. Artist," a panel discussion regarding how audiences, academics, critics, historians, etc., should deal with the oeuvre of artists whose personal conduct is troublesome and in some cases criminal, such as Harvey Weinstein, Bill Cosby, Woody Allen and even Pablo Picasso. The hour-long forum was extremely intelligent, and if you think ticket buyers are only interested in movies as an escapist medium, you'd be wrong, judging by the standing room only turnout of hundreds of passholders for this hard-hitting conversation. In fact, the panel – which included Mankiewicz and was moderated by Jacqueline Stewart, host of TCM's "Silent Sunday Nights" and chief artistic and programming officer at the Academy Museum of Motion Pictures – was so thought-provoking that I plan to write a separate piece devoted solely to this important analytical discussion.
Later that night, Jacqueline Stewart interviewed (or, at least, tried to) buxom Blaxploitation actress Pam Grier, who Stewart dubbed "the first female action star." The still beautiful 72-year-old who'd starred in seventies' flicks like Foxy Brown and Sheba, Baby, seized the bull by the horns, holding forth on her screen career and sexploits, much to the delight of the packed audience. Intent on breaking racial and gender barriers, Grier regaled fans about her insistence on "showing bush" in the 1974 gladiator pic The Arena, so moviegoers could see what Black female anatomy actually looked like.
After Grier brought down the house in the packed theater, her 1973 Coffy was screened – but to tell you the truth, the best thing about this low budge revenge crime drama was Pam's nude scenes. I really believe it would have been far more entertaining to just let Pam Grier continue talking, rather than show such a violent B-pic. After all, one senses the greatest role this actress has ever played is not Jackie Brown or Friday Foster, but as none other than Pam Grier.
After "drinking" Coffy, I headed poolside at the Roosevelt for the film fete's farewell party. A swell time was had by all, film fans united by a common love. Viva cinema and as Johnny Mercer sang, "Hooray for Hollywood!" – and for the TCM Classic Film Festival. Encore!
For more info see: https://filmfestival.tcm.com/.
​