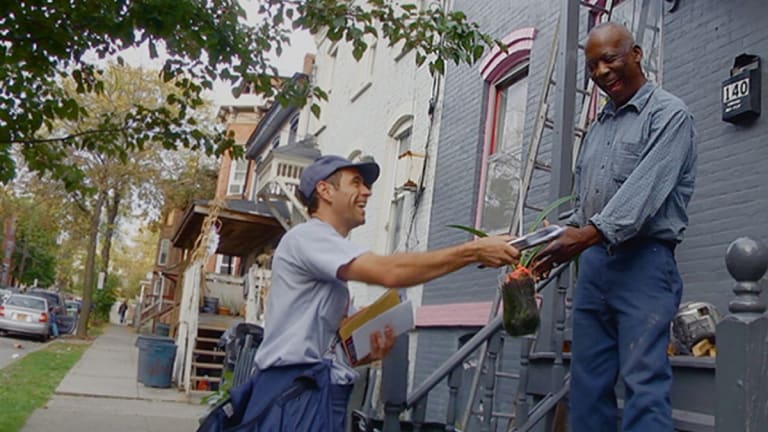 Why the Post Office Went Postal
"The Great Postal Heist" takes an in-depth look at what's behind post office violence and how this long-term public service is being dismantled for private gain.
Starting in the mid 1980s, the term "going postal" gained unfortunate currency, as more than 40 people were killed by then-current or former postal employees in the decades before 1997.
If you remember, in 1991, during one particularly brutal incident in Royal Oak, Michigan, postman Thomas McIlvane killed five people, including himself, and wounded five others after being suspended for fighting with mail customers on his route.
Soon enough, most of the twice-yearly workplace shootings around the country were tagged as "going postal" whether a postal workers were involved or not, with newspaper front pages and sniggering late night talk show hosts painting the U.S. Postal Service as a difficult and dangerous place to work—or even visit.
"The Great Postal Heist," a new Cinema Libre Studio film by filmmakers Jay Galione and Sheila Dvorak, takes an in-depth look at what's behind this post office violence and how this long-term public service is being dismantled for private gain.
Galione's camera starts by following his father, Robert Galione, a 30-year veteran postal clerk, who recounts how he was harassed, threatened, and fired for standing up for his colleagues, ultimately being wrongly charged with stealing $500 over 10 years by allegedly padding his travel expenses.
The film interviews a dozen long-term postal workers and postal union officers who either witnessed Galione's mistreatment or suffered their own abuse at the hands of their supervisors.
In one related incident, Wanda Spencer recounts how her husband, Steve Spencer, committed suicide after being followed day after day on his delivery routes, his managers looking for him to make the slightest mistake so they could fire him.
Some were crushed by the experience; others fought back against long odds.
"Justice, safety, respect only came in small victories by employees who know their rights and fight for them," reported filmmaker Jay Galione, whose own father was ultimately vindicated after a years-long battle.
But far more than oppressive, wrong-headed management was at the heart of these rageful outbursts, as they were a natural outgrowth of a decades-long plan to turn the postal service into a cash cow for private industry.
The film shows how Big Transport—think UPS, Amazon, and Fedex—is in cahoots with an increasingly right-wing Congress—think Darrell Issa and Blake Farenthold—to conspire to undermine the USPS's ability to function, all the while painting it as inefficient and ultimately bankrupt.
Fending off those bogus attacks, USPS's managers began harassing postal workers to work harder, faster, and longer, while closing post offices, shuttering sorting facilities, and outsourcing key functions to contractors—and also degrading the promised daily delivery of mail to postal customers in small towns and large. It was a lose-lose proposition for postal workers and the regular people waiting at their mail boxes every day—but clearly they're not the people who matter in this soak the poor scheme.
In ramping up the pressure on its workers, the USPS could hardly have been surprised at the plague of murderous outbursts, which then in turn cast an even dimmer light on the reputation of this the country's oldest public agency.
Well-known civil rights champions Ralph Nader and Richard Wolff supply a counterpoint to this dreary trend, pointing out ways the post office bureaucracy and workplaces could be reorganized to improve worker safety and better mail delivery.
As Nader says: "In emergencies, in national security situations, where you're going to deliver medicine, you're going to deliver some antidote, or you're going to deliver some equipment, the Post Office is the last hope of this country." 
The Great Postal Heist" will be released on DVD and On-Demand on January 25th, with additional platforms to follow. Cinema Libre Studio has been a leader in the production and distribution of independent narratives and social issue, documentary films since 2003.
Dick Price
Editor, Hollywood Progressive