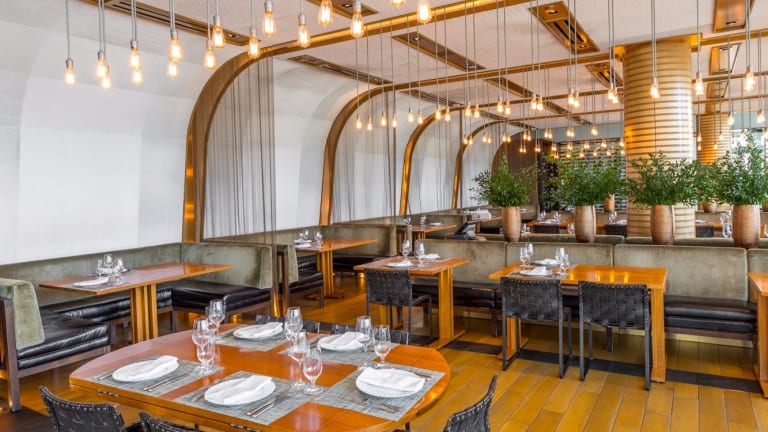 Craft Los Angeles
Craft's menus are based on regular food that is fresh-picked, locally-sourced, painstakingly-selected, and scrupulously-prepared.
A well-written restaurant review from a writer who loves and knows food can be literary fare for both the eye and the imagination. A review well-done whets our appetites, introduces new trends, provides new venues to visit, and reveals new takes on cuisines we prefer. It also supplies important practical information about parking, reservations, and appropriate dress. In the hands of a skilled writer, a restaurant review can be a movable feast.
This is not that.
Beyond literary distraction, food porn, or logistics, restaurant reviews are mostly useless. This is because readers, mainly, are seeking an answer to one question: Will I enjoy my meal? But no reviewer can answer that because dining experiences are almost completely subjective; what a reviewer likes will always differ from what a reader likes. Too, restaurant experiences are always at the mercy of an ever-expanding universe of random occurrences: ingredient shortages; supply-chain disruptions; personnel mishaps; chefs having bad nights; patrons having bad nights; patrons having head colds—or COVID-19—so he/she/they can't smell or taste; patrons suddenly suffering seizures from previously-unknown shellfish allergies and going into anaphylactic shock; patrons having psychotic breaks (a dinner companion once accused a restaurant owner of lying about the vegan curry's broth being vegan); reviewers with axes to grind; and reviewers who know nothing about food.
Because nearly everything about a dining experience is affected by mood, whim, and chance, restaurant reviewers can't provide the one thing we most want: a reliable prediction of whether we will enjoy a particular meal at a particular restaurant on a particular evening. This is especially true of negative "I just tried this place everyone said was so fabulous, but it was way too expensive for what you get, the food sucked, and the service was horrible" Yelp-style reviews. (Restaurant owners soon learn to ignore Yelp.)
But it's not only the subjectivity of restaurant reviews. They can also be useless because some long-term restaurant reviewers are faking it. When we lived in Tallahassee, its newspaper's regular restaurant critic once denounced a buffet-style Chinese restaurant, claiming that their shrimp-with-lobster-sauce's lobster sauce was lacking sufficient chunks of lobster. This is like complaining that chicken bouillon is lacking sufficient chunks of chicken; though that is an imperfect analogy because chicken bouillon has an actual connection to chicken but lobster sauce has no connection to lobster at all, except maybe occasionally to be spooned over it. (I happen to know a lot about Chinese food because I'm Jewish.) The same reviewer, in a review of a Tallahassee Taco Bell, wrote, Their classic crunchy Taco Supreme's delightfully-crispy corn-tortilla shell came stuffed with savory ground beef, it's piquancy cut by a dollop of sour cream covered with crisp shredded lettuce and flavorful diced tomato. (Now I wondered if he'd all along been yanking our chains, and I'd simply missed it.)
The above review-failures aside, restaurant reviews can be of some practical use if consumed with a few grains of salt. Seekers of advanced knowledge will be aided by personal experience, awareness—both self- and other, open minds, a willingness to be pleased, tolerance of human frailty, and, most importantly, reasonable expectations, this last because a properly-prepared plate set before a patron is the galaxy's edge of an insanely-complicated process. Think about how many steps there are between the cultivation of food and its landing on a plate, about how many opportunities for slips between cups and lips. The entire process is an egregious violation of Murphy's Law, and it's a supply-chain of minor miracles that any plate of food ever gets set down in front of us at all, much less properly prepared and still warm.
As to my personal foodie cred: Meh. I am far from being an expert on food or food service—other than Chinese food because, well, Jewish—although I do have limited experience in the food-service industry: Among my earliest memories are as a four-year-old wandering through my grandparent's kosher restaurant in Miami Beach (see photograph of a souvenir postcard of Brown's Restaurant); and as a five-year-old in my father's kosher-style deli (Katz Bros., no photograph available) on Lower Manhattan's Houston (pronounced "HOW-stən") Street. In this latter memory, I am reaching over the rolled-metal edge of a cold, nearly-tall-as-I stainless-steel sink and washing glasses. Shortly afterward, my family moved to the Catskill Mountains, and I spent years and college summers working every hospitality job there was in Catskill restaurants and resort hotels. So though I lack a trained palate and a foodie vocabulary—in other words, I lack the chops—to opine authoritatively and convincingly about food and restaurants, I have accidentally gleaned a few crumbs about the food business while growing up in it.
With all the above as preamble, I want to talk about Craft Los Angeles, the fine restaurant on Constellation Boulevard in Century City that Tom Collichio opened in 2007. Craft is a secret hiding in plain sight; often, people I mention it to have never heard of it. This is partially because, despite its consistent excellence, it rarely gets reviewed, I think as a result of its serving basic American food. Unless it's an exotically-accessorized, $50.00 cheeseburger—something Craft doesn't offer—American food is unhip. A recent, typical Craft dinner menu included a lamb rack, pork chops, venison osso buco (osso buco is Italian for "bone with a hole"), sea bass, halibut, duck breast, scallops, jidori chicken (jidori is organic, free-range chicken with a rich taste), wagyu sirloin (wagyu is Japanese for "expensive"), nine varied appetizers, a handful of pastas, a half-dozen-or-so-vegetables, and a half-dozen-or-so desserts. (None of this is meant to disparage "foreign" or complex cuisines, which I love; it's just not what Craft does.)
Craft's menus are based on regular food that is fresh-picked, locally-sourced, painstakingly-selected, and scrupulously-prepared. The pointedly un-baroque menu descriptions lack the over-wrought verbiage that often characterizes higher-end menus, those elaborate, adjective-laden, pretentious paragraphs of purple prose that are inevitably more appetizing than the food turns out to be. Restaurant consultants excitedly advise owners on how to "create" menu items that sound irresistIble, suggesting they salt their descriptions with trigger words and phrases: vibrant, tangy, yummy, zesty, caramelized, wood-oven roasted, crispy, butterey, leafy, tender, creamy, elegant, aromatic, delicate, drizzled, encrusted, succulent, velvety, home-made, infused, juicy, kneaded, local, meticulously, melt-in-your-mouth, organic, pan-seared, quintessential, slow-roasted. In the end, these descriptions sound like they were written by food-museum curators stoned on acid: Slow-cooked for eight hours, this intensely flavored and juicy lamb shank is infused with fresh rosemary and sage, plated with whipped garlic-potatoes and char-grilled, crispy asparagus, topped with a tangy golden-brown glaze for a hard-to-forget dining experience. It's not the Mona Lisa, it's a lamb shank.
A personal Doh! moment: What we think of as regional cuisines were not left lying around fully-formed for arriving local populations to find and adopt. (Nigel! Look at this! It's a French cookbook! Anyone here read French?) Regional cuisines arose from centuries of field-to-table experiments, locals learning over centuries to prepare tasty versions of whatever edibles—or might-be edibles—they foraged close to home. (Oh no! Those mushrooms just killed Jean-Claude. We need to find a better way to prepare those!) And some cuisines were inspired by invasions: The Turks brought what became paprika to Hungary in the 1500s.
Sometimes the food that high-end restaurants serve actually is a delicacy: thatrare derives from the refined end of a food chain; but sometimes what we get are exotic-sounding, foreign-language words for stew—olio, pistaccio, salmagundi, medley, melange, goulash, mulligan, potpourri. These are jumbles of local left-overs—tough cuts of meat; vegetables and fruits too unyielding to ingest unless boiled, pounded, and heavily-spiced; cringe-inducing animal organs; strangely-shaped marine life; arthropods; parts of animals those cultures don't considers pets—that a region's poor and hungry couldn't afford to throw away and which over time became traditional.
Sometimes a restaurant's food tastes wonderful simply because it was picked that morning instead of what we're used to in the United States: food gathered from a bin of produce that was bred for color, shape, and shelf life at the cost of flavor, food that, after having been prematurely picked and frozen, was transported for weeks over thousands or tens-of-thousands of miles in climate-controlled containers.
Every restaurant review has a section where the reviewer critiques individual menu items. That flummoxes me because, though I know when food tastes good, I really don't know much else about it; and because I like pretty much everything Craft serves. It might be the highest praise I can muster for a restaurant to say that at Craft I rarely order the same thing twice and don't hesitate to randomly try new dishes—even fish—because I know they're going to taste good. Every new thing I try enters the rotation, food I would never have considered trying BC (Before Craft). (There are a couple of items, both potato side dishes, that I order every time I go, assuming they're on the menu, which changes seasonally): the roasted potatoes, which are small cubes sprinkled with some kind of white cheese; and the Yukon Gold potato purée that, because they're addictive, people call "crack potatoes."
What else can I say while posing as a restaurant reviewer? The jidori chicken is always moist and tasty; the lamb rack is always excellent (I'm not really certain what succulent means, but it seems to fit the lamb rack); the fish is always fresh and, I don't know, satisfying; the pastas are always perfectly cooked and their accompaning sauces seem like appropriate escorts. Appetizers are always appetizing, and desserts are always desserty. (Professional restaurant reviewers can relax, knowing their jobs are secure.)
Studies have repeatedly shown that enjoyment of a meal is dramatically affected by our comfort—turkey and trimmings taste better if one likes one's relatives—so higher-end restaurateurs go to great effort and expense to ensure an agreeable space. Craft reflects that investment: Its space is lovely, both elegant and relaxing; the low-slung building is pleasantly sited, in view of sleek skyscrapers but open to the sky; the interior is spacious and beautifully lit, somehow both contemporary and classic; tables are set wide apart; large booths provide intimacy and privacy; outdoor tables are gas-warmed; the patio is hedge-lined.
It's an expansive and no-doubt-expensive space, making it remarkable that Craft survived not only pandemic closures, masking, table-density limits, personnel shortages, and supply-chain disruptions, but also two additIonal blows: a pair of major, years-long, construction projects located directly across the street.
A significant portion of Craft's pre-pandemic lunch business came from CAA, the entertainment-industry behemoth headquartered across a walkway from Craft. Pre-pandemic, Craft provided a convenient venue for CAA's agents to lunch with clients, but that slice of business vanished with the pandemic shut down and has revived only slowly as agents worked from home. Then along came came the two construction projects across Constellation Boulevard: The Century City/Constellation Metro Station, part of the Purple Line extension; and a 37-story commercial tower into which CAA—needing more space after acquiring ICM (and thus becoming even behemoth-er)—will move in 2026 when construction ends.
Despite its proximity to CAA, Craft's waitstaff are not aspiring entertainers seeking representation. They are food-service professionals aware their jobs entail more than taking orders and distributing plates of whatever the kitchen sends out. A professional server's job encompasses seeing that guests are comfortable, understand the restaurant's quirks, and that they get the food they ordered, the way they ordered it, accompanied by everything they ordered, in proper sequence, at the proper moment; it requires seeing that guests are enjoying their meals or doing what can be done to fix that if they're not. Craft's staff—all of them—are attentive without being intrusive, informed about the food and its preparation, and If they don't have an answer, they'll get it.
Experienced chefs use other regions' food-preparation techniques to tease new flavors from familiar local foods, or to expose picky eaters to pleasing flavors in foods they formerly shunned. (Get thee behind me, Brussels sprout!) All of Craft's dishes are specifically prepared for that item, so that, unlike many restaurants where all the dishes taste vaguely similar, each Craft dish tastes like some best version of itself. (Oh, now I understand why people eat that!) I came out of childhood with a list of foods I would not eat—Brussels sprouts, coconut, chickpeas, eggplant, olives, anything colored a particular shade of red—but at Craft I have tried and liked all of them.
Considering its consistent excellence and that Tom Colicchio is a celebrity chef, Craft has an odd, stealth status; as a result, many who would appreciate its consistent excellence are missing out. Once shunned by sophisticates as a food desert, Los Angeles has become a world-class food destination, and, taking into account the quality of ingredients, quality of prepared dishes, quality of service, and quality of environment, Craft is clearly among its best.
Chefs may be a geniuses, and they may be artists, but I am not going to a museum, I'm going to a restaurant. Despite all the pretentious twaddle that accompanies the foodie scene, at the end of the day, putting a good meal on the table is not Art. It's Craft.
Craft Los Angeles is at 10100 Constellation Boulevard between Avenue of the Stars and Century Park East, telephone 310-279-4180. Reservations are recommended and can be made via OpenTable.Com or the above telephone number. If it's a special occasion, let them know; they'll personalize the menu. Dishes are served family style—sharing is encouraged—and some portions expand or contract with the number of guests at a table. Dress ranges from business casual to date-night. Everything is a la carte, and there are vegan and gluten-free options. Menus and prices—it's a little spendy, but we've never been disappointed—are available on the web. There's a comprehensive wine list and a full bar. (My wife says their vodka gimlets are the best she's had.) Dinner-, lunch- and happy-hours are pandemic-curtailed, so check the website first. There are some holiday prix-fixe dinners—NYE, Valentines—and accommodations for private functions. Food-to-go is available via pickup or delivery. There are valet- and self-parking, both of which the restaurant partially validates.