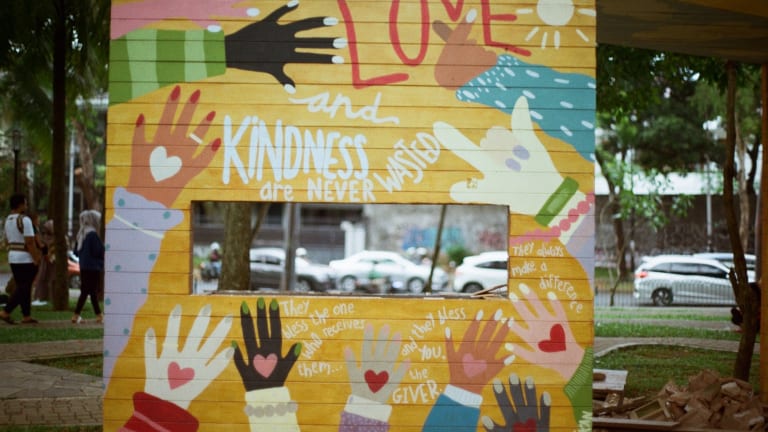 Kindness: Look and You'll See It
I've come to have a higher regard for kindness than righteousness, especially the sort that burns other people at the stake, which we see more of these days.
I've been a rhymer ever since I was twelve and read the limerick about the young girl of Madras who had a remarkable ass and so when I read about a trans legislator in Kansas, it started my engine, but she turns out to be a nice woman named Stephanie Byers (choirs, lyres) who is only advocating kindness for her kind, no big deal in my book, and I looked up the girl from Madras. It's one of the only limericks that accuses the reader of unseemly thoughts — her ass is "not soft, round, and pink as you probably think, but the kind with long ears that eats grass," and I loved this as a kid, having grown up evangelical and knowing something about righteous fever.
I've gone through my own fevers back in my youth, I marched, I manifestoed, and I am still capable of high dudgeon, but I've come to have a higher regard for kindness than righteousness, especially the sort that burns other people at the stake, which we see more of these days.
My ancestor Elder John Crandall was arrested in Boston in 1651 for preaching kindness toward the Algonquins, which was not politically correct at the time, and a man who was arrested with him was whipped, so John removed to Rhode Island, a more civil society, where young women weren't burnt as witches on the basis of other women's accusations.
I was five when our family was split by a schism in the Sanctified Brethren caused by two preachers who loved the Lord but loathed each other. It was more tribal than Bible. Dad's family was on one side of the schism and Mother's on the other, and Dad stuck with Mother. What I remember was the kindness and generosity of Dad's sisters, my loving aunts who never spoke of the split to me ever, not even by implication. I felt lavishly loved by them.
A friend who lives on the 18th floor of a building in L.A. heard some hubbub in the hall and found three cops and his next-door neighbor and her little granddaughter. The neighbor had called the cops because her daughter was on the balcony, threatening suicide. My friend took the little girl into his apartment to play with his three Pekingese, meanwhile a cop tried to talk to the woman on the balcony and she jumped to her death. The friend and his wife have become surrogate stepparents to the little girl who now lives with her grandmother and who seems not to realize what happened to her mother and to be okay with her life. Her future is not clear, which is true for most of us, but she has kind people nearby looking after her. And she likes to dress the Pekingese in dog jackets and party hats and serve them tuna sandwiches around a table.
Years ago, I went to Washington to lobby for the National Endowment for the Arts and every congressman I talked to was very righteous about an exhibition of Robert Mapplethorpe photographs indirectly subsidized by the NEA, including one of a naked man with a whip stuck up his rear end. The congressmen enjoyed showing me this picture and telling me how horrible it was. Then I visited Senator Simpson, the Senate Republican whip, who was delighted to tell me about a game he'd seen played by drunken cowboys in Wyoming, who dropped their trousers and competed to see who could pick up a quarter off a wooden bench using only his cheeks. I became a fan of Simpson's in that moment. To make a joke in the face of showboat righteousness is the mark of a great man.
An old friend of mine was blessed with two kind sons who conspired to fly her halfway around the world though the friend dreads flying with her whole heart and she was exhausted from having cared for her ancient mother for years, but she allowed herself to be squired to the airport and one son held her hand all the way to France, then Vietnam, and now, here on my phone, is a video of the flyer holding her other son's tiny twin daughters, in an apartment in Ho Chi Minh City.
We have a dark history in that land of the damage righteousness can work and I pray that these little girls grow up swaddled in kindness. They look at the flyer with bright curious eyes, scootching, preparing to crawl, and then, Lord knows, do the 100-yard high hurdle. Lord be merciful.