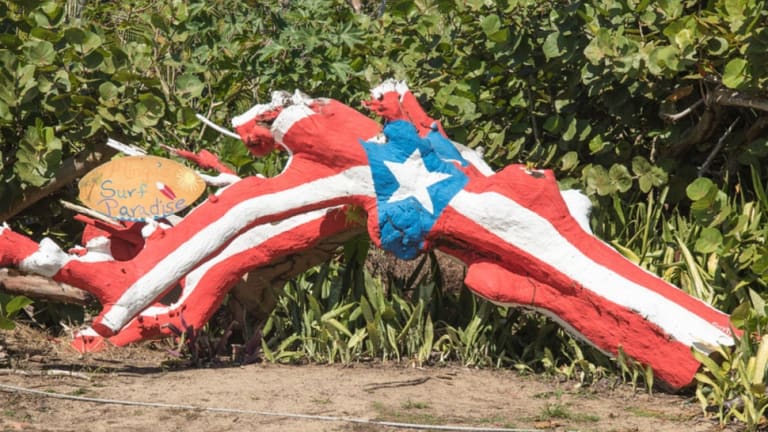 Finale: "La Cleptocracia" Is a Family Affair in Puerto Rico!
So that's the story of how the PNP statehood party commandeered the whole 2020 electoral process, in a desperate move to remain relevant in the changing landscape of island politics.
I first heard the word "Cleptocracia" on the podcast En Blanco y Negro con Sandra, prompting me to look it up. "Kleptocracy is a government whose corrupt leaders use political power to expropriate the wealth of the people and land, they govern, typically by embezzling or misappropriating government funds at the expense of the wider population."
That said.
On Thursday Oct. 20, 2022, the concerted public inquisition of the "Pierluisi Cousin Sellouts" by Puerto Rico's crackerjack investigative journalists crash-landed in my FB and Twitter accounts, the likes of which I compared to dropping "Una Bomba Atómica."
Apparently, an early riser, Jay Fonseca had been hot on the trail of another corruption scandal, that would cause the "Indifferent Governor" to lose all credibility in the court of public opinion (ruining his plans for reelection.) At the same time, the FBI strike force would be a source of national embarrassment for Puerto Ricans on the heels of the highly anticipated arrival—that same day—of the U.S. Energy Secretary Jennifer M. Granholm, who was here "to participate in several closed-door meetings with government officials and discuss issues affecting the resilience and recovery of the electric power grid" informed Primera Hora.
(Would that I was a fly on the wall when the Canadian American lawyer and former Michigan governor met face-to-face with our shameless officials. You see, I couldn't shake this nagging feeling, the simultaneous appearance of the FBI strike force and the "Clean Energy Czar" was no mere coincidence.)
That morning, the FBI yellow bold letters engraved on the backs of armed G-men—dramatically displayed on the Puerto Rico English News home page—were a welcome sight.
By Saturday, October 22, 2022, at the crack of dawn, Sandra Rodríguez Cotto on her En Blanco y Negro con Sandra blog showers us with more specifics about the surprise FBI raid. Her insider reporting takes us beyond the condominium pool construction site—headquarters of the "Campamento Resistencia" round-the-clock environmental protesters—to zero in on the surrounding multiple lucrative properties also owned and operated by the "Pierluisi Empire."
Soon after, within a matter of hours, the Center for Investigative Journalism (CPI), investigative team of Damaris Suárez, Wilma Maldonado, and Vanessa Colón Almenas, takes a deep dive into their illegal holdings and questionable finances in the story headlined "Governor's Cousins Have Over 20 Real Estate Consulting and Public Housing Corporations," revealing their exploitation of federal contracts, and superintendence of run down public housing projects (reportedly unsuitable for human habitation) for over 27 years.
As I witnessed my fellow dedicated and undaunted "wordsmiths extraordinaire" pushing back on these enemies of the people, and their population displacement schemes, it dawned on me "Those White Wannabe "Vendepatrias" Patriotic Sellouts" who would reimagine a Puerto Rico Without Puerto Ricans do not stand a chance against the "Lovers of Puerto Rico" and our undying quest to put an end to their political machinations to remain in power.
A homebody, it never fails, I get all choked up while watching the fighting spirit of "Mi Gente" My People streaming on my daily FB and Twitter newsfeeds, yelling in unison the catchphrase of our cause célébre "LAS PLAYAS NO SE VENDEN" OUR BEACHES ARE NOT FOR SALE.
On 07/04/22, Independence Day, Eliezer Molina's "Campamento Resistencia" celebrated their symbolic first victory in the local courts, with hammers and chisels in hand, smashing to bits the cement barriers blocking the beach-loving community's access to "La Playa de Las Almendras" public beach, as though they were tearing down the Berlin Wall "El Muro de Berlín" commented one of the Gen Z jubilant environmental activists interviewed on TV.
My spirits soared, when David Begnaud took to Twitter on 10/20/22 to highlight the Clean Energy Czar's visit to Casa Pueblo, home of the solar energy capital of Puerto Rico, and international "Energy Globe Award Winner" Alexis Massol, nestled in the must-see remote and spellbinding central mountainous town of Adjuntas: "Today, the United States Secretary of Energy @JenGranholm, met with Casa Pueblo, which is a leader, and an example on how to power things using solar technology on an island where electricity is unreliable, and the leaders who make assurances never seem to be able to deliver."
I couldn't help but feel infinitely grateful to the FBI for their timely intervention, and to President Biden for dispatching senior level reinforcements to finally kickstart our renewable energy transformation: "At the direction of President Biden, the Puerto Rico Grid Recovery and Modernization Team, led by the Department of Energy, will support Puerto Rico in rebuilding a power grid that is more resilient, safer, and capable of supporting 100% clean electricity by 2050," Granholm said in a written statement.
Backed up by the latest report from The House Committee on Natural Resources. Press Release | Press Releases | Media | The House Committee on Natural Resources 10/12/22
Meanwhile, back at the ranch, I was overjoyed by the successes of fellow Nuyorican returnee Ruth Santiago from my family's hometown Salinas, that suffered the brunt of Hurricane Fiona's flash floods, whose D.C. progress I followed from a distance. Her environmental advocacy work as a member of Biden's White House Environmental Justice Advisory Council, was finally coming to fruition as per her op-ed "Puerto Rico: A Massive Energy Transformation is Within Reach" (11/04/22) (The environmental impact lawyer does not mince words in several referenced articles): [The Hill]
Puerto Rico's residents are plagued by constant power outages and the private company managing the grid, LUMA Energy, is under scrutiny because of these problems. In addition, the Puerto Rico Electric Power Authority, which owns the grid, has prioritized fossil fuels despite a law that commits the archipelago to be powered by 40 percent renewable energy by 2025.
Myrna Conty, another Puerto Rico-based environmentalist, president of the community-based, waste-recycling advocates Amigos del Rio Guaynabo Inc. reiterates the imminent threat to Biden's clean energy plans by the "Indifferent Governor" with regard to the additional $6 billion earmarked for solar rooftops and storage, subsidizing PR low income energy consumers, made official 10/18/22: [Earth Justice]
"Unfortunately, the governor does not have a lot of credibility in our country due to his unrelenting defense of LUMA Energy's contract, even though we all know it has been a disaster. We want to emphasize that solar panels be installed on rooftops and safe battery storage. We demand Gov. Pierluisi put his words into action and that he stop supporting the burning of fossil fuels in Puerto Rico.
As I had suspected, the two-pronged attack on the Indifferent Governor's corrupt PNP administration by the FBI on the one hand, with the fortuitous arrival of the Clean Energy Czar Granholm on the other, reaffirmed the veracity of my Dissident Writers Guiding Principle (in Episode 2) that his Fortaleza days are numbered:
Do not take at face value the politically motivated corruption scandals (or smear campaigns). These (mysteriously) pop up during an election cycle (or soon thereafter) to "make or break" each successive administration, as if "Los Federales" or FBI were waiting in the wings for the right time to strike and topple the regime, by defaming partisan leaders (or candidates for office) House of Cards Criollo-Style—guilty or not.
So that's the story of how the PNP statehood party commandeered the whole 2020 electoral process, in a desperate move to remain relevant in the changing landscape of island politics, while exercising their corrupt monopoly over the purse strings of central and local municipal governments. All's fair in love and war, but not in Puerto Rico politics, where the lives of "The Colonized" continue at the mercy of "La Cleptocracia." To wit, a country is a "Kleptocracy" in which nothing is accomplished without greasing the palms of government officials.
Who's to save Puerto Rico now? US (not the United States.)
JOIN THE PETITION TO CANCEL LUMA Energy Contract (renewable Nov. 30, 2022.)
(Although word is, the Clean Energy Czar is not inclined to cancel the Luma Energy contract.)
Support the Fiona humanitarian aid efforts
Sign up and support these valued news sources and activists
Sandra Rodríquez Cotto, Podcast:
Profesor Angel Rosa WKAQ Radio
Centro de Periodismo Investigativo (Center for Investigative Journalism),
Juan Dalmau
Support the Juan Dalmau Patria Nueva 2024 campaign for governor.
Stay abreast of the promising and historical alliance between MVC, PIP and independent parties to enact consensus-building changes to the (deformed) Electoral Reform Code. [El Sol de PR]
Editorial acknowledgments:  Ethno-racial scholars Ana Celia Zentella, Irma Olmedo; and fellow "Diehard Patriots" Margot Castro and Gil Colón.
Boricua Fun Fact: Vega Alta is the ancestral family birthplace of the brilliant Lin-Manuel Miranda, producer of the post-Maria "Artists for Puerto Rico" joint-musical homage to Puerto Rico's 78 towns that will lift you to "The Heights" of Salsa Heaven! [♪Almost Like Praying♪]
The End