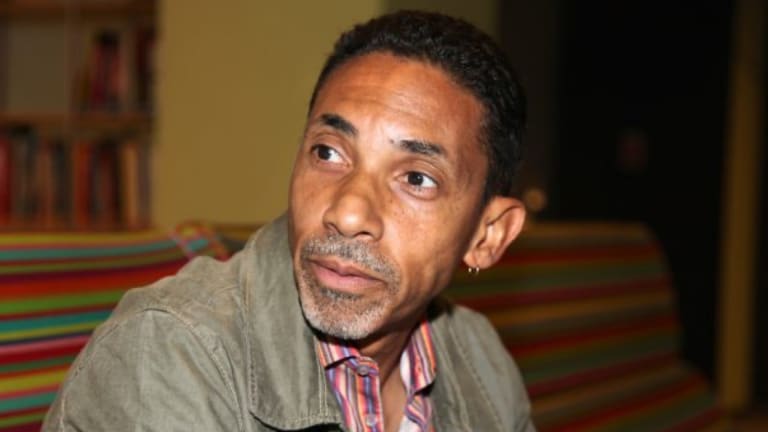 Robin DG Kelley's Freedom Dreams Returns Stronger after 20 Years
Freedom Dreams is unique: both a detailed compilation of the gigantic sweep of African-American – and African – resistance history, and a bold, visionary leap into an imagined future.
When Distinguished UCLA History Professor Robin DG Kelley appeared on stage recently at New York's Schomberg Center for Research in Black Culture, it was like the homecoming of a native son. "Schomberg is my home," he told the packed audience. He sat in the Schomberg doing school homework as a child growing up in Harlem, and haunted its massive archives while working on his Ph.D. dissertation years later. It shows. Reading Freedom Dreams, revised, expanded and re-published on its 20th anniversary, one gets a sense Kelley devoured and digested the entire Schomberg archives. Schomburg has been recognized for decades as the most important institution in the world for collections of art and literature of people in Africa or its diaspora.
Freedom Dreams is unique: both a detailed compilation of the gigantic sweep of African-American – and African – resistance history, and a bold, visionary leap into an imagined future. As Kelley says, it's "an attempt to move beyond [a] narrow understanding of social movements as targeted campaigns to focus instead on the collective radical imagination that conjures and sustains visions of freedom even in the darkest times." Darkest times? Like now? Well, he says, "the movements featured in the book arose in much darker times…" He harks back to "the height of racist reaction as the Bourbon South defeated Reconstruction, stripped Black men of the vote, made lynching the primary mode of discipline and punishment, and established the Jim Crow racial regime." Then "Black Communists spread their message of liberation during the worst global economic crisis and at the height of the Red Scare." And "In the 1960s and '70s, a group of Black radicals envisioned the imminent collapse of the American empire just as U.S. militarism and the national security state expanded and police violence intensified."
Not exactly light reading, "freedom dreams are born of fascist nightmares, or better yet, born against fascist nightmares. The very context for the book ‒ today and twenty years ago ‒ was the nightmare of global war, neoliberalism, and racialized state-sanctioned violence." Still, it's deeply utopian. A review in Utopian Studies highlights that Kelley commends a poet's desire to conceive of "somewhere in advance of nowhere." The reviewer, Francis Shor, says "the conversation that Kelley initiates is masterfully informed by post-colonial perspectives, crucial Marxist methodologies, and most hauntingly, albeit sometimes disconcertingly, by poetic reveries which critique as well as capture utopian longings and sensibilities."
From Dubois, Robeson, et al, to MLK, Malcolm & BPP
Kelley chronicles the heroic contributions of W.E.B. DuBois, author of Souls of Black Folk and founder of the NAACP, as well as other early 20th-century Black Marxist giants like Paul Robeson, Claude McKay, Richard Wright, and C.L.R. James. He credits McKay for electrifying the first Comintern meeting, saying "the Negro stood at the fulcrum of class struggle; there could be no successful working-class movement without Black workers at the center." The Comintern responded by supporting Black liberation on a global scale. Paul Robeson, the famous athlete, actor and singer, became such a powerfully influential voice for both Black liberation and socialism that the House Un-American Activities Committee revoked his passport and worked hard to destroy his career. In spite of this, Robeson successfully fought through the UN, both for support for the African nationalist movement, and for civil rights at home. Even though these efforts were suppressed, Kelley says, "After 1954, the Southern freedom movement rose with such force that it shocked white supremacists and liberals alike."
The post-1954 surge of civil rights leaders and organizations – the Southern Christian Leadership Conference of Martin Luther King, the Congress on Racial Equality (CORE), and the Student Non-violent Coordinating Committee (SNCC) – "succeeded in getting the federal government to pass the Civil Rights Act (1964) and the Voting Rights Act (1965)." But "these were Pyrrhic victories," Kelley says. In 1964 "the Democratic Party rejected the only hope for real democracy in Mississippi – the Mississippi Freedom Democratic Party led by Fannie Lou Hamer." In 1965 "civil rights marchers in Selma were 'turned back' by Alabama state troopers and local police, and Dr. King apparently relented, striking a mighty blow to the morale of the movement." He relates how "the emergence of Malcolm X and his subsequent assassination, events exacerbated by the wave of urban rebellions between 1964 and '68, served as catalysts for rising Black nationalist sentiment. "Black Power" emerged as the dominant slogan for SNCC and CORE members with a new attitude: "no more 'deals' with white liberals… Out of a bitter disappointment rose a new Black revolution."
The new Black struggle took inspiration from the emergent African liberation movements as well as the Cuban and Chinese revolutions. A new generation of Black Marxists arose, first in the Revolutionary Action Movement (RAM), and then the Black Panther Party (BPP) and the Republic of New Africa (RNA). When BPP leaders Elaine Brown and Huey Newton visited Beijing in 1971, they came back inspired. "Newton described his experience in China 'as a sensation of freedom – as if a great weight had been lifted from my soul… I felt completely free for the first time in my life.'" At about the same time, BPP chairperson Bobby Seale said "we're talking about socialism… Black people have no time to practice black racism and the masses of Black people do not hate white people just because of the color of their skin… We're not going to say there is no possibility of aligning with some righteous white revolutionaries, or other poor and oppressed people in this country…"
Reparations – 40 Acres & a Mule, and Then Some
As the Black Panthers and other Black revolutionaries were suppressed by massive state repression, a movement for reparations emerged. Kelley says this was "partly linked to passage of the Civil Liberties Act of 1988 authorizing reparations payments to Japanese Americans interned during World War II," and to a bill introduced by Congressman John Conyers in 1989 to create a commission to study reparations for Black people. It really re-emerged, since it first came up after the slave South was defeated in the Civil War. "African-American troops who survived the Civil War… believed that the rebels' land should be divided up among the folks who toiled for so many generations without pay." Union General William Sherman set a precedent in 1865, issuing Field Order 15, "designating land along the South Carolina coast and on the Sea Islands to be distributed among freed people." Each family was to receive forty acres, and Sherman made some army mules available. Then Congress passed the first Freedman's Bureau Bill, promising to provide the same to "every male citizen, whether refugee or freedman." Lincoln's successor, Andrew Johnson, vetoed that bill and reversed General Sherman's order. Instead, Johnson ordered that "nearly all the land confiscated from the Confederate plantation owners [be] restored in exchange for oaths of loyalty." Black codes, the KKK, and Jim Crow followed.
Both the Nation of Islam and the Black Panthers revived the demand for reparations. Point 3 of the BPP platform of 1966 says "Forty acres and two mules were promised 100 years ago as restitution for slave labor and mass murder of Black people. We will accept payment in currency which will be distributed to our many communities." In 1969, a "Black Manifesto," inspired by James Forman of SNCC, included a fully elaborated plan for reparations. It called for half a billion dollars, to set up a Southern Land Bank, a National Black Labor Strike Fund, a multi-million dollar subsidy to the Welfare Rights Organization, money for publishing houses and TV networks, a research skills center and a skills training center, as well as a Black university in the South. The Black Workers Congress emerged out of this reparations movement, which led in turn to formation of the Republic of New Africa, which proposed to take over the states of South Carolina, Georgia, Alabama, Mississippi, and Louisiana, through plebiscite, with the right to self-determination. "In addition to the transfer of land, the RNA initially called for reparations from the U.S. government in the amount of $400 billion to sustain the new nation during its first few years." RNA also declared: "We shall bring about a new dimension in breathing and growing space for those who remain where they are; We shall immensely relieve pressure on the crowded northern and western ghettoes and spatially and materially restructure and abolish the growing black slums of the South." The RNA's economy would be "based on Tanzania's model of African socialism, Ujamaa – roughly translated, 'cooperative economies'."
Notably, Kelley says "during Reconstruction, African Americans led the fight for free universal public education." In like manner, "a successful reparations campaign has the potential to benefit the entire nation, not just the Black community." It would "bring a massive infusion of capital for infrastructure, housing, schools, and related institutions in communities with large Black populations." It would "strengthen civil society as a whole… Social ills such as crime, drug use, and violence would be reduced considerably." Kelley echoes Grace Lee Boggs: "What we need to do… is encourage groups of all kinds and all ages to participate in creating a vision of the future that will enlarge the humanity of all of us…"
2020 Rebellion as Catalyst
Kelley says the "Black Spring" rebellion of 2020 was a catalyst for the new edition. "The world caught fire… Some 26 million people around the world took to the streets to protest the public execution of George Floyd in Minneapolis, the vigilante murder of Ahmaud Arbery in Brunswick, Georgia, and the killing of Breonna Taylor." Like the protest march on February 26, 2000 following the acquittal of the four cops "who fatally shot an unarmed and compliant African named Amadou Diallo" – which "was perhaps the most diverse march I ever attended" – the upsurge was again like that during Black Spring 2020. "No group was dominant. Latinos; Asian Americans; Black people from all parts of the globe; Arabs; Palestinians; Europeans and native-born white people; a rainbow of gays, lesbians and transgender people; young and old, walking, dancing, rolling in wheelchairs…" It engendered "renewed hope."
Where are we now? "The Black Spring has given way to a white winter of 'wokeness fatigue,' racist reaction, and liberal compromise. Protests dwindled, BLM signs were removed or power-scrubbed into oblivion, and cops kept shooting us…" Meanwhile "Biden prevailed with the largest vote total in history; Trump lost, with the second largest vote total in history. Before Biden-Harris could take office and begin deporting Haitian asylum seekers, bombing Syria, threatening war with China, and extending sanctions on Cuba, Trump's people attempted a coup d'etat. On January 6, 2021… thousands of white people, mostly white nationalists and neo-fascists, stormed the Capitol building… The insurgents were drawn not from the suffering 'white working class,' but largely from middle-class entrepreneurs, paid alt-Right organizers, and, especially, the warrior class ‒ veterans and active military personnel, and off-duty cops. Leading the charge were people drawn from the ranks of the same forces who beat us back with rubber bullets, tear gas, pepper spray, and batons during the Black Spring protests ‒ the same folks who killed, maimed, and detained Afghanis and Iraqis."
In 2017 Kelley wrote, "the insurgencies of the Movement for Black Lives and its dozens of allied organizations have warned the country that unless we end racist state-sanctioned violence and the mass caging of black and brown people, we are headed for a fascist state." Still, he's hopeful. "In the face of growing pessimism, Freedom Dreams may come across as too hopeful and 'optimistic'." The movements he chronicles in the book "were fueled not by false optimism but by a deep understanding of reality. They were trying to sustain life by beating back the death-dealing structures of gendered racial capitalism. The only way to ensure survival for Black people was to envision a radically different future for all and fight to bring it into existence. The fight itself forged, clarified, revised, or discarded those visions."
Taken together, these resistance efforts "represent a convergence of movements that had spent years resisting state violence and neoliberalism, sharing a vision of a future grounded in love, mutual care, cooperative economies, transformative justice, and abolition." Kelley again cites Grace Lee Boggs, the well-known Detroit-based "solutionary" leader, who urged him to "focus on creating a society that promotes self-sufficiency, ecological sustainability, values of cooperation, mutuality, non-violence, equality, and love. Making revolution meant remaking ourselves, insisting that the fundamental question facing humanity was how do we 'grow our souls'."
He was also inspired by the poet Sekou Sundiata, with whom he spoke in the wake of 9/11. "A few weeks after the twin towers came down, we met for lunch to talk about it. He had spent much of his life fighting things American ‒ racism, imperialism, economic inequality, hubris, xenophobia, arrogance ‒ and suddenly felt heartbroken for the American people." It prompted Sekou "to ask whether love, compassion, and human solidarity are possible in these United States… My talk with Sekou prompted me to reflect on how we might remake 'Ground Zero' as a symbol of how we might remake the planet." (Quite a dream!)
Kelley's own family was another inspiration. "My daughter, Elleza Kelley, taught me to look for freedom dreams in the spaces of enclosure and fugitivity. Her scholarship explores how Black communities transformed plantations, ghettos, rooftops, prisons, and the like, into commons, spaces of fugitive praxis and mutual care." His mother, too, "modeled a practice of mutual aid and passed it down to us: my mother raised us 'to help any living creature in need, even if that meant giving up our last piece of bread'."
Freedom Dreams concludes with examples from Jackson, Mississippi, and Detroit – both communities that "rose from the ashes" – in Jackson, after Hurricane Katrina, and Detroit after its demise as "motor city." In Jackson, a new mayor, Chokwe Lumumba, leader of the New Afrikan People's Organization and the Malcolm X Grassroots Movement, launched a plan, Cooperation Jackson, to "build a base of autonomous power… that can serve as a catalyst for the attainment of Black self-determination and democratic transformation of the economy." It "included a political strategy of People's Assemblies, open meetings to discuss community needs, ensure full democratic participation, and mobilize working people to win political power." After Chokwe Lumumba's untimely death in 2014, his son, Chokwe Antar Lumumba, became Jackson's mayor in 2017 and has continued the Cooperation Jackson plan. His daughter, Rukia Lumumba, coordinates the People's Assemblies. "I'm dreaming as big as I can because… I know for a fact that we can live in a world where joy is abundant and everyone feels safe."
In Detroit, Grace Lee Boggs and friends launched a "solutionary" movement to "promote self-sufficiency, ecological accountability, and human interaction – a new commons." The solutionaries "fight water shutoffs, create their own alternative sources of energy (wind, solar), run freedom schools, build collective economic power and sustainability through cooperatives and time banking, and turn empty lots into urban farms to deal with food insecurity, joblessness, and community education." Kelley concludes saying "Detroit, like Jackson, is becoming a liberated zone, where poets and solutionaries of every generation are unafraid to build what they haven't seen or fight a system that has wreaked havoc on the land and our lives for five centuries. They understand that freedom dreaming is not a luxury or a fantasy, and that our very survival depends on turning dreams of decolonization, redistribution, reparation and abolition into action… Detroit's freedom dreamers have been digging their own portal to the next world."