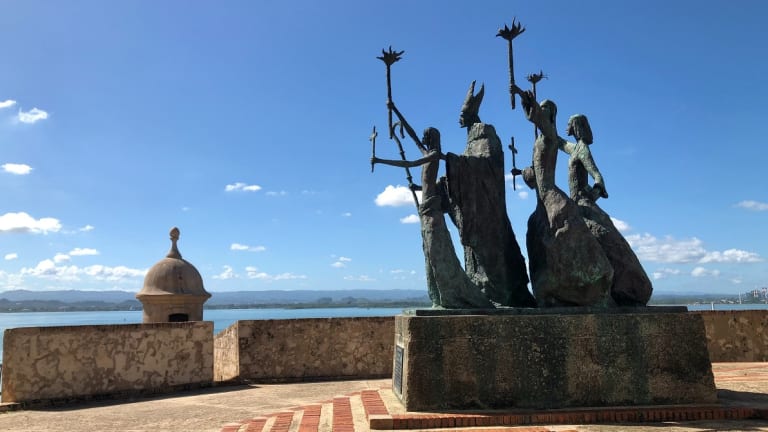 The Gaslighting of Puerto Rico's 'Colonized' Subjects
Since 2013, the Boricua Freedom Writer's mission has been to "refresh" the Puerto Rican narrative, insofar as the C-word 'Colonial' is verboten among mainstream news media outlets.
"The process of political gaslighting utilizes deceptive and manipulative use of information with the motivation to destabilize and disorient public opinion on political issues—Farch Latif, George Washington University
Series Prologue
It was the early part of 2019. What begins as the 4-part memoir/essay "Stop this Mini-Trumpworld, I Wanna Get Off: On the Vindication of Carmen Yulín Cruz: The People's Candidate 2020" that chronicles the lengths to which her enemies went to derail the San Juan Mayor's candidacy for governor; by the time of the "Ricky Leaks" political corruption scandal, the Summer of '19, had evolved into a full-scale truth-telling crusade: Hard-pressed as I was to limit fast-changing episodes to the prescribed 2,000 words for blog publication.
My writer's dilemma during the arduous writing process of merging memoir with essay, hearkens back to one of those self-defining moments many, many moons ago…
The Hunter College halls of higher learning are asphalt city stifling hot. And I'm 1970s psychedelic cool, my humongous red-brassy-brillo Angela Davis afro is safely tucked away in the back row of my classroom: "The Puerto Rican Community in New York." Avantgarde professors of the nascent Black and Puerto Rican Studies Department are basking in their eloquent and righteous glory, transmitting the "Arts of Resistance" to bright-eyed South Bronx know-nothings like me. (The preeminent Afro-American scholars John Henrik Clark and Myrna Bain, among them.) Powerful liberation language I had never heard nor seen before in books. Even though at the lily-white Bronx Science campus, we used to eat highfalutin words for lunch, while prepping for the frequent and onerous advanced vocabulary pop quizzes. But none had ever spoken to my ghetto reality, nor the beleaguered island world of my Puerto Rican migrant parents — not even remotely. I am enthralled.
One day, after class, I waylaid my professor, the distinguished anthro-political linguist Profesora Ana Celia Zentella, with a question I was too timid to ask in front of my classmates, for fear of looking dumb (or dumber). "Ana Celia, I don't get it. Puerto Ricans are U.S. citizens; we can come and go as we please. So, why not just make La Isla a State? "Because that would end us, our language and culture. And anyway, they don't want us," she says. Getting down to the nitty-gritty of ethno-racial subjugation in her usual piquant professorial manner, that clearly suggests, you want more answers, hit the syllabus books. You're about to get armored for "La Lucha" the struggle to write the wrongs committed against Mi Gente (or My People). Looking back, Mi Profa may not have known. That was the day she kindled the eternal flames of my rebel heart — or maybe she did(…)
Meanwhile, the end of January beginning of February 2020, I was bowled over by an 11-day hospital stay with a curious case of influenza A and B, mycoplasma, and critically low blood oxygen levels. The coronavirus was still undetected in Puerto Rico, and I had never succumbed to a flu strain in my life! At 68, my dissident writing marathon into the wee hours of the morning and night, had proven hazardous to my health.
During my later 3-month recovery, it was hours of Netflix movie-bingeing for me. I had precious little stamina to monitor the news cycle, let alone park myself at my desk, and write; except to note the San Juan Mayor's standout initiative. The first and only COVID-19 drive-through testing site and municipal contact-tracing procedures; that puts the chronic shortage of Covid-19 testing and lack of centralized contact-tracing by the then Gov. Wanda Vázquez administration to shame. [CPI] Our Covid-19 (initial) inept governmental response leaves me with the lingering (unanswered) question: Had I fought the coronavirus and won?
Soon after, while on quarantine, virtual reunions with my beloved Cali-Rican niece and long-lost and loving Bronx Science high school friends lift me up. I make the serendipitous acquaintance of an island "Diehard Patriot" on FB, another bilingual, bicultural cerebral baby boomer and news junkie, born in the Bronx. Our daily and weekly texts and video chats help me to hone my message and gather the fortitude to get back in the saddle and make it to the finish line.
One NYC beta reader writes of the episode "Welcome to Our Mini-Trumpworld": "Reads like a Village Voice heavy hitting piece. You wove past, present, personal, and political in your own unique style and provide an inside perspective on the details, wherein the devil resides. Not for the faint of heart and rightfully so." (He also cautioned "watch your six.")
When suddenly, I am stricken with every sedentary writer's worst nightmare—a disabling case of sciatica in my left leg, that puts my Elections 2020 exposé on pause. Bedridden, on pain meds.
Today, at long last, after all the untimely health setbacks, and much deliberation over the inherent risks involved in "unmasking the colony," for readers who may yet be wondering how Carmen Yulín Cruz lost her bid for governor. In short, it wasn't a "Fair Fight" to quote another woman of indomitable spirit, Stacey Abrams.