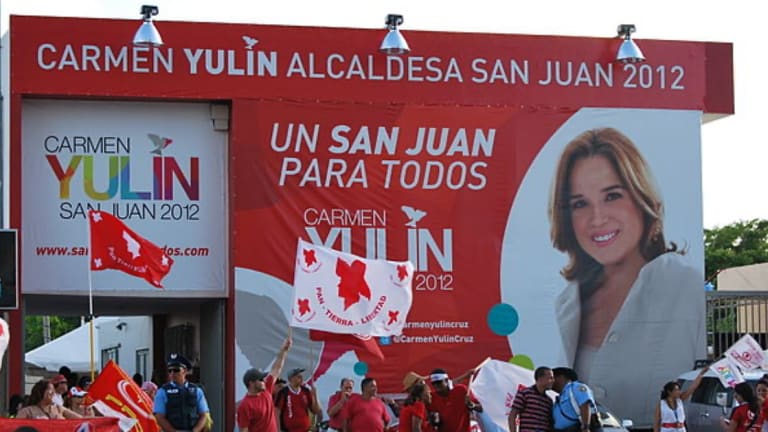 Episode 4: "La Comandanta Yulín": The People's Candidate 2020
That's the long and short of it. The Commonwealth of Puerto Rico was built on a bedrock of corruption, cutthroat politics, bribes, lies and deceit.
The Year: 2014. The Place: Vega Alta, Puerto Rico
¡SI ESTO FUERA OTRO PAÍS DEL MUNDO, SE HARÍA UNA REVOLUCIÓN!!! Shouts a most unusual town crier beneath my sun-filled deck. "El pregonero" strutting the streets of "el casco urbano" downtown is in top form today. HEAR YE, HEAR YE! IF THIS WERE ANY OTHER COUNTRY IN THE WORLD THERE WOULD BE A REVOLUTION! His head is tilted to the morning sun as though today's wake-up call were intended for me alone. He's arousing my hidden passions for liberty in (dare I say it) "estadista" pro-statehood blue country. Seemingly (and ironically) channeling the spirit of our town's own Gilberto Concepción de Gracia, who was the father of the modern "independentista" pro-independence movement.
"I see you" mi hermano/my brother.
Solar-powered on your one-man march for freedom,
Black, thirty-something and jobless,
food stamps-fed and newspaper-read.
Your Me Salvé bargain store
pristine White cotton camiseta tee shirt,
polyester shorts and
cheepy chappy chancletas, rubber thongs
All Made in China.
Clean and fresh, like you just rolled out of bed
and not the wretched homeless gutters.
Resurrected to your self-appointed
and proud occupation:
PREGONANDO por La Madre Patria.
ALL HAIL to the Motherland.
No bebiendo ron sin bañarse,
drinking your way to an early grave.
I salute you, too.
For not joining the growing ranks
of the island's "Walking Dead,"
the haggard, hepatitic and hungry,
seen weaving in and out of rush hour traffic,
panhandling for two bits,
the 24/7
POTEANDO for the next fix,
grungy paper cup in outstretched hand,
Brother, sister can you spare a dime?
I'm mad as hell (too) and
I'm not going to take this anymore!
But aren't you afraid of voicing
your seditious thoughts aloud?
Remember the fate of the fallen,
the Grito de Lares Revolution in 1868
founding the Republic of Puerto Rico,
thwarted by the U.S. invasion in 1898.
The 1950 Nationalist Revolution,
quashed at every turn.
Our freedom fighter immortals
Dr. Ramón Emeterio Betances,
El Padre de La Madre Patria.
and the martyrized Don Pedro Albizú Campos,
distinguished Harvard Law School alum,
must be rolling over in their graves.
That more than a century later, we are still asking
¿qué hacen los puertorriqueños que no se rebelan?
Where is the rebel heart of the Puerto Rican people?
Still running around in circles,
The confounded status conundrum,
Colony? State? Nation?
No consensus, no direction.
What part of "Unity"
do we Boricuas still not understand?
"FEAR"
"La Comandanta Yulin"
At a time, when the "Star Power" of the rebellious Carmen Yulín Cruz keeps our storm-ravaged Puerto Rico in the U.S. and international spotlight, the PPD Popular Democratic Party gubernatorial hopeful, had long been fair game for misogynistic name-calling and the casting of aspersions on her character — based on mere innuendo. "La corrupta," "la inepta," the reprehensible female canine slur "la perra" (or "b*tch") are the slings and arrows of insults now traceable to the #TelegramGate chat room conspiracy, the Summer of '19. The corruption scandal that triggered 15 days of massive island protests, building up to the final overthrow of the manipulative PNP statehood Gov. Ricardo Rosselló, in July 25, 2019.
The "People's Impeachment," as it were. Included among them, the "Colectiva Feminista en Construcción" the Feminist Collective the dispassionate "Deposed Rosselló" had scorned as revealed the Sandra Guzmán CNN Op-Ed:
According to an ACLU report, Puerto Rico has the highest per capita rate in the world of women over 14 killed by their partners, a number the organization describes as disturbing and climbing. Researchers found that governmental agencies fail to follow protocols, respond, record, and investigate crimes of rape and sexual assault. And of the 20,000 domestic violence cases reported to police annually, the ACLU report citing a government office found that only a fraction, 500, result in conviction. They have been ignored. (…)
Non-conformist women who also went on to make revolutionary history as spotlighted the Hunter College scholar Yarimar Bonilla for MTV News:
For her coverage of the leak, Rodriguez Cotto, who runs the blog En Blanco Y Negro, focused her reporting on officials' use of misogynistic language and the threat of violence against women in the chat. As she and others reported, Rosselló repeatedly referred to women in the opposition as "putas" (the Spanish slur for prostitute) and one of his advisors made crude comments about gunning down Carmen Yulín Cruz, the mayor of San Juan. (…)
All the while, an outspoken champion of more "People Power in Puerto Rico"—the ongoing struggle to stop the island's gentrification analyzed by Prof. Maritza Stanchich—had been demonized by the communist tag "La Comandanta Yulín" (a throwback to the political witch hunts of 1950's McCarthyism, if you will.)
Despite repeatedly (and openly) stressing that she is not "anti-capitalista" nor the "leftist commie" the 'typical pro-statehood fanatic' would have us (and unwitting North Americans) believe.
The guilt by association with "Diehard Patriots" — who have never held the reins of power —was the cross to bear of the "soberanista" pro-sovereigntist going forward. (Likewise, for the PIP independence party gubernatorial candidate, the then-Senator Juan Dalmau, who announced his candidacy Dec 1, 2019 and was (initially) glaringly missing from the 2020 gubernatorial elections roundup.
(Wassup widdat?)
"Diehard Patriots" who are seemingly purged like criminals from the everyday political discourse. [Radio Independencia] While being categorically stripped of their constitutional right to convene an "Asamblea Constitucional de Status" People's Constitutional Status Assembly of democratically-elected delegates, voicing the diverse political ideologies and decolonization formulas for a transparent, inclusive and conclusive vote on status.
In place of the "rigged" status plebiscites of the past, concocted by the ruling political parties in power. In fact, the mere mention of an "Asamblea Constitucional de Status" Constitutional Status Assembly—terrifies the statehood fanatic!Because there is no political will to be truly democratic.
In that, for many ("Americanized") islanders the notion of self-determination as a free and sovereign Latin Caribbean nation (eponymous with "Yulín") conjures up fearful Banana Republic images of Venezuelan hardship and hunger, for one; or a dictatorial and communist Cuba, for another. A widespread misapprehension that inevitably prompts my following Dissident Writer's Guiding Principle:
Do your own research into conventional wisdom.
The political persecution of Puerto Rican "Diehard Patriots" calls to mind an ignominious chapter in island colonial history, surrounding a well-kept secret by the founder of the PPD commonwealth party, and first democratically elected governor, the idolized Luis Muñoz Marín; whose state-sponsored crackdown on the 1950 Nationalist Revolution subverting the "Asamblea Constituyente" organized by then-Nationalist party leader Pedro Albizú Campos, subject of the Nelson Denis book War Against all Puerto Ricans, that speaks to the valiant and broken hearts of the countless "Diehard Patriots" among us—then and now, young and old, here and there—and the "vendepatrias" patriotic sellouts betraying them throughout history (regrettably) for the love of money, power and influence.
Contrary to the conventional wisdom the commonwealth construct was the crowning achievement of solely Gov. Muñoz Marín (notwithstanding his checkered political career) some 21st century revisionist (rebel) historians have ascertained the economic reform institutions of our "showcase of democracy" (that would eventually go belly up in the 2016 bankruptcy) were also the architectural design of the WASPM technocrat Rexford Guy Tugwell, the last U.S.-appointed "colonial governor" (1940–1946). [Fantasy Island]
As it turns out (please don't kill the messenger) from unsealed FBI secret surveillance files (that will shock you) an opium-addicted Gov. Luis Muñoz Marín (and untowardly Hoover-era blackmailing and palm-greasing schemes supporting his secret habit) made for strange bedfellows when cementing closer economic ties between the Super Power and the underdeveloped 1940s U.S. military outpost.
That's the long and short of it. The Commonwealth of Puerto Rico was built on a bedrock of corruption, cutthroat politics, bribes, lies and deceit. The template on which future island governments would evolve and eventually collapse.
Or, as our "dicho" or wise folk saying goes, "lo que empieza mal, termina mal" (whatsoever starts out badly, is bound to end badly.)
Which is to say, unsettling as these previously undisclosed events may be (depending upon the eye of the observer) know thy history. For the truth shall set us all free to carefully consider self-determination options on the table with an open mind and heart, the journalistic intent of the three-part video series on the status question by the trailblazing Arecibo-born "rebel reporter" Bianca Graulau.
INTERMISSION (30 mins)
Since the "Colonial Conquest Reboot"— imposition of La Junta/PROMESA Fiscal Control Board (in 2016) that came to lay down the law, reigning supreme for the last six years — the truth is out about Puerto Rico, the "Free Associated State."
We were never "Free" to self-govern, nor "Associated" well enough to merit FEMA equal treatment with seventeen disaster recovery states. Nor is there the PROMISE of becoming the bonafide "State," as proclaim leading proponents of the misleading Statehood "Yes or No" referendum on the Election 2020 ballot. That both the commonwealth PPD and independence PIP traditional parties are strongly opposed to.
And, for good reason. After all, what are the chances of a "Presidential" invite to the Union for the "Shithole"-Brown-Habla-Español- Would-Be-51st -Junk Bonds-State from a megalomaniac and White supremacist company who would "Make America Hate Again"? (Who would even deign to peddle Puerto Rico like one of his bankrupt and failed casinos.)
We would do better to contemplate a decolonization "Plan B."
---
One day, my night-owl, thirty-something daughter walks in on me during my AM radio listening hours. She had returned to the normalcy of work after the monster cyclone Maria shattered the Connecticut-cottage cozy comforts of our second-floor apartment in Vega Alta. 
By this time, I'm getting fed up with all the NotiUno editorial brainwashing, and have expanded my AM radio monitoring routine, to include WAPA 680 (Telemundo) and WKAQ 580 (Univision), when the oddest thing occurs.
I'm sitting on the porch, demoralized by my new panoramic view, the 3-story high magnificent treetops across the street had cracked to the will of Maria, and were flattened into scraps of tangled wood piles waiting to be hauled away to the municipal dump. Without warning, the radio signals get crossed, and I'm back to NotiUno 630 (Uno Radio Group) once again.
Mija steps through the front doorway and is instantly irked by the "Talking Head's" rabble-rousing and uncivil brand of grandstanding on the morning show "Por La Piedra" (supporting the island's pro-statehood Republican machinery.)
"Ma, why are you listening to that dude? I liked the other station better. HE SOUNDS LIKE ONE OF THOSE FOX NEWS GUYS!"
"Let me tell you something Mija. You keep your friends close, and your enemies closer."
Lately, though, I have been of the mind to boycott NotiUno entirely. Try as I might, I cannot stomach the new station promotional soundbite questioning "la palabra" or the honor of Carmen Yulín, for her final decision to run for Governor — blindsiding the news media bigtime — rather than challenging the incumbent DC Resident Commissioner, the statehood Republican Jenniffer González. As critics widely speculated of the frequent flyer to the States to honor her beaucoup speaking engagements, while enlightening mainland USA residents — public, private, and civic leaders — about Puerto Rico: "America's Forgotten Colony."
"Yulín Haters" are quick to bad-mouth the unofficial ambassador to the States, for (presumably) squandering municipal funds on personal junkets to the mainland and abandoning her mayoral duties. That is, not fulfilling their demands for instant gratification, the post-Maria emergency clean-up, city beautification projects, and infrastructural repairs stalled by FEMA's failure to make good on disaster recovery funds (no thanks to the "Deposed Governor's" incompetent political lackeys.)
Opposition small-mindedness detracting from the mayor's otherwise proven leadership track record, and unassailable reputation for cultivating public/private fundraising and community partnerships, as was made apparent on her "Cuentas Claras" self-audited website pages, detailing the purpose for each of the mayor's travels and the expenses incurred (a sample of which I managed to download before all evidence of her administration was completely erased by her PNP statehood successor Miguel Romero.)
In fact, under her two-term administration, San Juan placed as one of the top three municipalities observing some degree of government transparency, according to the Center for Public and Corporate Governance:
Caguas is the municipality with the highest score in the general index, with 79.3%. The municipalities that are closest in this category are Bayamón and San Juan, but the level of general transparency barely reaches 21.7% and 13%, respectively.
A one-time executive adviser to the former San Juan Mayor Sila María Calderón, in the larger scheme of transforming depressed constituencies into self-sufficient, solar-powered and resilient communities, mentor and protégé were more alike than different. Both came from the same school of "autogestión" self-empowerment theory and training for Puerto Rico's marginalized population, the "Comunidades Especiales" Special Communities initiative, subsequently implemented nationwide by the future "First Woman Governor" Calderón (2001-2005)—my former employer.
That the San Juan Mayor Carmen Yulín Cruz was honored at the annual Martin Luther King Center "Salute to Greatness Dinner" with a "Special Recognition for Humanitarian Leadership" (in Atlanta); was privileged to receive the prestigious AFAR Media "Travel Vanguard Award" for attracting tourism to Puerto Rico (in New York City); was the honored recipient of the 2018 "Corazon de Oro" Heart of Gold award from the San Antonio Association of Hispanic Journalists; was awarded an honorary doctorate by her Boston University alma mater; on top of which, was recognized as one of the world's Top 100 Most Influential People by Time Magazine (2018)—the following nomination statement by Puerto Rico-born Oscar-winning actor/activist Benicio del Toro, a poignant reminder of Carmen Yulín's generosity of spirit:
In September 2017, just over 100 years since every Puerto Rican became an American citizen, Hurricane Maria destroyed most of the island, killing more than 1,000 people and leaving thousands without shelter, food, water and power. The federal help that arrived was not prepared to meet the magnitude of the emergency. The problems of the people on the island quickly became, in many cases, a matter of life and death. On an island where 3.4 million American citizens live without the right to vote for their President and without representation in the US Congress, it seemed impossible to reach the ears of the decisionmakers in Washington, D.C. From the chaos, delays and indecision, a shout for help was heard. The mayor of San Juan, Carmen Yulín Cruz, became the voice of the disenfranchised citizens. She was passionate, courageous and articulate. And little by little, her words got the crisis the attention it desperately needs, just as if it were happening in Florida or Texas. Cruz's legacy will be marked by her uncompromising refusal to let anyone ignore the lives of those affected by the hurricane. For this, we are forever grateful.
Whilst, returning to her homeland to little or no fanfare from her countrymen and countrywomen recalls another local wise folk saying (I'm not too proud about) "no te quieren ver con dos camisas" (Literally: some people don't want to see you own two shirts. Figuratively: the green-eyed monster rears its ugly head.)
(Besides, when did having your sights on the bigger picture and a calculated political strategy — having a Plan B — become a deadly sin?!)
"Pan, Tierra y Libertad"
Carmen Yulín's unexpected turnabout surfaced on the eve of her highly-anticipated "2020 Campaign Reveal." During a community gathering with her San Lorenzo base—a municipal bastion of the PNP statehood party—the disenchanted fathers, mothers and youth in attendance, feeling hopelessly betrayed by Rosselló's government of the few and corrupt, opened her eyes to another serious consideration, reported El Nuevo Día/ENDI (3/24/19):
¿Cómo usted se sentiría al día después de las elecciones si por usted haber tomado un camino que es más fácil para usted, Ricky Rosselló sigue siendo gobernador de Puerto Rico?/How will you feel the day after the elections if after taking the easier route Ricky Rosselló remains the governor of Puerto Rico?
That, in order to advance her groundbreaking social and political transformation agenda — the prudent politician who plays her cards close to the chest — would have to place her bets to win on the PPD "poor people's party" and not launch her bid for governor under the fledgling Movimiento Victoria Ciudadana/Citizens Victory Movement or MVC party insignia of her "soberanista" allies, despite their overlapping political agendas (as attackers also wrongly predicted and unjustly criticized in the end.)
Having chosen, instead, to rekindle island fervor for the Popular Democratic Party dormant ideals of "Pan, Tierra y Libertad"—she experienced growing up in the cradle of the Grito de Lares Uprising, her hometown—that loosely translated, extols the virtues of having gainful employment, ministering to the hungry, the cultivation and preservation of the homeland, and the right to live with dignity, liberty, and justice for all.
And so, it was. Carmen Yulín's symbolic campaign kick-off—commemorating the 196th Anniversary of Puerto Rico's Abolition of Slavery (in 1873)—is the grand gesture for which (I venture to say) she should be acknowledged in anti-colonial history.
On Friday, March 22, 2019, after months of media intrigue, all the build-up and suspense: Will she run for resident commissioner? Will she pivot towards more mainland USA politics? Will she be the MVC gubernatorial candidate?
That, all the hounding by the news media finally comes to an end.
Donned in her "Sin Miedo" (Be Fearless) signature black and white tee-shirt, the 4 foot 11 radical visionary rallies the 'roomful of teary-eyed followers' who had all but lost hope for island redemption. [WAPA TV]
"I Have Decided to Serve El Pueblo as
The Next Governor of Puerto Rico!"
"No me dejen sola" she chants. Don't leave me out on a limb.
ENTERS…
The People's Candidate 2020: Hope for Island Redemption
On the following Sunday, the message of her eye-catching black and white tee "No Nos Quedaremos Callados" We Will Not Be Silenced speaks volumes of Carmen Yulín's resolve to not be intimidated by the colonial powers-that-be. The author of a seminal book on Puerto Rico community self-empowerment (that has become her mantra) "El poder está en la calle"—the power rests with the people— shares her vision for the future with the renown ENDI journalist Benjamín Torres Gotay. The Sunday paper headline reads: "Mi Aspiración a La Gobernación Nos Es Sobre Mi" My Run for Governor is Not About Me. It's about US: "El Pueblo" The People of Puerto Rico who yearn for a radical change in leadership.
Excerpts from that enlightening Q&A (03/23/19) are translated below, revealing the unfulfilled promise once held for the rescue, revitalization, and rebirth of Puerto Rico (in my opinion):
BTG: When you speak of transition with community involvement, what do you mean specifically?
Let the community make its own decisions, the public-school system is more than just education. The schools substitute as community centers (and are) the hub of the community. When you yank a school (out of the community) you're tearing the fiber of that community.

BTG: You've said, once in power, you would suspend the monetary compensation of La Junta PROMESA Fiscal Control Board.
I've said, one of the ways to combat La Junta is to put an end to their public financing. It makes no sense that we pay them to mistreat us.

BTG: Should you do that, La Junta will go to the Courts, a judge will decide we must continue to pay them. What then?
We keep appealing the process.
BTG: And after the final appeal?
We'll see when we get there. But if what you're really asking is, am I prepared to go the full mile? Yes. I am. Whatever is most important for the people is worth fighting for. But I also see favorable conditions in Congress for a complete and radical change of PROMESA, now that we are under the leadership of Raul Grijalva. (Who had officially endorsed Carmen Yulin's candidacy for governor because as he stated, "she had earned his respect and is capable of achieving consensus on the island.")
BTG: You are against the privatization of PREPA (Puerto Rico Electric Power Authority or Autoridad de Energía Eléctrica (AEE). What AEE and system of energy generation and distribution do you visualize?
The diversification of energy sources, to transition not to natural gas, as we are witnessing now. (i.e. the non-stop San Juan protests demanding termination of the LUMA Energy contract.) We are being transitioned from one fossil fuel energy source to another fossil source that will chain us to that source. And why? Because the U.S. has an excess of liquid gas and needs to unload it on another market. Which explains why this (Rosselló) administration has proposed elimination of Las Leyes de Cabotaje for anything dealing with (transporting) natural gas. (Antiquated Jones Act Maritime laws that to this day require counterproductive U.S. shipping waivers, an economic injustice David Begnaud delves into with a Cato Institute expert). We need to make micro-networks for self-empowerment and economic development to transition to solar energy.
BTG: Would those micro-networks be administered or owned by AEE?
They could be community-owned for complete community self-reliance, or they could be administered by AEE.

BTG: What do you specifically oppose about privatizing AEE?
Essential services should be government-owned. Why? Because the goals and objectives are not the same. A private company makes decisions based on the profit margin. (…)
There you have it. As we say in America, hindsight is always 2020. On Oct 14, 2021, in commemoration of Hispanic Heritage Month, Nina Meléndez IbarraLinkedIn News reaches out to Carmen Yulín at Mt. Holyoke College in Massachusetts, to get the inside scoop on the island's rebellion FUERA LUMA (LUMA Get Out of Puerto Rico).
---
Only once did a brave soul come out of the woodwork in defense of "La Comandanta Yulín." The dissenting woman caller was met with the "Talking Head's" rude and abrupt disconnect on the listener line. And many is the time, I thought to phone in and express my opinion. But my vocal cords were strangely afflicted after a traumatic family event back on the island (too agonizing to speak of.) My garbled speech is (at times) incomprehensible on the phone. It then occurs to me to express my listener objections in writing. 
"Ma, haven't you had enough corruption for one day? Take a rest for a while." Mija exhorts her single-minded mother to disconnect from the news banter. I pretend to acquiesce and turn off the living room radio. I make a beeline to my bedroom for my afternoon senior nap, to recharge the brain drain and the occasional writer's block. It never fails, the Muse interrupts my uneasy slumber. "Get up. Grab the bull by the horns, your people are tired of the colonial abuses," the taskmaster gently urges. My other radio (that's still turned on), summons me to my office.
I cannot miss my WKAQ Radio A-1 analysts: Jay Fonseca, Carlos Dalmau, el Profesor Angel Rosa, Rubén Sánchez, Luis Pabón Roca, Carlos Díaz Olivo, Francisco Ojeda (QEPD) and the "Yulin Hater #1" (the statehood fanatic with the long-standing personal vendetta against "La Comandanta Yulín.")
I grab my notebook and pen, pop out of bed once more, slide into my slippers; then hobble over to my daily Torres Gotay Twitter news feeds, remembering to set my alarm for Jugando Pelota Dura (Univision TV) at 6:55pm. I must remain ever vigilant for any new opposition dirt on "La Yulín."
Change is gonna come. And I believe Carmen Yulín, the People's Candidate, is our "secret weapon." (But, you didn't hear it from me.)
Blame it on "The Muse." 😊
Episode 5: The House of Cards That Wanda Built: Puerto Rico's Bungled Elections 2020