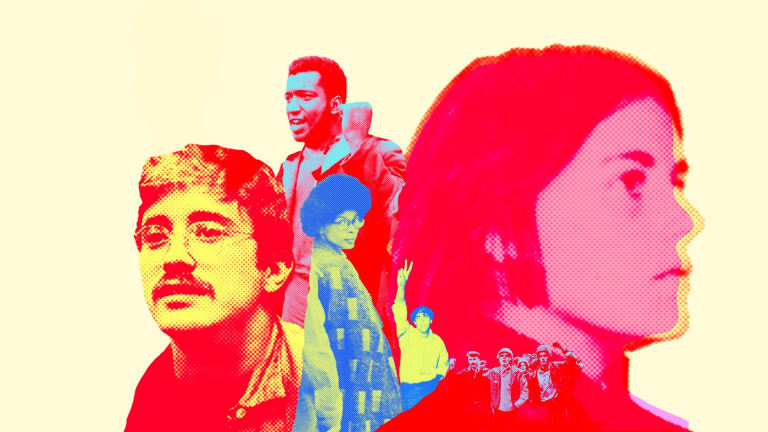 Vietnam, Black Liberation, and the Weather Underground
Looking Back on the Violent Sixties and Seventies
Reviewing Mother Country Radicals, a podcast by Zayd Ayers Dohrn, Mother Country Radicals by Zayd Ayers Dohrn, Public Enemy – Confessions of an American Dissident, by Bill Ayers, Fugitive Days – a Memoir by Bill Ayers, and The Way the Wind Blew, A History of the Weather Underground by Ron Jacobs
There was a lot of violence and crime back in the sixties and seventies. Assassinations. Racist mobs and cops attacked civil rights marchers. Voting rights activists were captured and murdered by the Ku Klux Klan in Mississippi. TV news told horror stories of body counts and napalm in Vietnam. Antiwar protesters, especially students, surged into the streets in many cities denouncing war crimes and government lies. 
In 1965 the poor Black Watts neighborhood in Los Angeles erupted in rebellion as young people had enough of brutal police repression. In New York City, Malcolm X was shot as he gave a speech at the Avalon Ballroom in northern Manhattan. He had just returned from a hajj to Arabia – a pilgrimage to Mecca – where his eyes were opened. For the first time in his life, he had felt no racial antagonism toward whites nor had he sensed any antagonism on their part against him. Malcolm wrote from Mecca that "true acceptance of all nonwhites as equals makes the so‐called 'whites' also acceptable as equals."
Also in 1965 the Reverend Martin Luther King, Jr., traveled to Chicago, taking the Civil Rights movement north. "We have some challenging days ahead," he declared, "some great and noble opportunities." 
In Mother Country Radicals, a new podcast about the lives of the leaders of the Weather Underground, Zayd Ayers Dohrn tells how his mom, Bernardine Dohrn, first encountered MLK in Chicago then. She told her son the opponents of King at a rally in the city's Marquette Park "looked exactly like the MAGA mobs" of recent years. It reminded her of Little Rock in 1957, when Arkansas' governor mobilized white citizens and the state National Guard to block nine Black students from entering Little Rock's Central High School following the US Supreme Court's 1954 desegregation ruling.
"Seeing the hate in those faces made my mom want to fight it," Zayd says. His mom said "there's no way to be committed to nonviolence in the midst of the most violent society history has ever created," adding "all of us are going to have to decide what to do about it."
Mother Country Radicals – a term coined by slain Black Panther leader Fred Hampton – tells of Bernardine Dohrn and Bill Ayers emerging as leaders of the Students for a Democratic Society in the sixties. It became the largest radical student organization in US history, with more than 100,000 members in hundreds of college campuses across the country. In 1965 SDS led the first large antiwar protest against the US war in Vietnam – more than 25,000 protesters descended on Washington chanting "Hey, hey, LBJ, how many kids did you kill today?" 
Three years later SDS mobilized again to protest in Chicago during the Democratic National Convention. It became famous as "the battle of Chicago." The protest leaders became known as "the Chicago Eight," and later "the Chicago Seven" after Black Panther leader Bobbie Seale was tied and gagged and side-tracked into a separate trial. Bobbie Seale has continued speaking at campuses across the country up until now, defending the legacy of the Black Panthers.
The Weather faction was born defending the Panthers. The group – which took its name from Bob Dylan's Subterranean Homesick Blues ("You don't need a weatherman to know which way the wind blows") – was the result of a split at the 1969 SDS convention over support for the Panthers (BPP) and Vietnam's National Liberation Front (NLF). The largest and most militant radical group in the country at the time, BPP was facing a massive campaign of police and FBI repression. 
Bernardine Dohrn led the Weather faction out of the convention declaring "You're either with the oppressed or the oppressors." Weather declared war against the war machine and the police. First, the wildly adventurous "Days of Rage" in Chicago, called in 1969, a year after the 1968 Battle of Chicago, to avenge the trials of the Chicago Seven and Bobbie Seale. Then a string of bombings to hit the Pentagon, the US Capitol, and numerous symbols of war and racism across the country.
"We had jacked ourselves up and spurred ourselves on," Bill admits in Fugitive Days of the Days of Rage. "Remaking ourselves into street fighters and persuading ourselves against all evidence that the working class youth were with us, we had planned to rally with thousands of working-class kids from the base cities and the militants from our collectives… but it didn't work out like that… We weren't only outnumbered and outgunned [by the police], we might just be out of our minds. My stomach sank." 
The rage became a fiasco, but as he ran to escape the police, he found refuge in an encampment of homeless street people, who embraced him. "Yes, friend, those Chicago cops getting just what they deserve, just chickens coming home to roost. They haven't had the time to come and roust us for days now, and for that alone I salute you!"
"Our courage and purposefulness is a marvel from here [years later]," Bill writes. "We took ourselves so seriously – we were too earnest by half and way too insistent – but we felt, personally and specifically, the full weight of the catastrophe unfolding before us. The world was in flames,… little Vietnam bearing the brunt and racism at home paralleling most of the horrors visited upon the third world. Human existence itself seemed in grave doubt as, armed to the teeth with nuclear weapons and the masters of war at the controls, the world raced toward oblivion. The dreadful and inescapable fact was that it was up to us to rescue everyone…"
The last living member of the Chicago Seven, chemistry professor John Froines, died in July 2022. A July 16 NY Times obituary cited Froines telling a reporter "No one is the same now as then. We still need student protesters because many of the problems of the sixties continue and new issues have emerged. But nobody's a student activist at 50. You'd have to have your head examined."
Bernardine Dohrn and Bill Ayers aren't student activists anymore. After surfacing in the 1980s, both have been distinguished university professors in Chicago for decades. But their activism has not faded. Bill Ayers' memoir Fugitive Days appeared on September 11, 2001. In an interview just prior to that fateful day he told a reviewer "I don't regret setting bombs, I feel we didn't do enough." Years later, in 2008, his friendship with candidate Barack Obama became a national issue. Hillary Clinton attacked Obama for associating with Ayers. Republican candidate Sarah Palin talked about Obama "palling around with terrorists." Bill writes that his kids made him promise to stay quiet and out of the fray during the long months of the 2008 campaign.
"Trust me, everyone has regrets, even unrepentant terrorists," Zayd says in Mother Country Radicals. "There are many, many things to regret, of course," Bill admits in Public Enemy, "and atonement is sometimes appropriate – the wretched years of the American war in Vietnam, the desolate decade of serial assassinations of Black leaders, the exhilarating upheaval and the sparkling fight for freedom and peace and justice can't possibly justify everything everywhere."
Bill cops to "a hyper-partisan stance within the movement: you're either with us or you're with the enemy… The consequences were dreadful: the movement fractured, deep schisms and fissures ran us through, and all the progressive forces were weakened. I'm sorry for my role in that." Regarding Fugitive Days, his earlier memoir, Bill says it was "more a story of loss and regret than… a defense or a justification. Neither manifesto nor history, it was an account of a single soul set down in turbulent times, a brash beginner making his twisty way across a strange landscape without a map, and certainly without the benefit of hindsight."
In Fugitive Days Bill wrote "It was a time of transgression, and it was of a generation guided by the precept, Break as many rules as you can. The system was death; defiance and insubordination was life itself. Go further, we said. Shock, offend, outrage, overstep, disturb. Know no limits. Lose control. Events cascaded on, new limits replaced old ones, standards were reassessed."
Our call for Universal Unconditional Amnesty
Bill's story reminds me of the campaign we waged for universal unconditional amnesty during the Vietnam era. In My Whirlwind Lives, my memoir of the Vietnam years and our partially successful struggle for amnesty, I tell of Karl Armstrong, who was accused of bombing the Army Math Research Center in Madison, Wisconsin, in August 1970. He and his brother Dwight were charged with first-degree murder, because a researcher working late on the night of the bombing died as a result of the action. Karl came to Toronto to live underground in January 1972. Our war resister exile magazine Amex-Canada had just held a press conference together with the Toronto Anti-Draft Programme and other war resister counseling groups in Canada. We called for "a totally non-punitive restoration of civil liberties for all persons charged… or convicted… due to actions relating directly or indirectly to the Indochina war."
In my book I wrote "There was no question that we would defend Karl Armstrong. He was one of us." That statement definitely includes Bill Ayers, Bernardine Dohrn, and all the rest of the Weather Underground. We were all one thing: a generation in rebellion, waging a war against the war machine and against the deep-seated racism that fueled it. We're over fifty now, but war and racism continue to ravage the planet and its people, so we're still at war against them.
Back in Toronto in 1972, our defense efforts in support of Karl Armstrong brought prominent US anti-war activists to Toronto to testify at Karl's extradition hearing. Tom Hayden, Noam Chomsky and the well-known pacifist Staughton Lynd all testified for Karl. They made it clear his actions were part of a long campaign to shut down a major cog in the US war machine. These leaders, all known for non-violent protest, vouched for Karl's peaceful intentions. They insisted the bombing was a last resort, and the death of the researcher was an accident, the result of a misguided but understandable tactic.
None of it mattered. Karl was ordered to be extradited on June 30, 1972. Nine months later he was handed over to US authorities and returned to Madison to face trial for murder and arson. The judge could hear demonstrators outside court shouting "Free Karl Armstrong!" Eventually Karl was convicted of second-degree murder and arson, and sentenced to 23 years in prison, which was reduced on appeal to seven years. One of TADP's long-time counselors, Naomi Wall, married Karl while he was in prison, which may have helped his parole chances. Released on parole in 1980, he continued to live in Madison where he operated a set of fruit drink stands on the campus mall for years.
Those years partially overlapped with the ongoing underground lives of the Weather people. With fake ID and fake names they transformed themselves from middle- and upper-class children of privilege into ordinary workers. Bernardine worked as a waitress, Bill as a daycare teacher. ("I could be all things," Bill wrote. "A slum-dweller, a migrant worker, a day laborer, an itinerant traveler…") They lived and built their family in a one-room, fifth-floor walkup apartment in Harlem. They became "Tony" and "Rose." That was just one of a series of places they lived – they taught Zayd how to spot cops and cop cars on the street, and sometimes they had to move on, piling survival kits in an old car and heading out to the next "safe house."
Solidarity with the Panthers, Timothy Leary and the Youth Culture
During their underground years Weather sustained uncompromising, impassioned solidarity with the Black Panthers, even as the party split into factions under pressure from the police and informers. Their influence was felt, alongside non-Weather allies like Youth Against War and Fascism and others, in 1970 efforts to defend the New York Panther 21, as well as New Haven Panther leader Ericka Huggins and national BPP leader Bobbie Seale.
In May 1970, "within hours of the announcement of the US invasion of Cambodia, streets and campuses across the US and in several European cities were filled with demonstrators," writes Ron Jacobs in The Way the Wind Blew: A History of the Weather Underground. "Thousands protested, holding rallies, trashing ROTC buildings, recruiting offices, and stores, closing down streets, fighting with police." At Yale in New Haven, the alliance of Weather and its allies (YAWF and others) that led the Panther defense held an emergency meeting and called a nationwide student strike. Jacobs writes:
"At the University of Maryland, the ROTC building was burned to the ground. At the University of Washington, demonstrations of a few hundred quickly developed into a takeover by thousands of people of the interstate highway near the campus… At Kent State in Ohio, after three days of rioting and insurrection (including the destruction of the ROTC building), National Guard troops opened fire on protesters, killing four. Those deaths caused the movement against the invasion to expand exponentially. Eventually, close to half of the colleges in the United States and many high school campuses closed. In the military, GIs and dependents throughout the world expressed their solidarity with the protesters by refusing to fight and wearing black armbands."
Another round of police killings of Black youth followed within the next two weeks – six in Augusta, Georgia, during civil rights protests there, and two at Jackson State College in Mississippi during antiwar protests there.
"The state of crisis in the country," Jacobs wrote, "was such that Nixon curtailed his war plans and… promised to withdraw US troops from Cambodia within sixty days."
On May 21, Weather issued a communiqué that "expressed solidarity with the dead at Kent, Jackson, and Augusta, and applauded the actions of white youth… during the nationwide response to the invasion of Cambodia. The letter, which was signed 'Weatherman Underground,' began 'Hello, this is Bernardine Dohrn, I'm going to read a declaration of a state of war'." A week later a Weather bomb hit the National Guard headquarters in Washington, DC. Shortly afterward another Weather bomb hit the New York Police Department's command center. In July the Presidio Army Base in San Francisco was hit. The Army Math Research Center bombing in Madison took place in August.
In September Weather helped LSD guru Timothy Leary escape from prison and get a change of clothes, dye his hair, and get fake ID, then took him through a series of Weather safe houses and finally to safety in a Panther compound in Algeria.
It was the same year of the Weather Undergound's greatest tragedy, when a Greenwich Village townhouse they were using exploded. Three members died, and two escaped. According to Jacobs, "the deaths in the March 6 townhouse explosion forever 'destroyed their belief that armed struggle is the only real revolutionary struggle.' In its place was a new strategy which, as Dohrn told Leary before he left for Algeria, did not exclude armed struggle but accepted its use only 'when it was forced upon us.' Leary, meanwhile, released a public letter in which he called on the counter-culture to resist… He supported Weather's declaration of war and warned, 'Do not be deceived. It is a classic stratagem of genocide to camouflage [the government's] wars as law and order police actions'."
"New Morning, Changing Weather"
In the wake of the townhouse explosion and the deaths of three comrades and the escape of two more, the surviving Weather members conducted a strategic retreat, gathering at a safe house in a northern California mountain country house. It was a strategy meeting at a major turning point. "Bernardine began the meeting forcefully," Bill relates. "We've come out of a burning house, and on the ashes of that burning house we can build a new house, a safe house. But there's no way weapons or militarism can ever again be allowed to lead, because in the end every revolution and every successful resistance is first and foremost about consciousness, and then about popular action. Does anyone here believe that 125 pounds of dynamite will count for much in a contest with the Pentagon? Whatever action we decide to take, the calculus must include its impact on people's thinking, people throughout the world, of course, but people here as well who are, after all, our responsibility."
On December 6, 1970, Weather issued another communiqué – "" – delivered by mail to the office of Liberation News Service in New York, who released it to underground papers across the country. It was "a review of Weather's past errors and its hopes for the future." Weather "acknowledged its earlier opinions as alienating to those outside the organization. It called its 'tendency to consider only bombings or picking up the gun as revolutionary, with the glorification of the heavier the better' a military error… Noting that people 'become revolutionaries in the schools, in the army, in the prisons, in communes, and on the streets [and] not in an underground cell,' the letter defined Weather as part of a 'nation,' not a separate organization.
This didn't stop the Weather bombs. But there was a new "pattern of action – retaliation for what we believed were attacks on the Black struggle and offensives against the war machine." There was always "a warning call to some sleepy guard inside the building or to the police nearby or to a journalist with calm and detailed instructions to clear a specific area, and then letters of explanation… claiming credit and publicly defending our actions as politics by other means."
In March 1971 a bomb exploded in the US Capitol building in opposition to escalating war in Laos (just north of Cambodia and west of Vietnam). In August 1971, after George Jackson was murdered at San Quentin prison in California, a Weather bomb hit California prison offices in San Francisco. In September 1971, following the prison uprising and massacre at Attica State Penitentiary in western New York, a Weather bomb hit the offices of the New York Commissioner of Corrections in Albany, NY. In October Weather bombed the MIT offices of Vietnam war architect McGeorge Bundy. Following the CIA-ITT sponsored coup against Chile's Popular Unity government on September 11, 1973, Weather bombed ITT Latin America offices. More Weather bombs hit government offices in Washington, DC and Oakland, California in January 1975, and then Banco de Ponce offices in New York in June 1975, and Kennecott Corporation's Salt Lake City headquarters in October 1975.
But the overall Weather strategy shifted. An "above-ground" formation, Prairie Fire, emerged in late 1974, and spent the following year building for a "Hard Times Conference" in Chicago in the last days of January 1976. I was there, together with friends from the Military & Veterans Action Committee in New York. Other groups, including YAWF, and a slew of local organizers from around the country, joined together to map plans for the future. "Our actions should speak for themselves," Bernardine declared. "They should be immediately understood and timely, fire the imaginations of young people, inspire the movement, and make anyone of goodwill secretly smile – even if they denounce our tactics."
They lived "underground" for another decade. But as Bill wrote in Fugitive Days, "there was no maze of tunnels, camouflaged entrances and openings,… escape routes, false walls and hidden rooms… It was nothing like that… I realized that… the hidden world is a parallel universe somewhere side by side with the open world… We disappeared then not from the world, but into a world, a world of invention and improvisation… we simply walked out into the world and we were underground… Our mug shots were everywhere, every post office and police station, banks and bus stations… Our disguises were ourselves, too, concealed in the expectations of others. Look for us in the whirlwind, I thought, happier and still happier to be alive."
"We were exiles in our own country," Bill wrote. "We were outsiders now, living unstable lives on the margins…" They were careful – "no shoplifting, no food stamp scams, no sneaking into the movies," obeying speed limits. "Sometimes I ached to go eighty and my foot shook as I wrestled myself down to sixty-five for the sake of the work, for the good of the group, but it felt like a real sacrifice."
They had code words: "Dynamite became ice cream or pickles. So much easier to say I'm taking three pounds of ice cream to the Big Top than I'm putting a three-pound bomb in the Capitol." Pay phone-to-pay phone communication, "always with rolls of quarters, was the main means for the diaspora to be in contact."
There were difficulties, of course. "Some friends and comrades have been in prison for decades; others, including Bernardine, spent months and months locked up for refusing to talk or give handwriting samples to federal grand juries… In our conflict we don't talk; we don't tell. We never confess."
While living underground, "Rose" and "Tony" gradually became a couple – transcending the "anti-monogamy" ethos of early Weather. "I tattooed a rose on my right forearm then," Bill wrote. "Rose gave birth to Zayd in 1977, to Malik in 1980, the year we surrendered to the FBI. By 1981 we were Bernardine and Bill again and we adopted Chesa [Boudin, son of Kathy who was imprisoned]."
Zayd Ayers Dohrn was named for Zayd Shakur, companion of now-famous Assata Shakur of the Black Liberation Army, whose escape from prison Weather facilitated. In the Mother Country Radicals podcast Angela Davis says "I have nothing but respect for the white radicals who helped Assata escape, because otherwise Assata would not be alive today." She escaped after being convicted of murder of the police officer who shot her companion. She now lives in Cuba. Zayd says "I've always known they [his parents] would risk almost anything to do what's right."
Despite regrets, Bill Ayers declares "I've had no change of heart. I actually do oppose colonialism and conquest, and I still think that imperialism – even in its modern dress, even when it cloaks itself, as it usually does, in the language of progress and enlightenment, even when it mystifies large numbers of people in the mother land – can only lie, can only cheat, can only be catastrophic for most of the people it subdues. I have no regrets for opposing the war with every ounce of my strength – in light of indiscriminate murder of millions of Vietnamese, I still think we showed remarkable restraint, and that we probably didn't do enough… Further, I despise racism, and I still think it's the enduring stain on the American soul. I have no regrets for fighting white supremacy; yes, there's more to do and I still think we should get going."
Mother Country Radicals, together with Bill Ayers' two memoirs and Ron Jacobs' The Way the Wind Blew form a powerful, almost irresistible chronicle of the era of the US war against Vietnam and the Black Liberation movement. They're not the full story. But in many ways they provide an essential context for truly understanding what happened and why – and can help with an understanding of what could happen again. It won't be the same as before. Many lessons were learned. In some ways things are worse now. But, as the saying goes, the struggle continues.