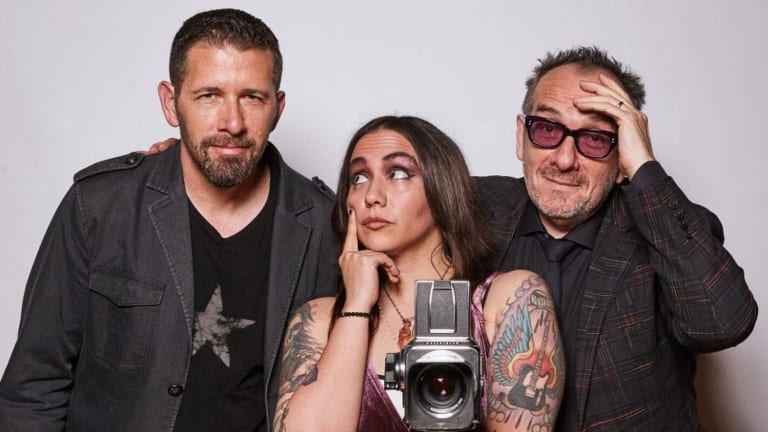 Elvis Costello's Spanish Model
Elvis Costello's sonic shift reimagines "this year's model" en Espanol.
Editor's Note: Almost 43 years after the release of his iconic album, "This Year's Model," Elvis Costello is back with an updated version, in Spanish and stacked with collaborations with standout Latin American artists. palabra and NPR's Felix Contreras spoke with Costello, the producer Sebastian Krys, and singers Nina Diaz, Jorge Drexler and La Santa Cecilia's La Marisoul. The full podcast featuring Costello and Krys is now on NPR's Alt.Latino.
When lightning strikes, thunder follows — and for rocker Elvis Costello that thunder comes with a Spanish accent from the starry Latinx universe.
Adding a bold, new dimension to his music, Costello has reimagined his 1978 landmark album "This Year's Model," en español with an impressive lineup of 19 pop and rock artists including Juanes, La Marisoul, Draco Rosa, Cami, Luis Fonsi, Nina Diaz, Jorge Drexler and more. Their stunning interpretations give "Spanish Model" an exciting life of its own, just as dynamic and passionate as the original.
"It came like a bolt of lightning for me," says a beaming Costello in a Zoom call with palabra., NPR and his producer, the argentino Sebastian Krys.
With Krys, Costello had been remixing a song from "This Year's Model" for the HBO series "The Deuce." A female voice was requested for the second verse to give it a different perspective. While digging through the master tapes, he was struck with a wild idea. "I had this, I want to say, dream … and I said, 'Why not every track? And then, by the way, how about in Spanish?' And I waited for Sebastian to tell me that it was a crazy idea."
Krys, an 18-time Grammy and Latin Grammy award-winning music producer born in Argentina and raised in Miami, was initially taken aback.
"And then I thought, 'Well, this is crazy- let's do it!'" Krys muses.
What followed became a brilliantly reimagined celebration of Latinx vocal artistry recorded over the 1978 album's original tracks.
The challenge for the two industry vets was just how to pull it off.
"This Year's Model" was an edgy hit record for its time. It offered the kind of punk/new wave zing that offset such 1970's commercial pop rock sounds as Fleetwood Mac's "Rumors" and "Hotel California" by The Eagles that were blowing up the airwaves.
Costello's record was stripped down, high energy - and at times angry and direct. His songwriting on the album eventually set the bar that was to be met by other bands in that scene. It was one of the few albums of its genre that eventually made it out of that era with some amount of respectability, ranking at #11 on Rolling Stone's list of best albums of 20 years in 1987, and at 98 in Rolling Stone's 2003 list of 500 greatest albums of all time. Very few artists had the literacy heft that Costello did. And he went on to become a major musical innovator with big ears for other styles.
SPARK MEETS FIRE
Where Costello was the spark for "Spanish Model," Krys was the fire. It was his selection process — meticulously matching the right artists to the right songs — that paved the way to brilliance.
Approaching the Spanish version had to be bold. Krys says that for every song they had several artists under consideration, taking gender and circumstance into account for "a different twist and perspective" to each. "To make it really a new record and not just a version of the old record," Krys says, "came down to the voices and the profile of the singers." Rather than selecting on star power, he looked for an artist's relatability, based on their life experience to sing from a personalized perspective.
The songs were not so much translated word for word as much as they were adapted. Costello and Krys worked with the artists to maintain the essence of the songs' meanings, yet allowing them to add bits of their own musical personalities.
Uruguayan singer-songwriter Jorge Drexler spoke at length with Costello to understand the idioms in "Night Rally (La Turba)." "You've got this very beautiful writer like Drexler giving great thought and heart to this song about the fear of tyranny and fascism," says Costello.
On the other hand there was Puerto Rican vocalist Draco Rosa who covers the iconic track "The Beat (Yo Te Vi)."
"We've got on the phone," Costello says. "And Draco said, 'Can I do anything I want?' I said, 'Yeah.' He said, 'OK.' And that was the end of the conversation... You hear him taking a very determined, very willful line with my melody, totally his own delivery. And that's what we wanted."
"Some of the tracks are more powerful in this rendition than in our original," Costello adds. "I really do stress the wit, the heart, the integrity of these people…(Also) the fact that some of these artists have massive success and audiences, they stand shoulder to shoulder with people who have … smaller but very passionate audiences, people who are newly on the scene and breaking through. That's exactly where I was standing in 1978."
THE MAKING OF "NIGHT RALLY (LA TURBA)" WITH JORGE DREXLER
Jorge Drexler initially wasn't sure why he was chosen by Costello and Krys to sing La Turba.
"It was more than surreal," Drexler tells palabra. on a Zoom call from his home in Spain. "I thought it was crazy at the beginning, and I was terrified because it's very hard to do something like that."
He took a deep dive into the song lyrics and history as he contemplated the translation.
Drexler says that growing up in a dictatorship prevented him from hearing "This Year's Model," when the album was first released. It would be years later, during his musical exploration, that he came across the album and Costello became one his greatest musical influences.
He says he finds the song particularly prophetic. "Costello seems to be clairvoyant in his writing. Writing about facism and Nazi Germany, (yet) with an eye into the future as symbolized by the 3D glasses and mob mentality." Forming a rotating triangle in his hands, Drexler says, "I see it as an ongoing prism where the light reflects into the prism in different ways and places over time. We have to be careful."
"That's why I called it 'La Turba'; for the angry mob," he says. Perhaps not so coincidentally he was working on the song around the January 6th insurrection on the U.S. Capitol. He considers it a timely message for humanity. "The world is being divided into groups of either harmony and empathy — the 'I am you and you are me,' or the group of 'I am I and you are you.'"
"It's about how easy you can get seduced by a group," he adds, by "that cult mentality and the violence."
Drexler's father's experience as a Jew from Nazi Germany had an impact on him from a young age. He shared an anecdote from childhood about a group of kids that came to his house wanting him to join them in making noise to disturb the sleep of a visiting soccer team before their game. "My father said 'no' and talked to me about mobs and being swept away by the power of angry groups. Something may start out innocent and before you know it, it becomes monstrous. His family never imagined that people would pay so much attention to Hitler. It stayed with me from that moment…"
"Having to sing was really hard and an amazing challenge," Drexler says. "I'm very proud of what they did with that song."
NINA DIAZ PUTS THE ACTION IN "NO ACTION"
Nina Diaz, the former frontwoman of punk rock group Girl In A Coma was on a journey of sobriety, spirituality and reinvention as a solo act when destiny knocked on the door.
"Sebastian Krys actually saw me open up for another artist in Los Angeles," Diaz tells palabra. in a Zoom call from Texas. "He got in contact with me afterwards… And he said, 'Would you like to give it a shot?' And I said, 'OK'. You know, I've done a couple songs in Spanish. I'm not fluent in Spanish yet, but I'd sing in any language for Elvis Costello!"
It was a transformational moment for Diaz, who was working at the House of Intuition metaphysical shop in LA, and doing inner work for personal growth to overcome vulnerabilities and fears. She accepted Krys' invitation. Though worried about the language and the song's key, Krys coached and encouraged her. "He said, 'I know you could do this. I know you can hit, with your voice, that note.' So when I went in to record it, I just let it all out."
What she belts out carries a demon-slaying attitude. She related it to breaking the patterns of her past toxic relationships. "Just like a drug, you know, a relationship has the same effect in your mind chemically where you feel like you need it… I guess organically, I took to singing it so aggressively because of knowing I don't want to be in (that) situation anymore. I just got to get out of this already and for there to be no action."
"Elvis Costello actually messaged me and he said, 'I'm going to have to change the title to Action because you gave it so much action,'" Diaz says. "So it was a perfect match, especially for the temperament that I have."
To be the least known among critically acclaimed artists, and "to kick off the album, feels great," she adds. "I feel like I'm really representing the underdogs and, you know, the indie side… And it's awesome to be the one that breaks through the wall… Yeah, it's cool. It's really cool."
"We all have the power inside of us, right? It's like the Wizard of Oz, we've always had the power."
LA MARISOUL POURS BIG PASSION INTO "LITTLE TRIGGERS(DETONANTES)"
Chicana singer and La Santa Cecilia frontwoman, La Marisoul, probably never imagined that the connection she felt to Costello's image on a stolen CD would one day materialize into recording with him.
The self-described MTV kid was on Olvera Street. "It was in the evening," she says during a Zoom call from Los Angeles. "We were closing up the shop and this guy was walking around with, like, a duffle bag full of CDs that were obviously stolen, probably from a car… And he was selling these CDs, like, 'Hey, you know, like, give me five dollars and you can take whatever CDs you want.'"
She peeked into the bag. "I was drawn to this one cover of this really cool guy with a guitar. And it was like, checkered, and he had his glasses on and this really cute, cool pose and I thought, Wow, what's this?... And so I took that CD. And it was slick. I think it was like a double CD of 'My Aim Is True' or something… And I just, I fell in love. I fell in love with, you know, (The Angels Wanna Wear My) 'Red Shoes' and 'Alison' and all these beautiful songs that I felt, like, at the time were, like, speaking to me, you know, even though they weren't from my time. But I just, I felt a connection."
As La Marisoul became a celebrated artist in her own right, from busking on Olvera Street to Grammy-winning status - she eventually found herself working with Krys, which led to collaborating with Costello and then being invited to sing "Little Triggers (Detonantes)."
"I mean, it was a little intimidating," she admits. "You think, like, how could I even make this better?... It's a beautiful ballad about love, you know, desire — like confusion. All those things that love or lust make you feel, no? That uncertainty of like, what is it that, what is this person provoking in me?" After questioning whether she could "do it justice," hearing the music inspired her.
She was struck by its timelessness. "Knowing that these were the actual tracks from the original recording was super special and, and I felt like I was right there with them… like it was new again."
She kept the recording takes to a minimum. "We don't really do like 100 takes and kill the song. Al contrario, it's like, you know, there's a special moment in the freshness of not doing that many takes and just kind of like trying to do your best in whatever time you know you have"
Ultimately, she said, the goal is "to make people feel something; to take them on an emotional journey right where the lyric and the melody want to take you in. And I feel like Elvis Costello is a singer like that. I feel like we're similar in the way that we are the kind of singers that convey feelings. You know, that maybe it's not so much about, you know, the perfect pitch or the perfect sound. It's about a feeling."
He (Costello) is such a great songwriter, you know, such an amazing artist and then does the impossible," La Marisoul adds. "And just to see what a versatile singer he is, you know, inspires me to be the same ... I can sing rancheras and traditional music. I can sing rock and roll. I can sing in English and Spanish. We can. And it's because of artists like Elvis Costello."
Marisa Arbona-Ruiz
palabra