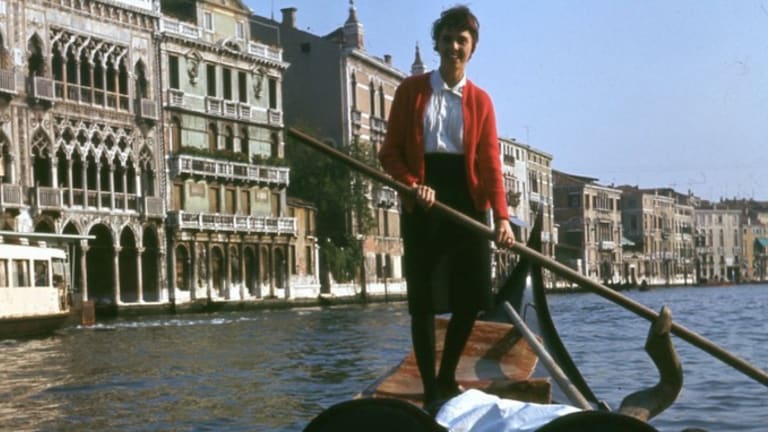 Ashes in the Atlantic (To Nancy Moss, 1939-2022)
But now, my dear, you're gone for good. Wife, mother, grandmother, only in our hearts and thoughts.
By now my dear your ashes are in the Atlantic.
How fitting because your first big adventure was crossing it
in 1962 with your friend Kathy to spend
ten glorious weeks driving around Europe.
Just two mid-western lasses having a splendid time.
Then, a year later, you and I returned to that coast

when we honeymooned at Ocean City.Remember it rained a lot that September of 63,but we didn't mind, discovering more of each other was enough for you and me.
That next summer we returned again to that memorable ocean,
only this time driving up (from DC) to Delaware's Rehoboth Beach.
Shore motels cost a lot, and we didn't have much,
so we only stayed a night or two.
But I remember a beach picture of you.
It must have been late in the summer
because you were already big with Jenny,
our first, who would not be born until October.
After that we didn't come back to the Atlantic for a long while,
for decades in fact, after Jen's two brothers moved to Florida.
When we first went to visit them I'm not sure,
but in 2005 we were there. You had already retired,
and I was on spring break from EMU.
How do I know?
I've got all the doctors' bills to show.
Yep, that's when I broke my hip.
In playing tennis with son Dan,
instead of gliding toward the ball,
I tripped and had a really bad fall.
Couldn't get up; an ambulance was needed.
It was March and I was still only 67,
so into my old hip socket the Boca doctor
put a titanium ball and then for a few days
I rested in a hospital bed. With a morphine drip
and you and the boys coming I was almost happy.
Ditto at the rehab center I went to next.
It was called Boca Heartland, and I recall writing them a letter:
"I consider myself fortunate indeed to have experienced the love, care, and overall competence that so many of your workers and staff displayed."
And again Nance and the boys to me came to see.
Just a few years earlier while on a golf course I could hardly breathe.
So I drove myself home, and son Dan was there and said "You better go to the ER."
Remember, you were still working then but came home and
to the hospital we all went. Mild heart attack was the verdict,
and into my heart they put a stent.
Again you often came me to see as in bed for days I lie.
Sometimes Jenny and Dan came too.
How much I loved to see you
when you walked in with that big smile,
A love I hope I captured in that poem I later wrote:
Nancy the Nurse


She's retired now, but still has that smile that delighted patients
who in their woeful hours needed the sunshine that beamed from her.
And "Shh . . ! Quiet" she still tells us looking out from the old poster
that once graced hospital walls, white-capped, dark-haired, thick-browed,
finger to lips, and eyes alit with a kindly scold.

Gray now mixes with her once dark hair and her walk, though not slow,
has lost the briskness of that white-clad nurse who whisked down corridors
and entered rooms bringing smiling succor to the sick.

Nurse no more, but wife and mother still, and grandmother now for many a year.
And we still see her smile and delight in its sunshine, sorry for the ailing
whose lives she no longer brightens, but hoping others nurses—Carols or Sues,
or now even Sams—still stride into sick rooms beaming on the bed-ridden.
But now, my dear, you're gone for good.
Wife, mother, grandmother, only in our hearts and thoughts.
And if and when I'm again in a hospital bed,
how I'll miss your sweet smile,
how I'll miss it.
For now you're among the waters
since we sent you on your way
through rivers and lakes, and channels and locks
until the Gulf of St. Lawrence
took you to that ocean where we spent many a happy day.
And there your ashes float.
But where's your soul
we can not be sure,
but hope you're happy among the waters,
amid nature that you always loved.
Water. It was on our infants' heads when they were baptized.
It fell on us when together we sometimes showered.
It almost drowned son Tom when he fell through the ice until
I pulled him out--and how often have we thanked God (or whomever)
for that lucky day that saved our oldest son?
And then there were the 1990s cruises on the sea,
on the Baltic, Mediterranean, and to England, Scotland, and Ireland.
And frugal as we were, we loved them,
for in exchange for a few measly lectures by me,
they were usually free.
Next was Key West, where Tom was married
later in the decade. I look now at a picture of you
that Tom probably took then because his wife, Kathy,
you, I, Jen, and Dan are in it, but not Tom. And oh,
how your smile still delights me so.
Later back to Florida, often Deerfield Beach
we came for a respite from Michigan's cold winter.
Until 2010 usually for only week, but then, after my retirement, for a month.
In 2013, here on this HP site, my poem stated, "Twice a day we
take the ocean walk," along a "beach that stretches from sidewalk to sea."
But there at that same beach, that same year, I first suspected that dreaded word--Alzheimer's it was. Later that year we celebrated our 50th wedding anniversary
by returning to DC (where we lived in the mid-sixties) and Ocean City.
A few months later you asked me where we had gone, and not long afterward
a doctor confirmed my fear that the Alzheimer's journey had begun.
But now it seems right that you've returned to nature
and are one with it. Because you never wanted to stand out.
You never said, "Look at me." Love, peace, and harmony
was all you wanted, and to feed the squirrels and birds, which I
continue to do--while, so often, thinking of you.