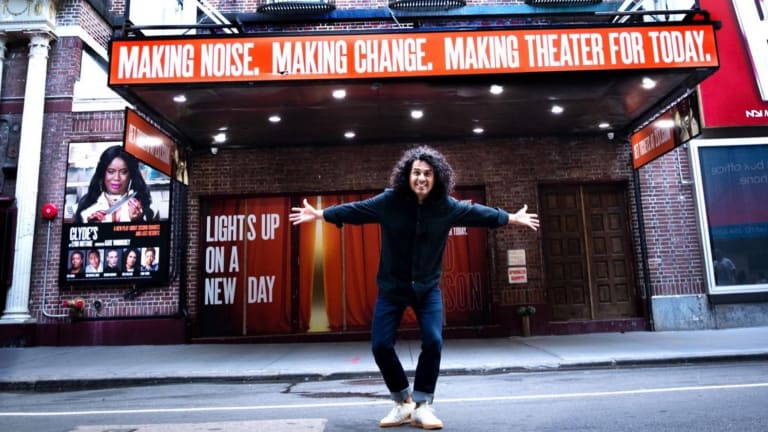 A Secret Path to Broadway
A funny thing happened to Reza Salazar on the way to his star turn on stage — and a role as standard-bearer for a new, more inclusive Broadway
Times were tough and Tahirih Salazar knew the family needed to do something to survive. So the single mom fashioned old garments into clown costumes and turned lipstick into make-up for herself and her 5-year-old son, Reza.
The sweet artistic alliance started humbly, at a street fair near their home in the city of Cali in Colombia.
"She made circles with the lipstick. It was a mix and match," said Reza Salazar, looking back at his untraditional start as a performer. "… Mom could not afford a babysitter, so she had to think of something we both could do."
Peruvian-born actor Reza Salazar never imagined that his Argentine mother's idea of comedy as a side hustle would be the school that taught him the earliest lessons about performance. Those days of dressing up as a tiny clown on city streets in South America would put him on a long path to becoming the elite actor he is today.
"Everything I learned during those years was the backbone of what I do now," he said.
The twist here is that Reza Salazar's mother had actually wanted to sell trinkets, and thought a clown act would draw people to her stand.
"We did not sell anything, but we did get attention," Salazar said. "We had an audience; people laughed. It was then that Mom knew that the clowning could work out."
That's how Honey and Bingo were born. "She was Honey and I was Bingo," Salazar said.
A Change for Broadway
Thirty years after Bingo's debut, Salazar is taking his star turn on Broadway.
He stars in "Clyde's," a new play from two-time Pulitzer Prize winner Lynn Nottage, which just opened at Second Stage's Hayes Theater. Salazar's ascent to one of the world's most prestigious stages comes at a pivotal moment for Broadway. Not only are theaters reopening after an entire season was lost to the coronavirus, but seven Black playwrights are seeing their work produced on New York stages, unprecedented in a single Broadway season.
The surge in representation, on stage and behind the scenes, has pushed Salazar to the front line of change on Broadway for Afro Latinos and other creatives of color.
You might recognize Salazar as the Latino actor who appeared in movies like "The Imperialists Are Still Alive," "The Prisoner," and "The Inquisition of Camilo Sanz." On TV, he has appeared in many series, from "Louie" and "Unbreakable Kimmy Schmidt" to "The Blacklist" and "Law and Order."
His abundant curly hair, intense eyes, and a big smile are the first things you notice when you meet Salazar, a stark contrast to the fierce persona that has served him well in playing bad-guy roles on screen. Salazar performs with ease in English and Spanish, which has helped propel his career. But he still proudly singles out his mother for helping him succeed.
"I'm extremely grateful for all those years; clowning was the best class that I ever had for my career as an actor. Now I appreciate it, but it was a long journey," he said.
The Secret Life
Little Reza led a double life: the normal kid who went to school, and the working kid.
One day the two worlds collided, and he lived through what felt like a huge embarrassment.
He was 7 years old and he was 'in love'.
"My crush was there and the whole class. It was her birthday party," he recalled. "I just remember that everything froze. I just wanted the earth to swallow me alive. I didn't want to be there; I was so ashamed because the whole time this was a secret life of Honey and Bingo. I did not know how to tell people that I was a clown."
But he kept going; the show must go on! "I did my whole set, and I imitated Michael Jackson," he recalled.
Today he laughs about his time as Bingo, but he won't let the memory fade. He carries Bingo everywhere.
"You have to be a very peculiar person to want to make a living as a clown," Reza said in an interview shortly before "Clyde's" opened at the Second Stage's Hayes Theater. "My mom always wanted to be an artist, but she never had the support. To be an artist was like an alien thing. I think a lot of her own desires were transplanted to me."
"My mom and I were constantly traveling," Salazar said, recalling his early life's nomadic years, traveling by bus from town to town, without a permanent home. From Perú, mother and son moved to Colombia and then, after three years, to Salta, Argentina, where they settled and where Salazar had the opportunity to learn acting techniques from prominent theater teachers. "My mom signed up for an acting class for herself because there were no more spots for kids," he said. "But again, I had to be with Mom, so from a corner, I watched."
It did not take long for teachers to recognize his talent. Salazar ended up taking classes at Teatro de la Fundación in Salta, and soon he was cast in his first professional play.
When Salazar was 13, he and his mother moved to Durham, North Carolina in search of the American dream and a new beginning in what Salazar called "a normal life."
After finishing high school, Salazar moved again, this time without his mother, to study acting in New York City.
He wanted to leave Bingo behind; no more clowning around. But he couldn't resist the pull: In 2011 the performing arts organization Revolución Latina in Times Square invited him to teach clowning techniques to the kids in summer camp.
"I gave them the nose, and taught them little things, but when we circled up with the kids — and I will never forget this — a little one approached me and said 'we have not seen you do any of it.' So I was like Oh my God, I don't want to do this!" But the kids started clapping, and it marked the first time in many years that Salazar put on a clown nose and performed for them.
It Was the Accent
"I moved to New York City to learn acting, but also to live the life of an actor, which is very different," Salazar explains. "It's a lifestyle, especially in New York. It's a life where things are constant ups and downs. Nothing is ever guaranteed, and you are constantly auditioning, learning."
A guest appearance on "Law & Order" was the key to his current success.
"'Law & Order' was my second audition," he said. "My first was 'In the Heights,' but I did horribly badly. But 'Law & Order' was my first real audition as an actor after I studied. It was very scary and intimidating in front of all these producers looking at me and taking notes very seriously."
They no doubt noted his accent. But in a business where the wrong accent for a particular role can mean rejection, for Reza it was his lucky charm.
"We need to hear your accent a little bit more," Reza recalled the producers saying. "Can you go back and work on it, and then come back?"
Salazar had actually been working to get rid of his accent. "I worked on my diction and my accent."
So he called his mother and asked her to speak in English. "She talked to me for about an hour," he said. "I went back two hours later. I thought I did horribly badly, but the next day my agent called, very excited: 'You got it! You got the lead!'"
His first guest star role on "Law and Order" was in 2007, as Julio Rodríguez, a young Latino immigrant who is convicted of murdering a woman and is deported.
He showed up on the set for what he thought was a rehearsal, but it wasn't. "They threw me into the courtroom. I was terrified. The lights, the cameras and the extras and I'm just improvising the crap out of everything because I don't remember any of my lines! And I'm super scared, just going with it, but they loved it."
His second role was another Latino character. Since then, there have been numerous TV and film roles and a turn as a director for Working Theater, a not-for-profit organization that produces plays and educates actors. It's play "Missing Them," was transmitted live digitally during the pandemic and honored New Yorkers lost to Covid-19.
One of Salazar's most meaningful experiences as an actor, he said, was working for the Public Theater's Mobile Unit in Shakespeare's The Tempest. The show played in New York City's five boroughs, mainly in correctional facilities, but also in homeless shelters and community centers.
And the magic of Bingo came back. "I was playing Trinculo, the clown," Salazar said. "When I get to do comedy -- and the reason I got to do Shakespeare -- is my comedic clowning background. It serves me so well. I did not know that I would go back to that after all these years."
He said he felt uncomfortable in front of the guards, and connected more with the inmates. The experience also helped set him up for his current role on Broadway.
"It feels weird to go to prison," he said. "There are wires all over, and the cops kept searching us, and I'm a brown man in the world, so with the cops I'm a little skeptical."
Still, it was an extraordinary experience. "Not every actor gets to go to prison and do a play," he said. "It was so wild because I felt so comfortable with them. I remember seeing all these Black and Brown men who look like me, and they did not feel dangerous. They looked like the kids in my neighborhood, my family, but yet they were in prison."
Watching Shakespeare, "they forget that they are prisoners," he said. "They get to enjoy something high-quality as if they were going to a theater. The energy and the level of professionalism does not change because we were in a prison, and they felt that; we feel it. We are there to give it our all."
"When we are doing a scene about betrayal, for example, they feel it on a whole different level," he added. "You can feel their breathing, reacting to it in a way that someone in a theater downtown would not be expressing in the same way. To see these hard men with tattoos crying, surrounded by guards, it was so bizarre."
"Not an Event but a Movement"
Starring in "Clyde's" is another opportunity for Salazar to represent the voices of those who are incarcerated. His character, Rafael, is a formerly incarcerated Latino who loves food. "He is funny and romantic, working to find a more spiritual path," said the actor.
"Clyde's" develops around a sandwich truck shop that offers the ex-convict employees hope to fulfill their dreams and to reintegrate with society. "When you come to see the show," Salazar said, "you are going to see these people who were incarcerated, but you are going to get to laugh with them and connect to their hearts."
"For me, in a very spiritual way, I'm taking these folks in jail with me to the stage and, through Lynn's beautiful work, giving voice to them," he said, referring to inmates who inspired his performance in "Clyde's."
"When you see that 99 percent of the people who are in jail are Black and Brown men," he added, "you wonder how that could happen? It makes you think that this is not right! Where are the white people? We know there is something wrong with our prison system."
Salazar said his character in Clyde's is so far his favorite: "It's a character that I love to play because he has so much of what I think. It's the kind of story that people would be entertained with. They would laugh but also, it is thought-provoking."
With his starring role on Broadway, Salazar is now a powerful presence, representing men of color and Afro Latinos. He's among a growing number of artists of color in new territory, winning increasingly important roles.
"Ruben Santiago-Hudson, a wonderful actor and a director, said that hopefully this is not an event but a movement," Salazar said, referring to the writer, director, and star of "Lackawanna Blues." "What he meant by that is that this has never happened before on Broadway."
Salazar also hopes to see more diversity in Broadway audiences. "If they see themselves onstage, if they see that our stories are relevant to our communities, they're going to want to come and see it," said Salazar, who identifies as Afro Indígena. His family in Perú is Afro Peruvian, mixed with indigenous heritage. "The strategy is to make New Yorkers come and see the play."
In a recent study from the Asian American Performers Action Coalition, 58.6 % of all roles on New York City stages went to white actors during the 2018–2019 season. Twenty-nine percent were Black, 6.3% are Asian-American, and 5% Latino. While 18% were listed as mixed race, there were no reported Indigenous actors with Broadway roles.
"That's a very big disparity, compared to the US demographics," said Pablo Andrade, executive director of hola., the Hispanic Organization of Latin Actors, which is dedicated to expanding Latino participation in entertainment and media.
According to the U.S. Census Bureau, Latinos are the country's second largest ethnic group, after white non-Hispanics, at 18.5% of the total U.S. population.
"We are very underrepresented", said Andrade, a Venezuelan actor, director, and theater coach in New York City. "Latinos on Broadway are wonderful, and we need more of them. I think Broadway' producers and the whole industry are going to wake up to the reality that Latinos are the fastest growing demographic group that are watching more and more Broadway, but they don't feel represented on those stages and they should be."
"We should fight for more inclusion," Andrade added, "not only for Latino actors but for Latino stories, because we are a very diverse country, and the exchange of culture is one of the best assets the United States has."
The number of people of color hired as actors and stage managers grew slightly over the last five years, from 15.3% to 23.3%, according to Actors' Equity Association, the national labor union representing more than 51,000 actors and stage managers in live theater. Black union members represented almost half of that increase.
Sometimes I think society cannot handle all of the people of color at once," Salazar said. "I think they are starting with the Black community, and hopefully the Native-American community … the two communities that have suffered and endured so much."
Salazar pointed with pride to the cast of "Clyde's," which is mostly Black: "I have grown as an artist with them. … I look forward to a Broadway that embraces all of our beautiful colors and compelling stories."
Mariela Murdocco