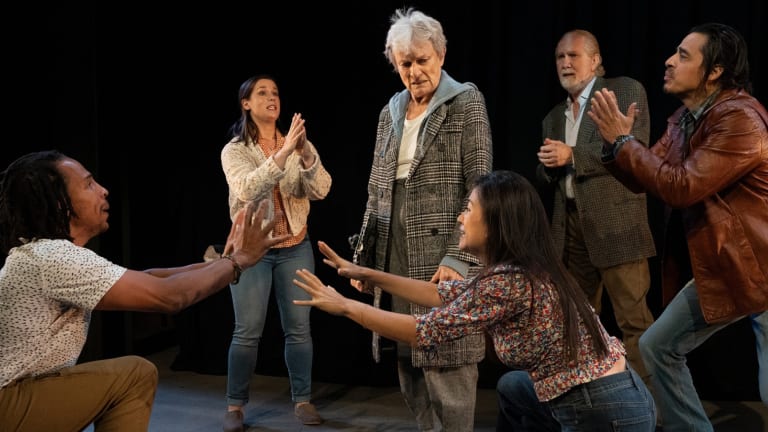 Monty Antaeus' The Meaning of Life
Antaeus has wrought an iteration of the originally solemn, splendid Everyman that manages to be highly entertaining and enjoyable, as well as philosophical, at the same time.
What's the point?" Everybody (Nicole Erb) plaintively asks about human existence as she confronts Death (a playful Anne Gee Byrd as a not so Grim Reaper) in Antaeus Theatre Company's Everybody, a rollicking adaptation of the anonymously-written 15th century Christian morality play, Everyman. With its modern twists, including projections (designed by Yi-Chien Lee), sound (provided by Salvador Zamora) and lighting effects (illumined by Bryan Ealey) plus dialogue that translates Middle English into the 21st century vernacular, including loads of obscenities, penned by Branden Jacobs-Jenkins, Antaeus' mounting brings this Middle Ages classic alive. The setting is a sort of dreamscape (Nicholas Ponting is the scenic and props designer) 
In doing so, Antaeus has wrought an iteration of the originally solemn, splendid Everyman that manages to be highly entertaining and enjoyable, as well as philosophical, at the same time. In that sense this one-act play performed without intermission is reminiscent of the 1983 movie comedy Monty Python's The Meaning of Life. 
The story such that it is has Death informing the title character that his/her time is up and that he/she should prepare for the end. To do so, Everybody must find a traveling companion who will accompany him/her to that realm where there is no return from. In other words, the play poses the existential question: What shall outlive you once you shed your all too mortal coil? 
At this point I should note that Antaeus is rather innovatively using an onstage lottery system to determine who in the cast of nine plays who that night. So, all of the thesps' credits in this review refer to who portrayed such-and-such character on opening night, but if you see this production, in all likelihood different the actors depicting various roles will be different. 
In any case, to prepare for her journey to the great beyond, Everybody approaches various figures who are the embodiments of different attributes. For instance, a character personifying wealth and material possessions (slyly played by Harry Groener), who has bestowed so much pleasure upon Everybody throughout her existence on Earth, shuns her when asked to accompany her to the afterlife. As George S. Hart and Moss Hart so pithily observed in their 1936 Broadway comedy, very literally, You Can't Take It with You. 
When she is spurned by Beauty (Gerard Joseph), Everybody learns that good looks fade with time, and Friendship (Lisa Sanaye Dring) denies Everybody's entreaties to join her in the everlasting afterlife. Even Family (which includes her "cousin" Antonio Jaramillo) refuses to join the forsaken Everybody as she prepares to embark on her final journey. 
A photo that adorns the cover of Everybody's playbill and used to promote the play seems to suggest that the cast appears nude and that this may be some sort of Oh! Calcutta! type of show, but although a couple of characters prance about onstage in their underwear (verily, one can see more flesh exposed at Malibu's public beaches), there's little if anything erotic and sensual about this production. Which is odd, considering the fact that for a play obsessed with death, there's scant reference the act that brings about life, and also provides so much pleasure and intimacy for lucky people throughout their years. 
I don't want to reveal plot spoilers, so I'll try to tread carefully here so as to not ruin any surprises for those who will attend this sometimes farcical show that includes at least one wild dance scene, choreographed by Annie Yee and Cherish Monique Duke as a rather manic, overbearing God. Suffice it to say that ultimately, Everybody's companions to the great beyond (a whimsical Alberto Isaac and Ms. Dring in a double role) are NOT the same as in the medieval play this work is derived from. Without giving it away, the character in the original who agrees to face death with Everyman actually does reveal what the meaning of life really is, and it is philosophically and ethically very edifying and moving. 
For some strange reason (perhaps because the original anonymous playwright can't sue Mr. Jacobs-Jenkins for theft of intellectual property? LOL) the Brooklyn-based bard has diminished the entire ethos of the Christian morality piece as written 600 years ago. True, one of the characters who shares Everybody's fate is indeed in the general ballpark of the member of the dramatis personae in the original, poignant play who goes with her. However, a second character joins Everybody as she travels to the great beyond who, as I recall, definitely did NOT accompany her in the initial offering. (I may be misremembering, as I read Everyman many moons ago in a theater class at Hunter College, where, BTW, Jacobs-Jenkins has taught – he's currently at Yale). 
Updating a work to make it relevant to a contemporary audience can be a legitimate endeavor, and as I've written many times before, West Side Story is the epitome of this process. But it's beyond this reviewer's comprehension why a modern scribe would render an inferior ending from a previously existing piece – maybe it's because dead authors can't sue because of copyright infringement or maybe simply because Europeans in the 15th century had a higher, deeper sense of morality than 21st century Yankee Doodle Dandies? 
But having gotten that off my chest, I nevertheless had a good time viewing this whimsical, philosophical excursion into what the meaning of life is, and theatergoers who appreciate more challenging, thought-provoking plays likely will, too. 
Antaeus Theatre Company's production of Everybody is being performed Fridays at 8:00 p.m.; Saturdays at 2:00 p.m. and 8:00 p.m.; Sundays at 2:00 p.m. and Mondays at 8:00 p.m. through Oct. 17 at the Kiki & David Gindler Performing Arts Center, 110 E. Broadway, Glendale, CA 91205. For info and tickets: (818)506-1983. Bring masks and proof of vaccination and a sense of wonderment.