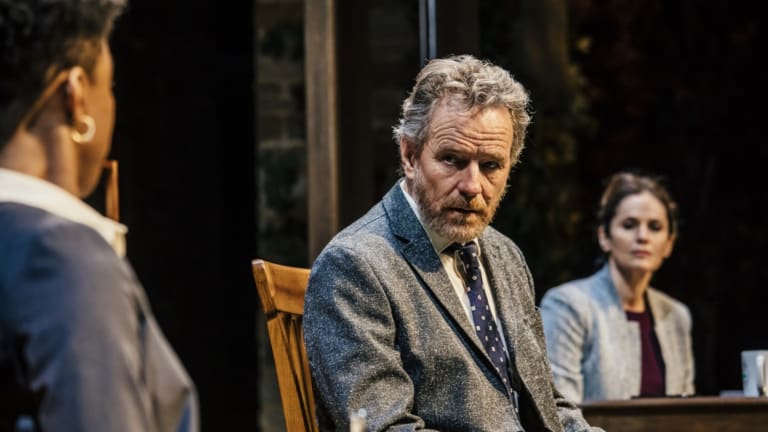 Breaking Brownshirt: Love Me, Love Me, Love Me, I'm a Liberal
The play asks: Does hate speech have the right to free speech?
​POWER OF SAIL: Theater Review
I left the Geffen Playhouse feeling exhilarated, not only because I saw my first play in months since the you-know-what returned, but due to the fact that Power of Sail is a very timely one-act play with a stellar cast that dramatizes an urgent issue America is grappling with. The play asks: Does hate speech have the right to free speech? Here's playwright Paul Grellong's story in a nutshell (and I warn you, Dear Theatergoer, there may be some plot spoilers in this critique):
WASPy Charles Nichols (Tony and Emmy award winner Bryan Cranston, who scored an Oscar nom for depicting that freedom of speech champion Dalton Trumbo in the 2015 biopic Trumbo) is a fifth generation Harvard student and/or professor, an author of arcane, obscure, unread tomes who teaches history and presents a prestigious symposium there annually. The secret list of invitees Nichols has selected for Fall 2019 has been leaked – and one of Prof. Nichols' choices has triggered heated protests on campus.
From his office angry students' chants can be heard, denouncing his invitation of a neo-Nazi named Carver to participate in the yearly speakers' series. Dean Amy Katz (Amy Brenneman, of the NYPD Blue and Judging Amy TV series, and whose mother was one of Harvard's first female graduates) beseeches her longtime associate to defuse the demonstrations and potential violence by rescinding his invitation to the alt right firebrand. But Nichols, who prides himself on being an enlightened "ally" declines, insisting that his master plan for the master race zealot is to verbally joust with him during the symposium and to expose and defeat Carver onstage in a war of words.
Harvard doctoral candidate Maggie Rosen (Broadway veteran Tedra Millan, a Drama Desk and Obie Award winner) also tries to defuse the situation, inviting Nichols to attend a meeting with students to discuss the contentious matter. Baxter Forrest (Brandon Scott), a former student Nichols paternalistically feels he'd groomed to attain his current stature as a successful author now makes the rounds of the cable news panels as a talking head expounding upon African American issues, likewise tries to talk his hardheaded ex-professor out of allowing the white nationalist to use Harvard as a platform to spew his hatred. But Nichols steadfastly stands his ground, asserting the liberal rationale that the solution to hate speech is more speech, that sunlight is the best disinfectant, and other high-minded sounding aphorisms.
(By the way, Nichols quips that if Baxter returns to a post at Harvard, he'd actually be required to teach, not just be a public intellectual – which sounds like a reference to criticisms of Prof. Cornel West.)
So far, so good. But not only does the professor decline to meet with the students, instead, he takes a train from Cambridge with his sycophantic research assistant Lucas Poole (Seth Numrich), a contender for a much sought-after fellowship, to meet and dine with Carver at his rightwing compound in Maine. This sets off alarm bells, as does Nichols' rivalry with the younger African American academic and author Jamila (an offstage character whose name I may be misspelling), who is a habitue of MSNBC's The Rachel Maddow Show and other coveted media perches the old school white male professor is never invited to hold forth on.
Something's up all right, and Grellong packs Power of Sail with more twists and turns than a schooner faces in a typhoon. All of the self-seeking academic characters have mixed motives that combine nobility with careerism and ambition – none more than the scheming Nichols, who's got a lot more going on than meets the eye. Most of the beleaguered Ivy Leaguers perform dubious dirty tricks in order to advance their personal and political hidden agendas. (Call it the "Power of Gestalt"?) This dramedy (there are a number of laughs in what is mostly a drama) is not only a thought-provoking exploration of the boundaries (if there are any?) of freedom of speech, but a scathing critique of academia and liberalism.
There are two onstage non-academic characters. Nichols is in a book club with the proletarian white New Englander Frank Sullivan (Hugo Armstrong). Why would the esteemed professor belong to a two-man club? Not only because he teaches his own voluminous volumes and presumably gets to hear himself talk a lot about his favorite subjects (himself and his work), but because Frank is a bartender. His relationship with a saloonkeeper suggests another one of the recently divorced Nichols' problems…
Donna Simone Johnson plays against type as Quinn Harris, a young Black female FBI agent. Given the Bureau's history of surveilling Reverend King, COINTELPRO against the Panthers and other militants, this may seem counterintuitive – or it may be a bit of canny casting. A skilled, trained interrogator and investigator, after a tragic incident takes place, she ensnares Nichols in a canard that exposes the hidden motives of the history professor afraid the shifting times are leaving him behind.
One of the play's unseen characters is Albrecht Haushofer, who has produced an artifact Nichols covets in order to reinvigorate his sagging career and get him that longed for invite to appear on Rachel Maddow's program – even if it means making a deal with the devil to do so. I thought Haushofer was a made up or composite character suggested by "Hitler's architect" Albert Speer, author of Inside the Third Reich and Spandau: The Prison Diaries, about his years behind bars where Rudolf Hess was also imprisoned. But like Charles Nichols, I too am a historian (albeit of show biz) and did my own deep research in the archives (translation: I Googled him and read his Wikipedia page) and discovered Haushofer was an actual Nazi era figure who was also linked to Hess. Bingo!
Haushofer joins Jamila and the aptly named Carver as offstage presences who never actually tread the boards during Power of Sail. This is a real weakness because some of the production's most compelling characters are never seen, only described, and an essential rule of dramatization in Theater/Film 101 is "don't say it, show it." The same holds true for the play's most traumatic event, which is only verbally related. And while we're at it, the fact that there is no rank-and-file student character per se is another major shortfall in Grellong's script – the aggrieved themselves don't get to speak for themselves (unless Maggie the doctoral candidate counts).
What also weakens the impact of the play is its nonlinear structure. As I understood it, most of the production's action does proceed in almost Aristotelian time and chronological order, except for the two final scenes. While this is clever and much is revealed in these sequences (listen very closely for the explanation of a very important plot point that is revealed in passing in the dialogue), the ending, if you can call it that, concludes on a note of whimsy or irony. But I would have preferred a powerful denouement for Power of Sail, given its strong subject matter. Also, the title which is a nautical term that's quickly explained and alluded to through model ships just, shall we say, sailed over this reviewer's head.
The revolving stage and sets by scenic designer Rachel Myers are nothing less than superb, arguably another one of the play's characters (this one very much onstage!). She perfectly evokes the ambiance of the campus of a HWCU (Hysterically White College and University), including – and I kid thee not, Dear Reader – the ivy-covered walls outside of Prof. Nichols' office, which of course has shelves full of books (many of them by him), the requisite desk, etc. Bravo, Ms. Myers!
It is of course a treat to see Bryan Cranston, who won and was nommed for many Emmys, mostly for the Breaking Bad series, perform in the flesh. Although primarily known for his big and little screen acting, Cranston has appeared on Broadway, earning a Tony as LBJ in All the Way and Network, for which he won a second Tony as the "mad as hell and not willing to take it anymore" Howard Beale. It was also a joy to watch Amy Brenneman (no stranger to the stage herself) live and in person, along with such a topnotch ensemble.
Power of Sail is performed without intermission and took about two hours. Despite some structural and other flaws, over all I highly recommend this play for serious theatergoers who enjoy great acting, plus thoughtful dramatizations of social issues, especially regarding the First Amendment, racism, higher education – and first-rate scenery. It was f'en great to be back at the Geffen!
Power of Sail is being performed at 8:00 p.m. Tuesdays - Saturdays, and on Saturdays at 3:00 p.m., plus Sundays at 2:00 p.m. and 7:00 p.m. through March 20, 2022, at the Gil Cates Theater, The Geffen Playhouse, 10886 Le Conte Avenue, Los Angeles, California 90024. Tickets and info: https://www.geffenplayhouse.org/shows/power-of-sail/; (310) 208-2028. Covid documents are required and checked for admission; there was no social distancing inside the theater (which was sold out the night I attended).