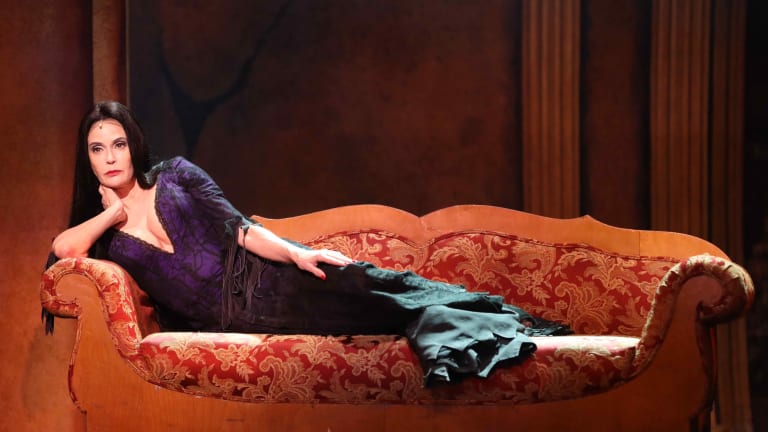 The "Creepy and Kooky" Clan Are Back from the Dead – and the Inner Meaning of The Addams Family Revealed
As a stage musical, The Addams Family is still asking the same question, whether the creepy and kooky Addams can cohabitate with the straight, "all-American" Beinekes.
The Addams Family Revealed
Just in time for Halloween, that "Mysterious and spooky …all together ooky" all-Un-American family, the Addams, are back. The Addams Family originally appeared in Charles Addams' one-panel cartoons in The New Yorker magazine in 1938. In that franchise tradition of never letting a profitable brand name go to waste, the bizarre members of this clan with a supernatural vibe have appeared in numerous iterations, including a 1964-1966 ABC-TV sitcom; big screen, live action feature films; animated TV series and movies; and in 2010, a Broadway musical.
It is a revival of the latter that is now being presented at the Kavli Theatre, starring the fetching television veteran Teri Hatcher, who co-starred as Lois Lane in the series in Lois & Clark: The New Adventures of Superman and in Desperate Housewives. Having the sensuous Hatcher portray Morticia is a bit of canny casting. The play, which includes a live orchestra (Ryan O'Connell is the music director and conductor), opens with an atmospheric, sumptuous cemetery set (3-D Theatricals is the scenic designer) and a gathering of ghouls and spirits from the Addams' family crypt. The plot revolves around the romance of Wednesday (Janelle Villas) and Lucas Beineke (Trystan Turner), which occasions the latter's "normal" parents (Trisha Rapier as the repressed Alice roaring to be set free and Benjamin Perez as her buttoned down, square husband Mal) to meet and dine with the outlandish, otherworldly Addams at their gothic mansion lost somewhere in the wilds of Manhattan's Central Park.
While the daughter Wednesday was depicted as a child in Charles Addams' carton and on the TV series, although Villas seems petite, her Wednesday is older than she seems, as she yearns to wed Lucas. Gomez's (Edward Staudenmayer) endless desire for Morticia is full of sexual frisson. I think that this live stage production would earn the equivalent of the Motion Picture Association's "PG" (parental guidance) rating, as there are themes of teenage sex, adult lust, torture, death, etc., throughout the musical, although they are generally played just for laughs.
The original book for the musical was co-written by Rick Elice and Marshall Brickman, who co-won a Best Writing Oscar with Woody Allen for Annie Hall. This updated version includes some political and topical references in the lyrics (by Andrew Lippa, who also composed the music) and dialogue, as well as some ad libs. There are also many dance numbers in this almost three-hour show (with one intermission), choreographed by Darby Epperson. In Act II there is an inspired tango number – that is, once Hatcher's costume cooperated on opening night.
For some reason, the TV series' famed finger snapping theme song by Andrew Gold is largely ignored, instead of being turned into a big production number or something. Since familiarity is the coin of the realm for these nostalgic trips down pop culture memory lane, I can only surmise that this missed opportunity was due to a copyright and/or money issue. (But you can enjoy it here.)
BTW, in the TV series Uncle Fester was played by one of the silent cinema's greatest child stars, Jackie Coogan, who was heartbreaking in the 1921 Charlie Chaplin classic The Kid. In the current production on the boards at the Kavli Theatre, a droll Andrew Metzger gives the great Coogan a run for his money with Metzger's own outrageous, hilarious portrayal of Uncle Fester.
Over all, this musical directed by Kirsten Chandler is amusing and entertaining. Diehard fans of the TV series and various Addams Family incarnations, as well as of macabre movies and Halloween spookiness, as well as not especially discriminating aficionados of Broadway musicals, are most likely to enjoy this live stage production.
And now, dear reader, behold – I shall reveal to you what the true inner meaning of the original The Addams Family TV series was: It has been said that TV series did not regularly deal with the issues of integration until the glass ceiling-shattering 1968 sitcom Julia, co-starring Diahann Carroll and Lloyd Nolan, which has been considered to be a television landmark.
However, this film/TV historian and critic begs to differ. Throughout the 1960s, there was a screen procession of out-of-the-ordinary creatures whose interactions with "normal," mainstream characters was central to these series' storylines. They included: The Addams Family, My Favorite Martian, I Dream of Jeannie, My Mother the Car, Bewitched, The Munsters, Star Trek, etc. There were also similar fish-out-of-water series pairing people from distinctly different paths of life, notably: The Beverly Hillbillies, Green Acres, Gilligan's Island, Family Affair and arguably Hogan's Heroes and F-Troop.
All of these popular programs shared a common premise, exploring whether or not an extraterrestrial, a djinn, a witch, a monster, etc., could co-exist with everyday human beings, or if humans from varied backgrounds and classes could live side-by-side. Before Julia, these TV shows asked the same exact questions that were roiling America during the Civil Rights movement, that noble cause which sought to put an end to segregation and Jim Crow. As Rodney King later simply yet poetically asked: "People… can we getalong?"
But unlike Julia, these earlier television series, subject to network and government (FCC) restraints, sponsorship pressures and the like, posed these inquiries via coded language, using symbols (and usually humor) to render forbidden topics socially acceptable (thus avoiding cross burnings and other charming cultural accoutrements of the land of the free). Sigmund Freud called this process "dream censorship" in his landmark 1900 book, The Interpretation of Dreams. It wasn't until the Black Power movement emerged that it was safe for network TV to present a sitcom that explicitly dealt with the issue of integration to be aired, 1968's Julia.
To be sure, there's a lot to unpack and psychoanalyze in The Addams Family. As a sitcom, as part of what C.G. Jung called "the collective unconscious," it was definitely in this genre investigating what happens when "others" meet and mingle. As a stage musical, The Addams Family is still asking the same question, whether the creepy and kooky Addams can cohabitate with the straight, "all-American" Beinekes. As the original theme song put it: "So, put a witch's shawl on, A broomstick you can crawl on, We're gonna play a call on, The Addams family."
The Addams Family is at the Kavli Theatre, Bank of America Performing Arts Center, 2100 Thousand Oaks Blvd., Thousand Oaks, CA 91362, through October 23. For info: (805)497-8613, ext. 6; www.5startheatricals.com