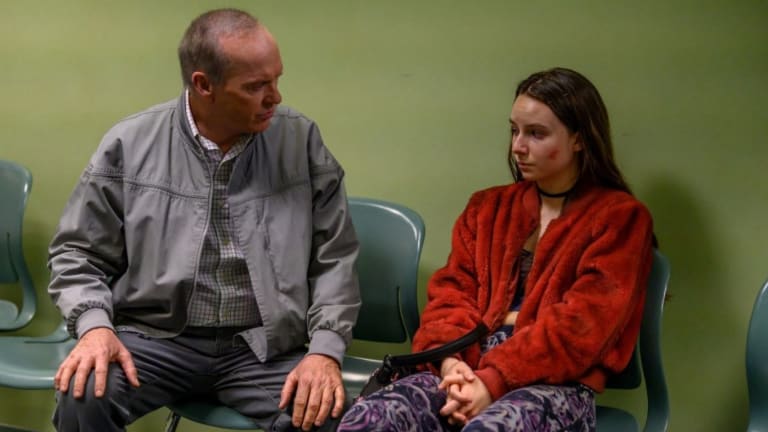 Hulu's "Dopesick" Series Indicates Why We Need Progressivism
The Hulu series covers the years 1996, when OxyContin was first sold, up until September 1, 2021, when a federal judge agreed to a plea agreement between Purdue Pharma and 49 states, Washington, D.C., and various U.S. territories.
most three years ago, the La Progressive posted my "The Opioid Crisis and the Need for Progressivism." In it I indicated how Purdue Pharma, owned by the Sackler family, in its marketing of OxyContin "sparked the opioid crisis" and "put profits first. Before any ethical considerations. Before the interests of people. Even if it killed them." In eight episodes, Hulu's "Dopesick" dramatizes this crisis, and dramatically illustrates why (as Progressivism insists) government oversight over corporations is essential.
It is loosely based on journalist Beth Macy's nonfiction book Dopesick (2018); but like most good fictional treatments, whether in books or on screen, it takes artistic liberties. For example, five of the series's main characters, Dr. Samuel Finnix (Michael Keaton), Betsy Mallum (Kaitlyn Dever)—both of whom become addicted to OxyContin—Drug Enforcement Administration's (DEA's) Bridget Meyer (Rosario Dawson), and two Purdue salespeople, Billy Cutler (Will Poulter) and Amber Collins (Phillipa Soo), are fictional creations who do not appear in the book. Moreover, much of episodes' screen time revolves around these five characters.
The two notable storylines that are based on real, nonfictional, people are those involving the Sackler family, especially the dominating Richard (Peter Sarsgaard), and chief Virginia state attorneys—Randy Ramseyer (John Hoogenakker), Rick Mountcastle (Peter Sarsgaard), and John Brownlee (Jake McDorman), who expose Purdue Pharma's deadly marketing and sales of OxyContin.
Previous TV series by some of the writers and directors of the series—for example "Empire" by Danny Strong and "Homicide: Life on the Street" by Barry Levinson—foreshadowed the gripping drama of Hulu's "Dopesick." (For some guidance on separating the real-life characters and events from the fictional ones, see here.) Besides first-class writing and directing the series benefits from good acting, with even minor characters such as Betsy Mallum's parents, played by Mare Winningham and Ray McKinnon, doing an excellent job.
In the preface to her 2018 book Macy wrote, "Drug overdose had already taken the lives of 300,000 Americans over the past fifteen years, and experts now predict that 300,000 more would die in only the next five. It is now the leading cause of death for Americans under the age of fifty, killing more people than guns or car accidents, at a rate higher than the HIV epidemic at its peak." The Hulu series covers the years 1996, when OxyContin was first sold, up until September 1, 2021, when a federal judge agreed to a plea agreement between Purdue Pharma and 49 states, Washington, D.C., and various U.S. territories. (One of my few criticisms of the series is that its jumping back and forth to various years in this quarter century period is sometimes confusing.)
According to the 2021-approved settlement, Purdue agreed to pay over $4 billion, turn over 33 million documents, and the Sacklers forfeited ownership of the company. The final words about the settlement in the Hulu series come from an unnamed William Tong, the attorney general of Connecticut: "This process was stacked from beginning. . . . The Sacklers were betting on a broken bankruptcy system that would allow them to use the bankruptcy of the company of Purdue Pharma to shield themselves. Let's be clear, the Sacklers are not bankrupt. As far as I can tell, no Sackler will have to sell a boat, or a house, or a piece of art." Much opposition to the settlement, especially in Episode 8 (see here for the film script), also comes from the fact that none of the Sacklers received jail sentences.
In that Connecticut, California, and some additional states, as well as the Justice Department's U.S. Trustee Program, appealed the ruling, the final judicial outcome of the Purdue case is still undetermined. In addition, in late November 2021, a federal jury concluded that "CVS, Walgreens, and Walmart pharmacies recklessly distributed massive amounts of pain pills [including OxyContin] in two Ohio counties." The amount the pharmacies will pay in damages is yet to be determined, as is how many other city and county governments will file similar lawsuits against pharmacies.
As of late November 2021, OxyContin was no longer the leading cause of the opioid epidemic, but the epidemic itself was getting worse. The New York Times reported that "in the 12-month period that ended in April 2021, more than 100,000 Americans died of overdoses." This was the most ever and an increase of almost 30 percent from the previous year. Like earlier, most of the deaths were caused by synthetic opioids, but now mainly fentanyl (whether prescribed or illegal), "a fast-acting drug that is 100 times more powerful than morphine." Still, deaths from "semi-synthetic opioids, such as non-fentanyl prescription pain medication, also increased" during the yearly period.
The Times article indicated that our covid pandemic was partly to blame for the recent spike in U. S. deaths, but other national factors have contributed to our drug addictions ever since the launching of OxyContin in 1996. A 2019 review of the book Dopesickand two other books on the U. S. opioid tragedy in the London Review of Books identified these factors. They included our "dysfunctional privatised healthcare system, which makes it possible for addicts to accumulate doctors willing to prescribe painkillers in a way they can't in the UK"; the corrupt FDA, an "agency beholden to the industry it was tasked with regulating"; a legal system "that criminalises drug users instead of helping them"; "corporate greed; a political class that takes marching orders from the lobbyists of . . . corporations; entrenched poverty, joblessness and hopelessness; and a general epistemological failure when it comes to ideas about what 'drugs' are, which psychoactive chemicals are safe and which are dangerous, and what a drug dealer is supposed to look like."
In the Hulu series there are frequent references, especially by the Virginia state attorneys, to the failure of the FDA to do its oversight job properly. On one occasion they are told, "It's a revolving door where as soon as people leave the government, they go and work for the exact people they were regulating for five times the money, and it's all legal. What appears to be corruption is simply how the system works." Furthermore, a 2020 essay, "How FDA Failures Contributed to the Opioid Crisis," by a doctor in the AMA Journal of Ethics indicates the truth of the series' criticism of the FDA.
Although the Hulu episodes do not engage in much political-party fault-finding, the efforts of Virginia attorneys Ramseyer, Mountcastle, and Brownlee do uncover some political policies and other efforts that contributed to the opioid crisis. On one occasion, Ramseyer and Mountcastle are told that President Reagan "gutted the FDA, they went from policing big pharma to being at their mercy. 39 employees are responsible for 35,000 promotional items. How do they grant proper oversight?"
In Hulu's "Dopesick," the Virginia attorneys also encountered opposition to their efforts against Purdue Pharma from the department they refer to as "main Justice," meaning the higher-ups in the Department of Justice (DOJ). Although the series doesn't always indicate who they are, newspaper accounts make it clear they were primarily President George W. Bush political appointments. Another prominent Republican, Rudy Giuliani, is seen or refereed to in several episodes, after he began legal efforts to aid Purdue in fending off the Virginia attorneys. (See here for more on Giuliani's work for Purdue.)
Although the series has generally been well received, one doctor and Cato Institute and Goldwater Institute fellow, Jeffrey A. Singer, has been very critical of it. For unaware readers, the Cato Institute declares that its vision "is to create free, open, and civil societies founded on libertarian principles," and its "mission is to originate, disseminate, and advance solutions based on the principles of individual liberty, limited government, free markets, and peace." As an example of Cato stands, it has come out against coronavirus mask mandates and various gun control measures. In other words, its political views are opposed to progressive measures.
On the Cato website Singer criticizes Hulu's "Dopesick" for being "Neat, Plausible, and Wrong." But he admits that he has not seen the series, only the trailer for it. The latter, according to Singer, indicates a story "about good versus evil: compassionate doctors with hard‐working blue‐collar patients getting manipulated by deceitful pharmaceutical company executives who are unconcerned that they may be condemning patients to the nightmare of addiction . . . . Convinced they knew the source of the overdose crisis, state and federal policymakers embarked on a concerted effort to reduce opioid prescribing, hoping this would stem the rising tide of overdose deaths."
But, Singer argues, policymakers got it wrong. They merely "terrorized" doctors "into undertreating pain, or abruptly tapering and cutting off chronic pain patients from a medication that has allowed them to enjoy meaningful and productive lives." In Singer's entire article, he has no criticism of Purdue Pharma or the Sackler family, no criticism of an economic and political system that allowed the killing of thousands of people. 
Progressivism began in the late nineteenth century as a movement "to limit the socially destructive effects of morally unhindered capitalism, to extract from those [capitalist] markets the tasks they had demonstrably bungled, to counterbalance the markets' atomizing social effects with a countercalculus of the public weal [well-being]." Such a movement, not libertarian thinking that calls for "limited government" while overemphasizing individual "rights," is now still what we need.
Walter G. Moss