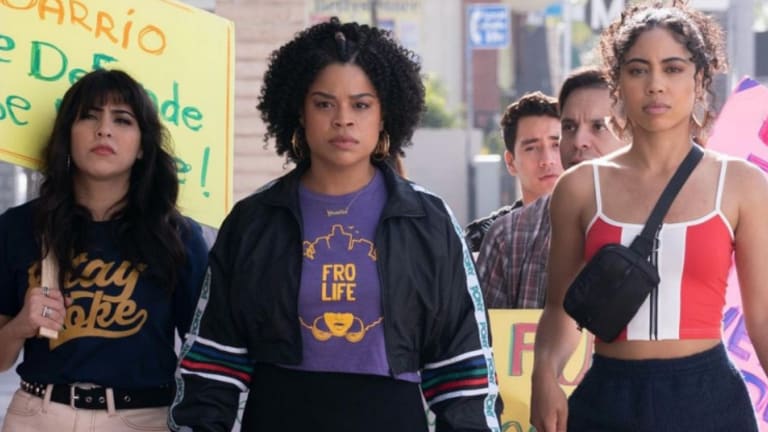 Television's Slow Road To Latino Representation
The 2021 Hollywood Diversity Report Part 2 Found Some Improvements in the casting and hiring of women and creatives of color on television and streaming channels, but for Latinos, representation of small screens remains dismal.
The somewhat good news is that the highly anticipated Hollywood Diversity Report, Part 2, found incremental progress in the hiring of women and people of color in television and streaming services.
But that glimmer of hope is dulled by the bad news that for Latinos in particular, there is still a glaring underrepresentation in creative job categories.
Ana-Christina Ramón, co-author of The Hollywood Diversity Report and director of research and civic engagement at the UCLA Division of Social Sciences, called the underrepresentation "severe" in an interview with palabra.
"The numbers have hovered around 5-6% in terms of the main cast roles, and what we've seen is really just stagnation over the years. There is definitely this severe underrepresentation of Latinx actors, directors, writers and creators," Ramón said.
The new report, which looked at over 460 scripted shows in the 2019-2020 season, found that only 6.3% of broadcast TV roles went to Latino actors. In cable television programming, the numbers were at 5.7%, while on streaming platforms, it was 5.5%.
Part 1 of the Hollywood Diversity Report, released earlier this year, showed similarly dismal findings for Latinos in the film industry.
All this while Latinos now account for nearly 19% of the US population.
"What people want is authentic storytelling. And for Latinos, there's such a limited quantity (that) it's detrimental to the way we are perceived and to the way that we perceive ourselves. If there are only three shows that are showing authentic experiences, that is not enough for this large group in our population," Ramón added.
According to the report, Latinos in the critical roles as directors were underrepresented as well, receiving only 5.4% of broadcast TV directing jobs. In cable, the numbers were at 3.5% and on streaming sites 3.0%.
The percentage of Latino writers was also low. The report found those who identified as Latino made up just 4.8% of the credited writers for broadcast programs, with 4.7% in cable and 4.3% on streaming.
"This UCLA report clearly demonstrates that more work is necessary to achieve more accurate representation and truly authentic portrayals in American television," said U.S. Representative Joaquin Castro (D-TX).
As if television executives needed more evidence, the report also found that diversity ultimately makes good business sense. The study revealed that scripted broadcast shows with the highest ratings were those in which "people of color made up between 31% and 40% of the credited writers."
"We have seen this appetite for diverse content repeated over the history of our analyses," said Dr. Darnell Hunt, co-author of the report and UCLA's dean of social sciences. "Audiences are looking for authentic portrayals."
The Hollywood Diversity Report is now in its eighth year, and this summer the UCLA project got a $250,000 allocation from the state of California. This new money will allow researchers to expand their groundbreaking studies and go deeper into questions of representation in the nation's powerful film and television industries.
Saida Pagán
palabra