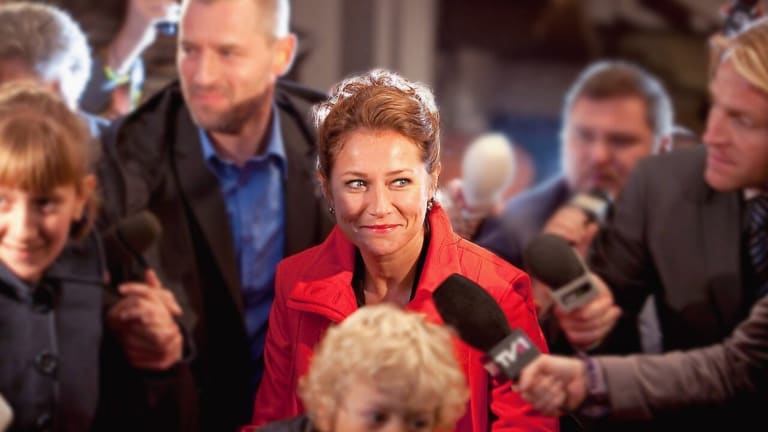 Netflix's Season 4 of Borgen: Climate Change Becomes the Central Issue
Fictionalized though the series may be, Borgen provides great insight into why tackling climate change directly and with sufficient vigor is likely to be our most difficult long-running challenge of the early 21st century.
My review of the first three seasons of the Danish drama Borgen quoted a Washington Post article declaring it "the best television show about politics ever." Season 4, with its eight episodes, adds more credence to that claim by centering its drama on the most long-lasting central issue of our time—climate change.
More specifically, this season's major issue is how the Danish government is going to react to the discovery of a potentially massive amount of oil just discovered in Greenland, which is still an overseas Danish territory. Seven minutes into the first episode, the main character in all four seasons of Borgen, Birgitte Nyborg (Sidse Babett Knudsen), once prime minister but now foreign minister, tells Hans Eliassen (Svend Hardenberg), her Greenlandian counterpart, that the "Danish government believes that fossil fuels damage the climate and are a thing of the past."
To better understand the drama and maneuvering that follow, it is helpful to have a basic knowledge of the Danish political system, as well as its relationship with Greenland. As I indicated previously, Denmark (and European countries generally) has more major political parties than in the USA, and the prime minister is usually determined by which party obtained the most parliamentary seats in the last election. Since the prime minister needs to retain majority support in the parliament and often has to make compromises to maintain it, there is less rigidity and gridlock than presently found in the USA.
Although we already discovered this fact in Borgen's first three seasons, Denmark's relations with Greenland introduces a whole new dimension in Season 4. In addition many scenes are set on this mainly Arctic island about three times the size of Texas, but with only about 57,000 people.
From episode to episode we gradually learn more about this large but sparsely populated territory. The original people of the island were the Inuit, an Arctic group that can also be found in Alaska and Canada. Today 88 percent of Greenland's population are Inuit if one includes those of mixed ancestry. Borgen makes it clear that the relationship of the island's Inuit to the Danes and Danish government has not been very different than that of other indigenous peoples in other countries—like the USA, Canada, Australia, and Russia—to "white" colonizers.
On one occasion (in Episode 3), Foreign Minister Nyborg has a talk with a former premier of Greenland, Jens Enok Berthelsen (Angunnguaq Larsen). Trying to convince him that Greenland should not move ahead to exploit the newly discovered oil, she asks him, "Do you really want your children to grow up in a world where the ice is melting at an alarming rate? Where the planet cannot feed itself due to climate change?"
He responds by asking her if she knows what life is like in Greenland. "We can be forced to choose between our Greenlandic [Inuit] identity and an education. . . . If we don't speak Danish or think like you or live like you do in your society, we have no chance of advancing in life."
Like his friend Greenland's Foreign Minister Hans Eliassen, Jens thinks the development of the new oil find might help Greenland obtain its independence from Danish control. And he finds it ironical that the Danish government, which has been part of the global white power structure that has polluted the world for the past two centuries, is now saying that Greenland has to pay for such behavior by denying itself oil development.
Much of what we find revealed about Greenland comes to us through Asger Holm Kirlegaard (Mikkel Boe Folsgaard), a Dane whom Birgitte appoints as her acting Arctic ambassador—he is a new and major addition to the Borgen cast. He tells Birgitte about Hans Poulsen Egede, an 18th century Dano-Norwegian Lutheran missionary who brought Christianity to the island, learned the native language, and helped make it a Danish colony. Asger is even more fascinated by Knud Rasmussen (1879-1933), born in Greenland of a Danish missionary father and and an Inuit mother. Rasmussen became a famous polar explorer and anthropologist and wrote a number of books. Asger made a present of one of them to a Greenlandic government official, Emmy, with whom he has a brief affair.
Asger's romantic involvement is just one of the many personal stories that are intertwined with political developments throughout Season 4's eight episodes. Most of the other stories involve characters that have appeared in previous Borgen seasons.
First, of course, is Birgitte, now in her early fifties. She is still on friendly terms with her ex-husband, Philip Christensen (Mikael Birkkjær), who had a difficult time adjusting to her time-consuming focus on her job when she was prime minister. But Philip has now remarried and his new (and younger) wife is expecting a baby. Birgitte's main present family concern, however, is her son, Magnus (Lucas Lynggaard), who is a more radical environmentalist than his mother and gets in trouble with authorities for stealing and then freeing pigs headed for slaughter.
Borgen has always been about the moral quandaries facing politicians like Birgitte. As Max Weber stated a century ago, they must often traverse an ethical minefield, where there are often no easy moral choices. Here, in Season 4, Magnus also faces a difficult choice. Should he defy the law by stealing and freeing pigs (as he does) or obey it and allow them to be slaughtered? His mom thinks he made the wrong choice, but Gandhi and Martin Luther King, Jr. often broke the law, and almost all of us agree that there are certain circumstances when disobeying a law might be the more ethical choice.
Birgitte's main moral dilemma, however, is what stance to take on Greenland's desire to enrich itself by developing oil. Although she at first strongly opposes such a step based on climate concerns, various political considerations—including retaining her foreign-ministry post—lead her to change her position. Her defense for the change? For the immediate future, Denmark and the rest of the world are going to need fossil fuels and presently they are getting it mainly from countries like Saudi Arabia where women and human rights are disrespected. Would it not be better for Denmark to oversee a more green and democratic oil exploration in Greenland?
As much as purists might balk at such reasoning, has not the USA—despite President Biden's touting of green energy—approved of more oil exploration and production in order to reduce dependence on Russian fossil fuels? (Although the Russian invasion of Ukraine is mentioned briefly in this year's series, it otherwise plays no role, partly because a good portion of Season 4 was already produced before the invasion began in late February.)
But Birgitte's changed position now alienates many in her own party (New Democrats), and she faces another crisis—the possibility of being replaced as party head and, if so, also as foreign minister.
Adding to all her political calculations is the involvement of three major outside forces, the USA, Russia, and China, all of whom maneuver to influence the major question posed by the series—Should the Greenland oil find be developed and if so which outside major power will most benefit?
Besides all of Birgitte's dilemmas—and to maintain viewers' suspense I'll not mention her final stance—another major story line involves Katrine Fønsmark (Birgitte Hjort Sørensen), who becomes head of news at TV1. Katrine was a major figure in the first three seasons, and viewers observed both her working life (first in TV and then in charge of Prime Minister Nyborg's media relations) and her private relations. Along with Nyborg's public and private life, that of Katrine provided much of the earlier Borgen drama. Here again we gain more insight into the challenges of media work, especially of covering politics, as well as women's particular difficulties in balancing work and non-work life.
These two powerful women are joined by many other characters from previous seasons, especially Torben Friis (actor Søren Malling), a leading newsman at TV1; Søren Ravn (Lars Mikkelsen), a former communist who later worked for Nyborg and now lives with Katrine; Bent Sejrø (Lars Knutzon), an older longtime former adviser who now is dealing with early dementia; and Michael Laugesen (Peter Mygind), a former political rival, whom Foreign Minister Nyborg now turns to for advice—though her son Magnus considers him more of a dirty, opportunistic politician.
All of these actors are first-rate, as are most of the rest of the cast, and Borgen has enough twists and turns to keep us guessing until the end. But viewers should remember this is a fictionalized treatment of one aspect of the politics of climate change.
The reality is that in July 2021 Time magazine reported that Greenland's socialist-led government "dropped all plans for future oil exploration on environmental grounds, saying the price of extraction was 'too high.'" The article also added that the decision came "amid increasingly alarming signs of global warming for Greenlanders. Average sea levels have risen about 9 inches since 1880 [not good news for an island territory], and about a quarter of that increase comes from ice melting in the Greenland and Antarctica ice sheets, along with land-based glaciers elsewhere." Nevertheless, fictionalized though the series may be, it provides great insight into why tackling climate change directly and with sufficient vigor is likely to be our most difficult long-running challenge of the early 21st century.