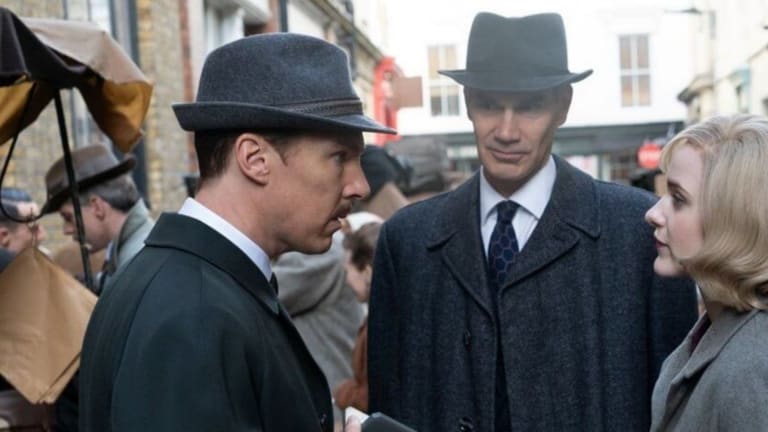 The Courier: Why the Film's Events Were Important to Me
The plot involves the true story of informant Penkovsky, who the film claims "is considered the most valuable Soviet source ever recruited by the West."
I watched a good movie on Amazon Prime last night, The Courier, which dealt with events that had a lot of personal meaning for me. But first, before getting to that meaning, some comments on the film itself.
In the lead role as British businessman Greville Wynne is Benedict Cumberbatch, perhaps Britain's leading actor. A nominee and winner of many acting awards, Cumberbatch is best known in the USA for starring as Sherlock Holmes in Sherlock, the TV series which PBS ran for four years beginning in 2010. Playing his wife, Sheila, is Irish actress Jessie Buckley, who recently appeared in the HBO miniseries Chernobyl (2019), plus staring in I'm Thinking of Ending Things (Netflix, 2020) and, perhaps most memorably, as nurse Oraetta Mayflower in season 4 of TV 's Fargo (which also featured comedian Chris Rock as a gangster.) Also appearing, as a CIA agent, is Rachel Brosnahan, who won Golden Globe Awards for her leading role in the Amazon Prime Video comedy series The Marvelous Mrs. Maisel (2017–present).
The acting, including that of Georgian Merab Ninidze as the key Soviet informant Col. Oleg Penkovsky, is first rate, with Cumberbatch's performance being especially notable. Most of the scenes occur in London or Moscow, in their offices, restaurants, hotels, theaters, and homes, with occasional outdoor settings also appearing.
The plot involves the true story of informant Penkovsky, who the film claims "is considered the most valuable Soviet source ever recruited by the West." [All film quotes are from the filmscript.] In all, he provided extremely valuable intelligence to Wynne and other Western contacts. It included details about Soviet missiles, including photocopies of 1962 plans for missile-launching construction sites in Cuba. All this intelligence helped President Kennedy (JFK) obtain a more accurate picture of the nuclear capabilities—and insufficiencies—of the USSR. Near the end of the film Wynne tells Penkovsky that "Khrushchev withdrew his [Cuban] missiles . . . because of you. Because of you." The reality was much more complex, but the info Penkovsky provided did help solve the crisis—and it was indeed a serious one. JFK later estimated that the chances of a Soviet-U.S. war resulting from this October crisis were between "one out of three and even."
Of course, the film takes some liberties with historical facts, but in general it seems true to real overall developments. There is plenty of drama and tension—e.g., Will Penkovsky and Wynne be caught by KGB agents? But I'll not ruin the suspense by revealing the ending. I will mention, however, that the movie ends with a clip from an interview with the real Greville Wynne. A KGB agent also reveals a fact that is too often forgotten by defenders of U. S. foreign policy—"For years the Americans have had the nuclear missiles in Turkey… aimed right at us. Oh, but how dare we put missiles in Cuba… is that fair?"
Finally, some words about how all these events impacted me. In December 1960, about the time MI6 (the British equivalent of the CIA) recruited Wynne (Cumberbatch) to be Penkovsky's chief "courier" of vital Soviet military information to MI6, I was a lieutenant in the U. S. Army, stationed at Ft. Sill, Oklahoma. In about the middle of the film, we hear a TV voice say, "Despite growing tensions between America and the Soviet [Union], until this morning, there was essentially free passage between East and West Berlin. But overnight, without warning, the communist authorities have barricaded off the city. In response, President Kennedy has vowed to increase America's military presence."
The actions mentioned by the TV marked the beginning of the Berlin-Wall construction, and Kennedy did indeed increase U.S. troops in Europe. I was one of them. By early December, I and about 50 others from my Ft. Sill artillery battalion arrived for a six month assignment at an abandoned air base in eastern France. (About the same time, other troops from other U.S. locations also arrived.) Not long afterwards I was sent to the German port city of Bremerhaven, tasked with the job of overseeing the transfer of our battalion's military equipment down to our new base in eastern France. This equipment included 8-inch howitzers with a tactical nuclear capability. Our main job in France consisted of maintaining our howitzers and other equipment so that if Cold-War tensions escalated the remainder of our Ft. Sill battalion could be flown to France and be ready for action.
Being in service in the middle of such Cold-War tensions influenced my choice of a future career. In college, I had majored in English, and my love of literature remained constant. But by late 1961, our relations with the USSR seemed more vital, and I decided to pursue graduate work in Russian Area Studies. While in France, I received word of my acceptance (and fellowship) into such a studies program at Georgetown U.
Having arrived back at Ft. Sill in April 1962, I received an early release in September in order to begin my studies at Georgetown. Thus, during the Cuban Missile Crisis I was in Washington, D.C., close enough to be targeted by the Soviet medium-range missiles Khrushchev intended to place in Cuba.
Still in D.C. in 1967, while finishing my Ph.D. dissertation, I worked part-time for the Defense Intelligence Agency (DIA) and on at least one occasion met with someone at the CIA building. Later in that year, I began my college teaching career, which involved offering more than four decades of Russian-history courses. About a decade later, I made my first trip to the USSR, and in the 1980s and 1990s often returned for additional visits. In the late 1990s, I also completed the first edition of my two-volume A History of Russia.
Thus, the Soviet dealings with the USA and Great Britain in the 1960-62 period, as depicted in The Courier, played a major role in determining more than a half-century of my activities. As is true with many people's lives, historical events helped shape mine.
Walter G. Moss