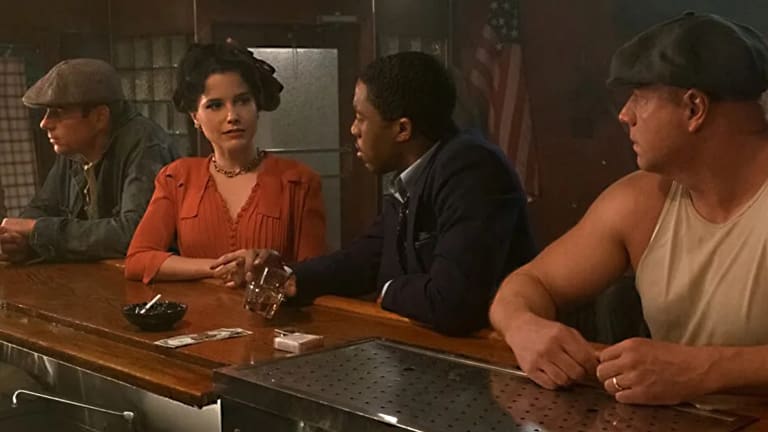 Thurgood Marshall to the Defense
Watching it I kept thinking how sad it was that the talented Boseman was now dead, felled last year by cancer when only 43 years old.
Review and Reflections on the Film "Marshall"
Netflix just made the 2017 film Marshall available. It is well done and stars Chadwick Boseman as Thurgood Marshall. Watching it I kept thinking how sad it was that the talented Boseman was now dead, felled last year by cancer when only 43 years old. He had just completed his wonderful performance in Ma Rainey's Black Bottom.
But he was about the right age to play Marshall in a film focusing on the years 1940-41 because Marshall—a future Supreme Court Justice and the first African American to hold that position—was only in his early thirties at the time.
The film focuses on a famous trial. On 12 December, 1940 The New York Timesproclaimed, "Mrs. J.K. Strubing Is Kidnapped And Hurled Off Bridge by Butler." That charge, plus the black butler's raping of Mrs. Strubing, was also that of the prosecution in the upcoming trial against Joseph Spell, the butler/ chauffeur of Mr. and Mrs. Strubing. But (spoiler alert) the charge was not proved, thanks in part to the skill of Marshall, who was sent to Connecticut by the NAACP to defend Spell.
Although the film does take some artistic liberties, it does a pretty good job of capturing the reality of the trial and Marshall's involvement in it. Among the real-life occurrences depicted in the film were the following:
The National Association for the Advancement of Colored People (NAACP) sends Marshall to Connecticut to co-defend Spell (Sterling K. Brown), along with local attorney Sam Friedman (Josh Gad).
The wealthy Mrs. Strubing (Kate Hudson) tells the police she had been raped by Spell multiple times in her Greenwich, Conn. mansion and that he then bound and gagged her and drove her to a reservoir, where he pushed her off a bridge and hurled rocks at her.
Spell denies the charges, says he did not rape Mrs. Strubing, but that the sex was consensual—the film delays Spell's admission of such sexual activity.
Marshall advises Friedman and Spell against accepting an offered plea bargain.
The Marshall/Friedman team admit to Spell's past wrongful behavior, including actions that brought about a dishonorable discharge from the army.
The defense team also dramatically refute Mrs. Strubing's claim that she could not scream because gagged when a policeman stopped her car driven by Spell.
In its closing argument the prosecution relies on long-held myths and prejudices against black men. As I have pointed out in an earlier article on lynchings, African-American men who were lynched were often falsely accused of raping white women. Recalling the trial, Friedman later said that lead prosecutor Lorin Willis (Dan Stevens in the film) was an unreconstructed bigot: "He hated everybody. If you were a Polack, if you were a Jew, if you were a wop . . ." He tells the jury that Mrs. Strubing is "a chaste and virtuous woman and asks them "to "save the women of Connecticut" from "degradation." He calls Spell a "lust-mad Negro" who stalked his victim "like a panther." Willis adds, "Acquit Spell and you send her forth with a name and reputation shattered and ruined beyond repair."
Before watching the film, I did not know much about Marshall except that he had been a progressive Supreme Court justice, and the first African American on our highest court. At the film's end, however, it tells us, "He argued a record 32 cases in the US Supreme Court . . . winning all but three. In 1954, Marshall won the landmark Supreme Court case of Brown V. Board of Education, outlawing segregation in public schools." Before being named to the high court in 1967 (by President Johnson), he had been the U. S. Solicitor General since August 1965. According to a U. S. government website, he retired from the court in 1991, died in 1993, and for protecting "the rights of all citizens" left "behind a legacy that earned him the nickname 'Mr. Civil Rights.'" 
One of the few things I had previously known about Marshall was that while he was still Solicitor General, he had at least once visited the poet and Lincoln scholar Carl Sandburg at his home in North Carolina—folksinger Bob Dylan once also called on Sandburg. Marshall's visit was not surprising because Sandburg had long defended civil rights. In 1919 had written The Chicago Race Riots, July, 1919, and as a newspaper man in Chicago in this period, he printed the NAACP platform. During WWII, when over 100,000 Japanese-Americans were placed in internment camps, Sandburg hired two Japanese-Americans to work for him and wrote a column warning against ethnic prejudice. Around the time of Marshall's visit, the head of the National Association for the Advancement of Colored People (NAACP), Roy Wilkins, made Sandburg a lifetime NAACP member and declared him "a major prophet of Civil Rights."
Recalling Marshall's visit to Sandburg's home was Sandburg's friend the American Jewish writer Harry Golden. In his autobiography, The Right Time, he writes that the poet asked Marshall why Blacks made their first move for integration in the schools as opposed to some other area. Marshall's response? "We are a school-oriented society. If we desegregate the public schools of America, the whole pattern of racial segregation will inevitable collapse."
Golden has little more to say about Marshall, but a fair amount more on Sandburg, who criticized antisemitism as well as other forms of racism. In the film Marshall, both Marshall and the Jewish Friedman recognize their bond of being among discriminated-against groups.
At a memorial service for Sandburg at the Lincoln Memorial in 1967, Marshall was there, along with Chief Justice Earl Warren, President Johnson, and other dignitaries. But it was apparently his respect for Sandburg the civil-rights advocate, not the poet, that brought Marshall to the memorial. For the latter once indicated that he liked detective stories more than poetry.
The director of the Marshall film (Reginald Hudlin) apparently realized Marshall's dislike of poetry because he has Marshall say, "I don't give a damn about no poetry" (see filmscript). These words were uttered when Marshall was talking about the U.S. poet Langston Hughes, who was a classmate of Marshall at Lincoln University in Pennsylvania. Although in the film there is a scene at the jazz club Minton's Playhouse in Harlem where Marshall chides the leftist Hughes by saying, "maybe you should just go back to Spain. Or back to Russia. Write your little poems, explore big ideas with your comrades," in real life Marhall once said that Hughes was "one of the greatest people I've ever known." (See here for Hughes' wonderful poem "Let America Be America Again,")
As an interesting sidelight, the film also has the famous African-American writer Zora Neale Hurston exchanges a few words with Marshall and Hughes, and singing at the microphone is Billie Holiday, as portrayed by Andra Day, who in 2021 would win a Golden Globe award for portraying Holiday in the biopicThe United States vs. Billie Holiday(now available on Hulu).
At film's end not only was I sad about the demise of such a fine actor as Chadwick Boseman, but also that such an excellent Supreme Court justice as Marshall was replaced by Clarence Thomas—the same Thomas who has favored so many poor Supreme Court decisions, including Shelby County v. Holder, which helped gut the Voting Rights Act of 1965.
Walter G. Moss