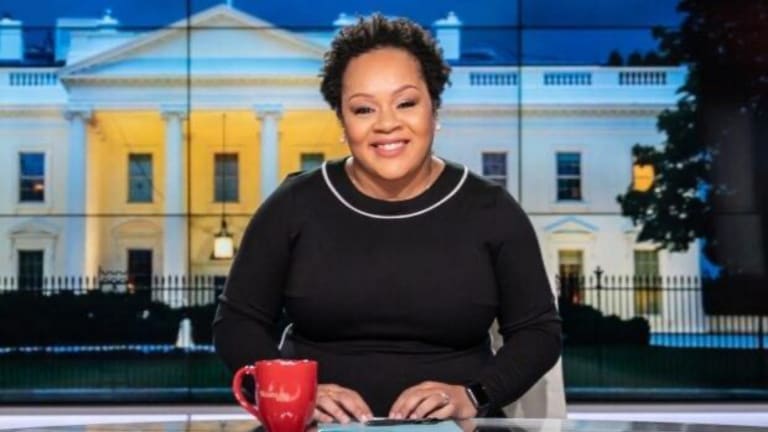 Why I Watch the PBS NewsHour Every Night
Every night I turn on the NewsHour because it respects and welcomes the great diversity of our nation.
After Donald Trump was elected president in 2016, my now deceased wife, Nancy, and I decided to watch the PBS NewsHour every night instead of NBC Nightly News. We had occasionally watched the NewsHour in previous years and knew that it devoted most of its hour-length program to a handful of in-depth segments. Hopefully, we thought, it would delve into the Trump presidency more analytically—as opposed to mainly reporting his latest (often inane) words and actions.
During that presidency the NewsHour did not disappoint. Two of our favorite personalities from those years are no longer with the program, Yamiche Alcindor and Mark Shields, but enough of the excellent PBS team that reported and analyzed the nightly news have remained.
For four years, from January 2018 to January 2022, Alcindor was the White House correspondent, and often informed us of what was really going on there, so much so that her words and actions often irritated Trump, especially when she asked questions at press briefings. "Why don't you act in a little more positive? It's always trying to 'get you,'" he lectured her at a March 2020 briefing. Although still relatively young in mid-2021 (age 35), she then also became the moderator of the long-running PBS program Washington Week. Even though Trump accused her of a "get-you" approach, Wikipedia reported that "Washington Week consistently follows a path of civility and moderation." A more objective observer of Alcindor than Trump might also ascribe those qualities to her. Having received my graduate degree from Georgetown, I was happy to read that in 2009 it had awarded her a bachelor's degree in English and government with a minor in African-American studies. (In early 2022, while remaining host of Washington Week, Alcindor left the NewsHour to become a Washington correspondent for NBC News.)
Mark Shields (1937-2022) ended his decades-long weekly contribution to the NewsHour at the end of 2020, when he announced that he was no longer going to participate in his regular Friday night segment analyzing the week's news. After he died on 18 June 2022, two nights later the NewsHour devoted a 15 minute segment to remembering him.
That 20 June edition of the NewsHour contained several other fine segments, and the remainder of this essay will discuss not only the remembrance of Shields, but also a few more of the pieces, all providing examples of why the NewsHour provides superior news coverage and analysis.
Besides the Shields segment, two other foci, "Americans celebrate Juneteenth as the push for social justice persists," and "Examining Asian American civil rights 40 years after Vincent Chin's murder" dealt with a question that is central to U.S. history and our present political conflicts. It is one I first took note of three years ago in "Do We Want the America of Frederick Douglass or Donald Trump?" It stated that Trump "perceives himself as defending the fortress of white, primarily male and Christian, dominance against the threat of increasing darker-skinned peoples." But a century and a half ago the great abolitionist Douglass insisted that "our greatness and grandeur will be found in the faithful application of the principle of perfect civil equality to the people of all races and of all creeds, and to men of no creeds."
Apropos of the NewsHour segment on Asian American civil rights, Douglass specifically mentioned Chinese immigrants: "Do you ask, if I favor such immigration, I answer I would. Would you have them naturalized, and have them invested with all the rights of American citizenship? I would. Would you allow them to vote? I would. Would you allow them to hold office? I would."
In discussing Juneteenth, now a federal holiday commemorating the Texas declaration of the emancipation of enslaved African Americans, NewsHour's Amna Nawaz first highlighted some Texans like the 95-year-old Opal Lee who had long campaigned for the holiday. Nawaz then talked to the African American Professor of History Peniel Joseph. He is the founding director of the Center For the Study of Race and Democracy at the University of Texas at Austin and the author of the upcoming The Third Reconstruction: America's Struggle for Racial Justice in the Twenty-First Century. He noted, "We are still caught in that bind of the folks who believe and support multiracial democracy and [opposing them] those who think about America as a much less inclusive place, as a place that should be dominated" by white males. He added that the storming of the capitol on 6 January "is the grassroots cousin of the racial intolerance that we see used to divide folks politically in the 21st century." As part of that same effort to maintain white male dominance, he mentioned efforts in some states "to deny the teaching of Black history and to deny the teaching of our history of racial injustice"—see here for more on that.
Regarding the second segment highlighted here, Nawaz mentioned the 1998 documentary, "Who Killed Vincent Chin?" and that it was going to be aired later that night on PBS. It related how Chin was killed by two men after repeatedly being hit in the head with a baseball bat, and the killers received no jail time. Nawaz then interviewed writer Min Jin Lee about the impact of Chin's death on Asian Americans, including its relevance for today.
Lee responded by saying that "right now, it's probably one of the worst times to be Asian or Asian American in the United States," and that "since the onset of the pandemic, over 11,000 incidents of hate" targeting Asian Americans have occurred. She explained a main source of that hate coming from "the Trump administration and people who supported his organization," who claimed "the virus for the pandemic came from China," and viewed Asian Americans as "disease carriers."
Nawaz, herself an Asian American and Muslim of Pakistani parents, then noted that Asian Americans are the fastest growing ethnic group and most diverse in the USA. (The fear of declining white prominence in the USA seems to be a main factor influencing intolerant whites. The 2020 Census indicated that the population identifying as "White alone" declined by 8.6% since 2010, but those considering themselves multiracial increased by 276%.)
Among the other points made by Lee was "the extraordinary debt that Asian Americans, as well as white women, all oppressed minorities in this country," owe to "the African-American civil rights movement. . . . When African-American civil rights leaders took up their time and energy and their resources and their political connections to come and support to get justice for Vincent Chin, then that's the reason why it became more remembered."
As abolitionist Douglass realized a century and a half ago, the fight for civil rights is not just one for African Americans, but also one for all minorities that make up our multicultural society.
A final point made by Lee was the importance to her as a writer of fiction to tell stories that help us become more empathetic to those who are different from us. That empathy and tolerance were also qualities I greatly admired in Mark Shields, whom host Judy Woodruff and others at the NewsHour remembered so fondly in their final June 20th segment.
For 33 years Shields was the liberal half of the NewsHour's liberal-conservative duo who commented on politics each Friday night. His first conservative debating partner was David Gergen, and he told Woodruff about Shields' humility and trustworthiness. His last partner, for twenty years, was conservative David Brooks, who spoke of Shield's warmth, generosity, "complete lack of pretension," and that he was "always rooting for the underdog."
Brooks added that "he represented the best of American liberalism," and "he improved us all." He definitely improved the conservative Brooks. The latter observed that they "started out with very different views," but they didn't so much debate each other as discuss issues. They didn't so much try to "prove our party's point" (Brooks was then a Republican, Shields a Democrat), but rather "figure out the world." When "Donald Trump came along," Brooks remembered, "we scarcely disagreed at all."
As a result of Brook's evolution, I wrote an article three years ago, "Why at Least One Progressive Likes David Brooks," that never would have occurred to me when Brooks first partnered up with Shields. And looking back now, I realize that Shield's mixture of a progressive viewpoint but combined with civility, empathy, and tolerance toward those of opposing views has influenced me more than I realized
Perhaps I was also more influenced than I knew by two other approaches/opinions of Shields and mentioned by Brooks, his optimism for the USA and his belief that Bobby Kennedy would have been a great president. Regarding optimism, I ended a recent essay, "we want to confront life, with all of its difficult challenges, with hope and courage, not fear and doubt." And around MLK day four years ago in "Why Martin and Bobby Are So Relevant Today," I praised RFK and quoted approvingly his words at the time of MLK's assassination and just months before he himself was gunned down: "What we need in the United States is not division; what we need in the United States is not hatred; what we need in the United States is not violence and lawlessness, but is love, and wisdom, and compassion toward one another, and a feeling of justice toward those who still suffer within our country, whether they be white or whether they be black."
Still another segment of the 20 June edition of the NewsHour was "Politics Monday," in which a NewsHour host—this time Lisa Desjardins, the regular NewsHour congressional correspondent—discusses political news with Amy Walter and Tamara Keith. Desjardins asked Walter, who had long known Shields, about her memories of him. She responded: "Everybody who watched him on the show knows how smart he was, and how incredibly gracious he was. To me, the mark of a really good human, which is what he was, is somebody who treats people who aren't as big or important or famous as they are with respect and reverence. And if you walked into this building and watched how he treated every single person on the staff, from desk assistants to interns, you would know what a really good person this was."
Besides these wonderful pieces from just one night of the NewsHour there was also the usual summation of the news. It included that kids from 6 months to 5 years old would now be able to receive a child-sized dose of the Covid vaccine and the latest news from the war in Ukraine, from where the NewHour has been reporting heartrending stories.
Finally, there was one more five-minute segment. Its summation read, "For the first time in its history, Colombia has elected a leftist president. Gustavo Petro is a former guerrilla who became mayor of Bogota and then a senator. He defeated right-wing populist Rodolfo Hernández. . . . His election overturns the center-right political establishment that has long run Colombia, and it could usher in a dramatic change with its U.S. relationship."
Before ending this essay, the great diversity of the NewsHour team should be mentioned. Nawaz's Pakistani background has already been related. Replacing the African American Alcindor has been the Mexican American Laura Barron Lopez. When longtime host Judy Woodruff (now 75) retires at the end of 2022, her replacements, as co-anchors, are expected to be Nawaz and the African American Geoff Bennett, who recently took over as host of the NewsHour's weekend program, replacing Hari Sreenivasan, who was born in India and still occasionally appears in segments for the NewsHour. Another prominent contributor to the program is the Asian American John Yang who is openly gay, as is the African American Washington Post columnist and associate editor Jonathan Capeheart, who took Shield's place as the liberal counterpart to Brooks' more conservative approach on the NewsHour's Friday nights.
In a review several months ago of the film Coda, I praised it for the compassion it displayed "for minorities and the oppressed, whether they be racial minorities, refugees, those suffering from disabilities, impoverished, or any other victims of social injustice." One final minority treated with respect by the NewsHour is those enduring one or another type of disability. This is clear every time the program's science correspondent, Miles O'Brien, explains in understandable language some complex scientific development, for in 2014 he had to have part of his left arm amputated as a result of an accident.
Thus, every night I turn on the NewsHour because it respects and welcomes the great diversity of our nation. A century and a half ago Frederick Douglass realized that this could be a great blessing for us. Today, when we are even more diverse and when at least part of our nation welcomes this diversity, it could be an even greater boon—if only those who so greatly fear it would become true patriots, and put the national good before their own insecure fears.