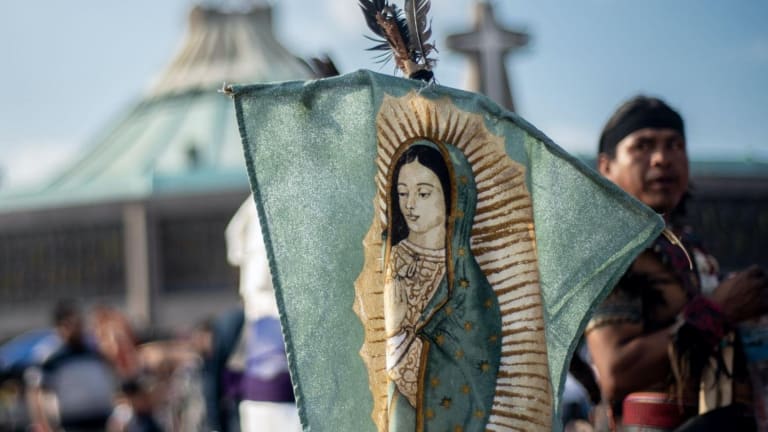 The "Brown Virgin" And Her Guadalupanos
What the native Juan Diego is said to have seen in 1531 changed the new world. Five centuries later, why do so many Mexicans, and Mexican Americans, remain devoted to the Virgin of Guadalupe?
Carolina Llamas Castillo holds the rosary and almost without realizing it, moves its beads forward with her fingers while praying one Hail Mary after another. She kneels beside her mother to recite the prayers. The night of December 11 is one "pray for us" after another, waiting for midnight to arrive to celebrate Our Lady of Guadalupe, the Morenita del Tepeyac (the "Little Brown Virgin of Tepeyac")
Just like every year, Llamas Castillo is dressed like St. Juan Diego. It's a family tradition to honor the Mother of God, but also the indigenous people to whom, as Catholic and Mexican legend has it, she appeared almost 500 years ago.
"I experienced miracles myself and there is nothing in this world that makes me doubt my faith in God and in her," she says.
Thanks to the three favors granted, asserts Llamas Castillo, she will have eternal devotion to the Brown Virgin. "The first is having brought back my brother safe and sound from the war four times, he had two tours in Iraq and two tours in Afghanistan," she says. "The second, to have cured my cousin of something that we believed had satanic roots," she continues. The third is even more personal. "According to my mother, it was that I was born with good inside me, since I arrived early at seven months and with complications (and here I am today)."
Llamas Castillo's family is from Guadalajara, in Mexico's Jalisco state, but the 26-year-old marketing executive now lives in Arizona. Her family arrived in the United States full of faith, in the midst of the uncertainty that accompanies migration. Maybe it's nostalgia that allows her to continue with the tradition; maybe it is the notion of knowing that something greater, powerful, and unconditional protects her family.
Llamas Castillo prays in two languages, with two cultures, but with the same creed. And she's not alone.
WITNESSES EVERYWHERE
In 2009, Roberto Guerrero, from Parral, Chihuahua, Mexico, had medical complications that confined him to a wheelchair, and he guarantees that thanks to his prayers to the Brown Virgin and to God, he was able to walk again. "I am a witness that his son Jesus listens to her, because I asked him many times if I could walk and after being disabled, at least I'm already walking."
18 years ago, Guadalupe Gastélum asked her namesake to save her life and that of her daughter from a difficult pregnancy, "and here we are, the two Lupitas," she says.
Antonio García had problems and lost custody of his children, who ended up going to Child and Protective Services. "I swore to my wife in front of the 'virgencita' that we were going to get them back, and I know that many will not think it was a miracle, but for me it was," recalls the Mexican immigrant.
AN ENDURING PHENOMENON
Every year, more than 10 million people arrive at the Basilica of Guadalupe in Mexico City to venerate the Brown Virgin of Tepeyac, making it one of the world's most-visited religious sites. The shrine is located in the same place where she appeared to Juan Diego. Her devotees sing to her, pray to her, dance to her, and shower her with roses. They have been doing this since 1531.
When the Spaniards conquered Mexico and began the work of evangelization in the name of the crown, the indigenous Mexica worshiped their gods, which were nothing like religious deities; but there was a special figure that represented for them fertility, life, and the Earth: Tonantzín, which in Nahuatl means "our mother." They traveled for miles to Tepeyac Hill with offerings and even to conduct sacrifices. But it was in that same place where the story goes that the Virgin of Guadalupe appeared three times to Juan Diego and left him roses that had never bloomed there before, and a cloak with her image that is preserved in its entirety in Mexico City, and is considered by the faithful to be divine. Coincidence?
She appeared to Juan Diego, spoke his language, had his eyes and skin color as if she were like him, as if she were the mother of his people and of Christ at the same time. This was what gave the Catholic Church the devotion of the Mexica. For them, it was not that one figure took the place of another, but rather that they were mixed among the roses that no one had seen before in New Spain. The native, the mestizo, and the indigenous were blanketed in a miraculous covering: the banner of the patron saint of Mexico.
La Morenita represents the religious and the profane; a country and a cultural emblem; an institution and the heritage of the original people. She is the contrast, the faith, the patriotism, the sacred, the humble, and the majestic. She is the fusion of the divine, the real, and the desire to believe.
PILGRIMAGE IN BODY AND SPIRIT
Devotees – known as guadalupanos -- attempt to fulfill the promises they swore when crossing borders on forced migrations or voluntary changes, enduring nights of uncertainty and days of agony, pains at a distance, moves, births and deaths, and farewells. They ask her for comfort, for her intervention, or just her company. They have done so ever since she appeared on Juan Diego's cloak. The Virgin of Guadalupe accompanied Miguel Hidalgo on the banner of Mexican Independence from Spain. Her image adorns Notre Dame Cathedral. She is on commercial trucks that roll across U.S. highways. She's in Olvera Square in Los Angeles, in the Guatemalan ruins of Antigua, in the heart of Manhattan, and now, even in the White House.
For Mexicans, it's much more than a creed or devotion; it's a matter of identity
Millions more make pilgrimages to the same hill that their ancestors visited. But there are hundreds of thousands more devotees who have to settle for an image of la guadalupana because they cannot cross the border or afford a long journey. They decorate their homes, churches, and bodies with images of the Virgin. She hangs as pendants around their necks and decorates their living rooms. She's a touchstone in their purses, or an icon on their personal altars. She's even painted onto murals and car windows. She's always with them, in stamps, tattoos, and miracles, or as a memory. Yes, longing also counts.
There is something about the faith in la guadalupana that goes beyond religion. There are those who revere or respect her despite criticizing or condemning the church. There are also millions of Catholics who deny the doctrine instilled in childhood and change their beliefs, yet, through family ties, remain firm in la morenita's dogma. For the Mexican it is much more than a creed or devotion, it is a matter of identity.
That is why every December 11, on the eve of the Virgin's special day, there are vigils in homes and churches. They light candles that represent the flames of faith that are lit in honor of the Mother of God. There are prayers – many – and a desire to believe that there is a maternal mantle that offers the same shelter as the divine arms. And then seeing her iconic image, surrounded by stars, with almond-shaped eyes and brown skin, is like staring at a reflection in the mirror. Add to that the power of having Juan Diego in the scene: He's now a Catholic saint, representing the immigrant: the vulnerable, afflicted, sometimes defenseless but always resilient.
THE PANDEMIC
Last year there were virtual novenas and televised Masses; serenades on social networks, and a few nights of prayer at home. In 2021, despite the threat of a new coronavirus variant, there will be pilgrimages and parades. The matacín religious dancers and musicians will once again wear their colorful costumes and dance to the cathedrals, the bands will rumble in floats, and the girls will dress as the Virgin to represent her on flower-adorned logs, and even a boy or young man as St. Juan Diego, with his miraculous cloak. The mariachi will be serenading, and Mass will be accompanied by songs of joy at the rediscovery of tradition.
In a foreign country, sometimes ours and sometimes borrowed, faith is put to the test much more frequently: the support, the memories, the nostalgia, social disparity, racism, the border, the pandemic, the silence, and nature itself. It's almost a miracle not to lose sight of her.
Here, where we put down new roots that find a way to connect to our native land, we long to believe in something that's truly ours. How soothing that it's her.
Maritza L. Félix
palabra